PALM BEACH COUNTY FOOD BANK'S EMPTY BOWLS DRIVES THROUGH DELRAY BEACH ON DEC 5
5th Annual Benefit at Trinity Lutheran Church & School to Help Fight Hunger in our Local Community
(Delray Beach, Fla.) – Thousands of hungry Palm Beach County residents will have access to more nutritious food this season thanks to the Palm Beach County Food Bank's 5th Annual Empty Bowls Delray Beach benefit. This year's reimagined event includes a drive-through soup pickup at Trinity Lutheran Church & School from 11 a.m. to 3 p.m. and a virtual celebration from noon to 1 p.m. on Saturday, December 5. All proceeds go to the Palm Beach County Food Bank to fight hunger in our local community. Event leadership includes Event Chair and Delray Beach resident, Stephanie Dodge, and Honorary Chair is John Brewer.
Empty Bowls is a national grassroots event that raises money for hunger relief. This unique event invites the public to "eat simply, so others can simply eat." Guests will share in a basic meal of fresh baked bread from Old School Bakery, signature soups donated from 30 local chefs, and water, all served by area celebrities at the drive-through pickup.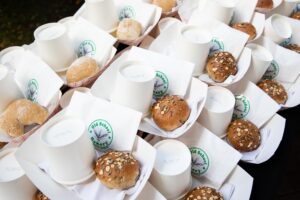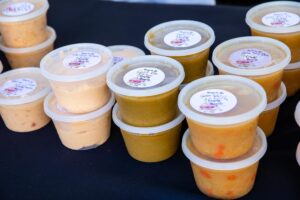 The virtual portion of the event will include powerful client and agency stories, messages from the Empty Bowls' chairs and sponsors, as well as an overview of the Food Bank and the state of hunger in Palm Beach County.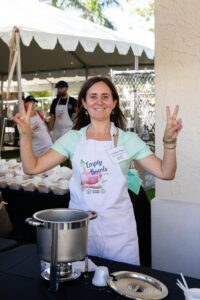 "In a beautiful place like Palm Beach County, it's hard to imagine that there is so much need in our community," said Dodge. "Before COVID-19, the Palm Beach County Food Bank provided access to nutritious food for more than 100,000 hungry Palm Beach County residents every month and distributed approximately 5 million pounds of food annually to almost 200 local community partners. Now, that demand has more than doubled as more people are left without jobs and income and the Food Bank is processing as much as several million pounds a month. Even though Empty Bowls will look a little different this year, it will still have the same mission – to help the one in seven people in our community that go hungry every day."
To date, restaurants and venues serving their signature soups include Artistic Artichoke, Henry's Restaurant, New York Grilled Cheese, Luna Rosa, Over The Bridge Café, Bedner's Farm Fresh Markets, Woodfield Country Club, Silver Sac Catering, Chez Gourmet, Riggins Crabhouse, Tramonti and Space of Mind.
Servers include Margaret and Dr. Robert Blume, Ernest Deblasi, Stephanie Dodge, Carol Eaton, Marla and Steve Garchik, Jim Greco, Pam and Chuck Halberg, Shelly and Billy Himmelrich, Barbara James and Mark Larkin, Julia and Jeff Kadel, Bill Kramer, Marti LaTour and George Elmore, Cordella and Rick Miessau, Jacqui Moroco, Tim Quinn, Laura Reiss, Matt Shipley, Kimberly Still, Diana and Bob Stone, Jamie Wagner and Kelly and Wyn Yelin.
Sponsors to date include Trinity Lutheran Church & School, Old School Bakery, Marla S. and Stephen J. Garchik, Pechter Family Foundation, Stephanie Dodge, Shelly and Billy Himmelrich, Patty Jones, Don and Julie Uderitz, Edward Jones, Genesis House Recovery Residence Inc., Stuart and Shelby Development, Deborah and Michael Pucillo, Delray Beach Elks Lodge and Nina and Larry Rothstein.
Due to social distancing and safety precautions, guests need to purchase tickets online for the drive-through pickup. Tickets are $30 per order or $50 for two orders. Each order provides one pint of soup with bread from Old School Bakery, as well as other sponsored goodies in an insulated cooler bag. To purchase your Empty Bowls tickets, please visit: www.pbcfoodbank.org/emptybowlsdelray.
The Palm Beach County Food Bank will also host Palm Beach Empty Bowls on February 26 at The Church of Bethesda-by-the-Sea in Palm Beach. For more information on the Palm Beach County Food Bank, please visit pbcfoodbank.org or call 561.670.2518 x309.