THE GARDENS MALL
Halloween Fun Is Brewing at The Gardens Mall
Palm Beach Gardens, Fla. – Get into the spirit this Halloween at The Gardens Mall. Just like magic, Batty Manor will appear in the Grand Court. The spooky little cottage opens on Monday, October 22, setting the stage for a cauldron bubbling over with fun. It's the perfect location for Instagram-worthy Halloween pics.
Then on Saturday, October 27, Boogah & Hoogah move into Batty Manor. The goofy goblins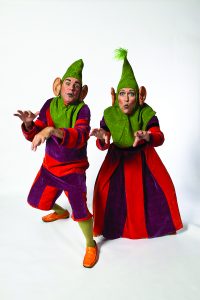 will perform six silly shows that are sure to delight your little monsters. The Gardens Mall and Imagination Theatre Etc. present Boogah & Hoogah's Haunted HouseParty. The duo will get everyone howling with daily performances at Batty Manor at 1 p.m., October 27 through October 31.
On Halloween, scare up a costume and get ready for a frightfully fun evening. The Gardens Mall is hosting a "Spooky Soiree!" in the Grand Court beginning at 5 p.m., with activities and store giveaways for the kids. Plus Boogah & Hoogah will host a special show beginning at 6 p.m.
This Halloween, make The Gardens Mall your family's favorite haunt. It's going to be a wicked good time.
About The Gardens Mall
The Gardens Mall is located one mile east of I-95 on PGA Blvd. in Palm Beach Gardens, Florida. The luxurious, 1.4-million-square-foot, super-regional shopping center features more than 150 world-class retail specialty shops and restaurants. It is anchored by Nordstrom, Saks Fifth Avenue, Bloomingdale's, and Macy's. The Gardens Mall is owned and managed by The Forbes Company. For more information about The Gardens Mall, call (561) 775-7750 or visit the mall online at thegardensmall.com.