Cultural Corner
Get Your Glass in Shape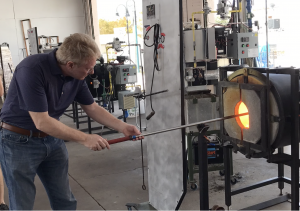 By Lori Hope Baumel
"Benzaiten is the goddess of everything that flows: water, time, words, speech, eloquence, music and by extension, knowledge." – Wikipedia
I have a well-kept secret and I'm going to share it with you. My husband and I have discovered a place that's an outlet for creativity, watching artists at work and an opportunity to have an inexpensive night or afternoon out with or without the kids.
In the past few months, the Benzaiten Center for Creative Arts has been a joyous discovery. We've attended a glass-blowing class, enjoyed their art gallery and have observed demonstrations by world-renowned glass artisans. Once a month they've hosted evening events complete with live music. The art space has a protected viewing area with bench seating for visitors and demonstrations.
Unfortunately, the season for evening events is over. But, plan ahead, the nighttime festivities will begin again in the fall. I will keep you posted when the live music activities return. In the meantime, you can take a glass blowing class or visit their gallery all year round.
Located in the historic Florida East Coast Train Depot in downtown Lake Worth (in the Lake Worth Arts District), this 14,500 square foot arts center is dedicated to working artists and the community at large. It has immersed the public in arts production and provides interaction with artists from around the globe. Benzaiten sponsors new works of art, encourages collaboration between peers and provides instruction from masters to emerging artists.
The center boasts a glassblowing hot shop with three glory holes (a space for reheating glass to soften it), two furnaces, multiple annealers and a large cold-working room. The "flame working and fusing" studio is a 750 square foot air-conditioned space with multiple stations containing a variety of torches and multiple kilns. Personally, I look forward to taking some jewelry making classes in there all year round.
The elegant 2,000 square foot gallery and gift shop showcases rotating visiting artist exhibitions. Best of all, they're expanding. In 2019, they're adding a working sculpture garden with a covered viewing area where people can observe art works made in real time.
So there you have it. You now know my secret and have my permission to spread the word. As they say on their website: at Benzaiten Center for Creative Arts, "You too can become an artisan."
For more information see: http://benzaitencenter.org
Live… Go… Do!
Top 5 For June 2015
1) Take a class at Benzaiten Center For Creative Arts
Take anything from a basic class or a series of master workshops:
Benzaiten Center for Creative Arts:
1105 2nd Avenue South
Lake Worth, Florida 33460
561.508.7315
For more information email: aholmes@benzaitencenter.org
Hours: Tuesday through Saturday: 10:00 AM – 5:00 PM
Closed: Sundays and Mondays
2) Children's Summer Programs at The Norton Museum
The Norton's weekly Family Studio program does not stop just because school is out and families may be on vacation. Whether you're a resident or a visitor, this program appeals to accompanying grown-ups as well as children. Led by a bi-lingual teaching artist and including a docent-led tour, the Family Studio program runs from 10:30 AM to 12:30 PM every Saturday. It is structured so families (and adult mentors) with children ages 5 through 12, can create art together. The program is offered in Spanish (on request in advance) as well as English, and has a $1 materials fee per child. Museum admission is free.
Each Family Studio session is limited to 25 children, and is generally themed to coincide with a special exhibition or works from the museum collection, and includes viewing art before creating artwork with your family. Advance registration is required. The Family Studio program was launched in 2003 to provide families with kid-friendly tours based on the collection and special exhibitions, followed by art-making activities that combine what kids learned on the tour with their own creativity. Museum docents and staff collaborate to make the tour and art activity a seamless two-hour exploration of art and fun shared by adults and children.
To register for a Family Studio or request a Family Studio in Spanish or an American Sign Language (ASL) interpreter, call (561) 832-5196 x1138, or visit www.norton.org/familystudio
Upcoming Family Studio Summer Themes:
June / Mixed-Media Mash Up!
Art can be created using a variety of materials. Discover the various media artists use to make their work and learn how to create like them.
July / You Can Be in Pictures!
Look at new acquisitions in Photography, then make pictures, take pictures, even create your own moving picture book.
August & September / Dream It, Build It
As the Norton undergoes an exciting expansion, become inspired and design your own structures, participate in architectural challenges and more! Please note: The Museum will be closed from Monday, Aug. 14 through Monday, Sept. 4, so there will be no Family Studio programs on Aug. 19, 26, or Sept. 2. Family Studio re-commences on Sept. 9.
Plan ahead:
October / Earth Works
Tour the new, special exhibition, Earth Works and take note of your planet. Then, make your own eco – conscious works of art.
3) Mounts Botanical Garden of Palm Beach County Invites the Public to Memorable, Informative and Tasty Horticultural Events in June & July
The Literary Garden: Book Discussion – June 13 Tropical Fruit Festival – June 18 Grand Opening of Windows on the Floating World: Blume Tropical Wetland Garden – June 18
Hello Delicious! Creative Culinary Class – July 2 Yoga in the Garden – July 2, 9, 16, 23 & 30 Orchid Trilogy – July 8, 15 & 22 Summer Evening Stroll – July 12
To register for any of the events and workshops at The Mounts Botanical Garden of Palm Beach County, go to www.mounts.org/events/ or call 561-233-1751. Events at Mounts are accessible to people with disabilities.
4) Attend a lecture based on the theme: Why Courts Matter 2017
The Palm Beach County Chapters of the League of Women Voters, ACLU and National Council of Jewish Women co-host a series focused on the critical role played by today's judiciary. Each event will feature experts discussing key court decisions on current controversies.
June 13 in West Palm Beach
'The Role of the Courts in Immigration'
The main speaker is Jacqueline Delgado, daughter of Cuban immigrants is an active immigration lawyer. From 6 to 8 pm at the Palm Beach Post Auditorium, 2751 South Dixie Highway (on the SW corner of Belvedere Road and US1). This is a FREE event. No advance registration is required.
Plan ahead…
September 20 in Lake Worth
'The Impact Federal Court Decisions Have on Daily Lives'
The main speaker is Nancy Abudu, Director of Legal Operation for ACLU of Florida. This luncheon event will be held from 11 am to 1 pm at the Atlantis Country Club, 190 Atlantis Boulevard in Lake Worth. The cost to attend is $25 before September 10, and $35 afterwards. Register online at http://lwvpbc.org or call Estelle Friedman
561.968.4123.
5) The Raymond F. Kravis Center for the Performing Arts continues its star-packed 25th anniversary season with three summer sizzling, soulstirring, headline-grabbing super shows in June, 2017
Trevor Noah – June 3
The Gipsy Kings – June 11
Diana Ross – June 24
For tickets and information go to Kravis.org