If you are looking for an unforgettable way to spend a morning or afternoon, Gumbo Limbo Nature Center, located across the street from the beach in Boca Raton, is a great destination for all ages. Named for the native Gumbo Limbo trees which are found all over the property, the nature center was founded in 1984 by Gordon Gilbert, a former high school science teacher. Gumbo Limbo's mission is to Increase stewardship of coastal and marine ecosystems and it remains an undiscovered gem in busy and bustling Boca Raton.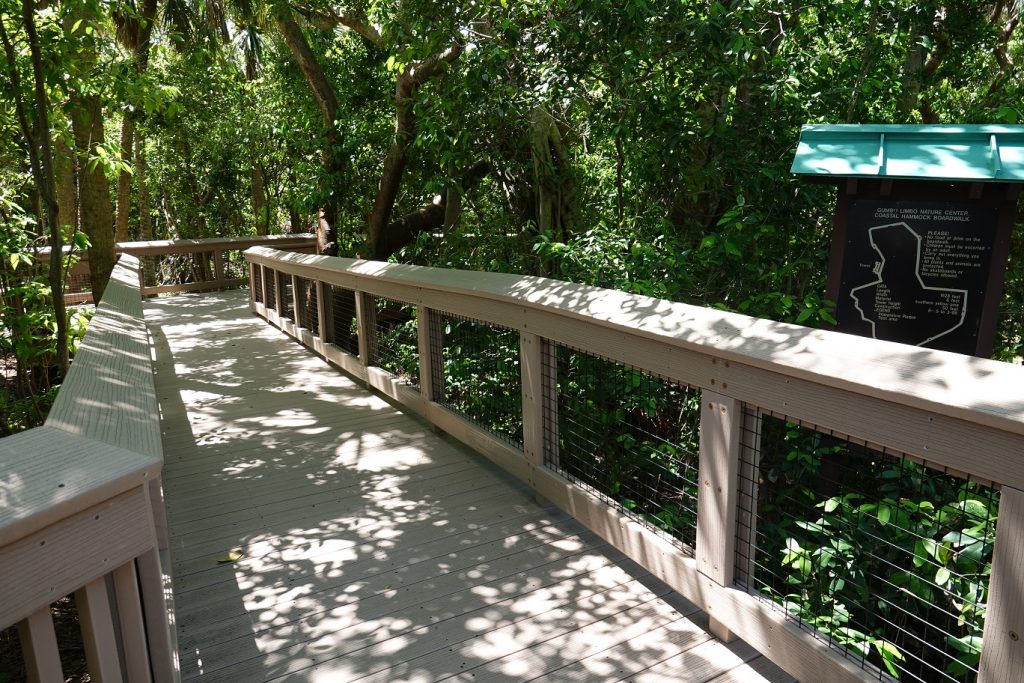 A self-led exploration of the property generally lasts about 1.5 -3 hours, and here are just some of the ways you can spend your day:
Enjoy a walk on the newly reconstructed boardwalk which travels 1/4 mile through the coastal forest and connects to Red Reef Park West.
Stroll through the butterfly garden, where many species of wild butterflies and birds can be seen year-round.
Walk the Ashley Trail and relax in the authentic Chiki overlooking the Intracoastal Waterway.
Climb on and take photos with the life-sized sea turtle sculptures in the sea turtle sculpture garden.
Observe a variety of native fish and other marine animals in the four large outdoor aquariums, and attend the daily 12:30 feeding presentation.
Visit the Sea Turtle Rehabilitation Facility to learn about the patients at the daily 2:00 turtle talk, and find out how you can help sea turtles around the world.
Don't forget to stop in the nature-themed gift shop for unique and imaginative gifts.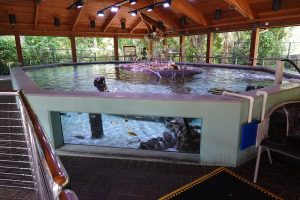 Gumbo Limbo's Sea Turtle Rehabilitation Facility is one of only 6 facilities in the state that treats sea turtles with a disease called Fibropapillomatosis (FP). Commonly found in green sea turtles, FP tumors grow on the face and flippers, making swimming and foraging difficult. In addition, thousands of hatchling sea turtles are treated at Gumbo Limbo every year and are given a second chance at survival.
Nearly all of Gumbo Limbo's property is accessible with elevated boardwalks, ramps, and a mobi-mat through a portion of the Ashley trail and butterfly garden. Due to the number of native and endangered animals on property, pets are not permitted, but service dogs are always welcome.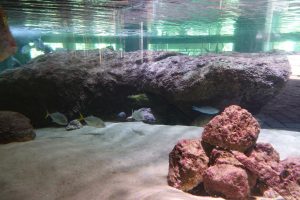 You can visit Gumbo Limbo Nature Center at 1801 N Ocean Blvd., Boca Raton, FL 33432. The Nature Center, Aquariums, and Sea Turtle Rehabilitation Facility are open 9:00 AM – 4:00 PM Monday-Saturday, and 12:00 PM – 4:00 PM on Sundays. The Boardwalk, Butterfly Garden, and Ashley Trail are open daily from 7:00 AM – Sunset. Visit www.GumboLimbo.org to learn more about our facility and signup for programs including kayak and canoe tours, guided nature walks, beach combing, and campfire programs. Seasonal events include the popular Sea Turtle Day, held in March and Halloween in the Garden, held in October