Flamingo Clay Studio
Clay Glass Metal Stone Gallery
Presents
Ice Cream Sundae Fundraiser
for the Bahamas and Farmworkers
(BYOB) Bring your own Banana
Friday September 13    6-9PM
Saturday, September 14   10AM- 7PM
15 South J Street – Downtown Lake Worth Beach
Clay Glass Metal Stone Gallery traditionally steps in to help when tragedy strikes.  The devastation in the Bahamas and the plight of our local farmworkers will be no exception.  As citizens around the county rally to raise funds, supplies and equipment, artists at the studio and gallery can do no less.
We have well over 200 bowls and mugs that we will donate. Come and fill them with ice cream and toppings.  If you want a banana split- (BYOB) bring your own banana.
Contact CGMSGallery@FLamingoClayStudio.org to reserve your bowls.  Advance prices for bowls and mugs are $15 or 4/$40.  Price at the door without reservation is $20. 100% of funds will be donated.
We, in Palm Beach County, know how lucky we are to have avoided this disaster.  Now it's our turn to share our good fortune with those who did not fare as well.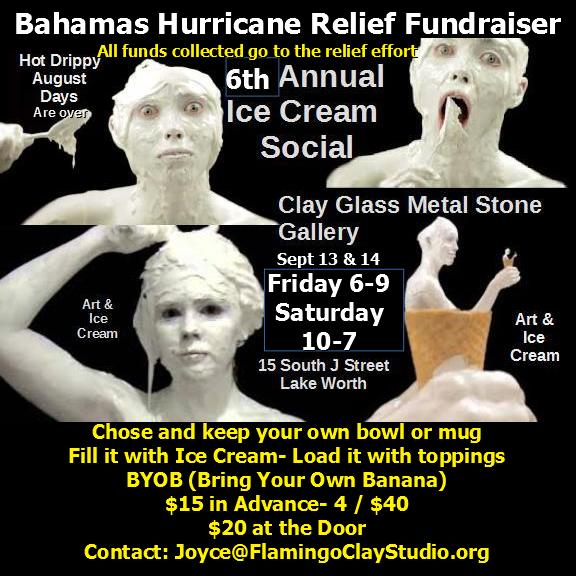 For additional information contact Joyce Brown, Joyce@Flamingoclaystudio.org.
Clay Glass Metal Stone Cooperative Gallery is sponsored by the Flamingo Clay Studio, a non-profit arts organization whose mission is to provide affordable studio and gallery space for three-dimensional artists.  The gallery and studio are located at 15 South J Street in downtown Lake Worth Beach. Hours are Sunday thru Thursday, 10AM-6PM. Friday and Saturday, 10AM-9PM.   There will be three gallery openings each month in season.   The Flamingo Clay Studio offers open studio, classes and workshop opportunities for those interested in the 3-D Arts and Artists in Clay and Fused Glass.
For information call Joyce Brown-215-205-9441 or Joyce@FlamingoClayStudio.org.   Gallery phone: 561-588-8344 Studio phone: 561-284-6807