Tell someone you're taking the kids or grandkids to Mardi Gras and you'll likely raise a few eyebrows. Mardi Gras' reputation as a season of decadence and debauchery may well be earned, but there are family-friendly options. In Lake Charles, Louisiana, events include a community gala where krewes showcase elaborate costumes. There are plenty of parades including one specifically for children and the Krewe of Krewes parade on Fat Tuesday. And there's the Iowa Chicken Run—an event you have to experience to believe.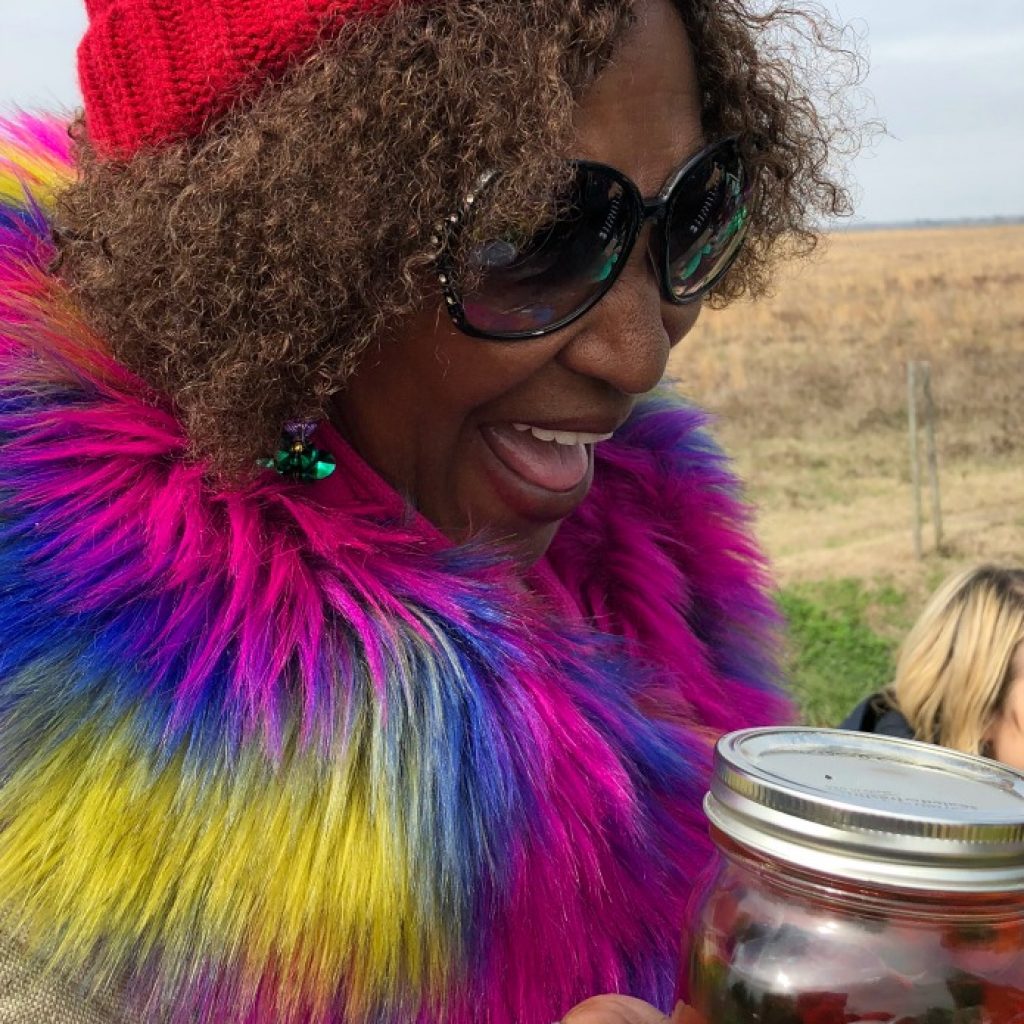 First You Have to Meet Miss Doris

"Are you ready?", Miss Doris asks with an irresistible smile. "Ready?" I ask. "Are you ready for my gummy bears? They're special." Never having been a fan of gummy bears I wanted to decline, but I didn't want to offend her hospitality. I hesitantly nodded my consent. Grinning widely, Miss Doris dipped a plastic spoon into a jar filled with tequila-soaked gummy bears. "Open wide," she instructed. I opened wide, swallowed and grimaced at the burn that trailed all the way to my tummy. That, my friends, was my welcome to the Iowa Chicken Run.

For more than 40 years, the folks in the tiny township of Iowa (located just outside of Lake Charles) have been chasing chickens at the Iowa Chicken Run. It's all about Mardi Gras, zydeco dancing and Louisiana gumbo. And apart from those tequila-soaked gummy bears, it's all about families.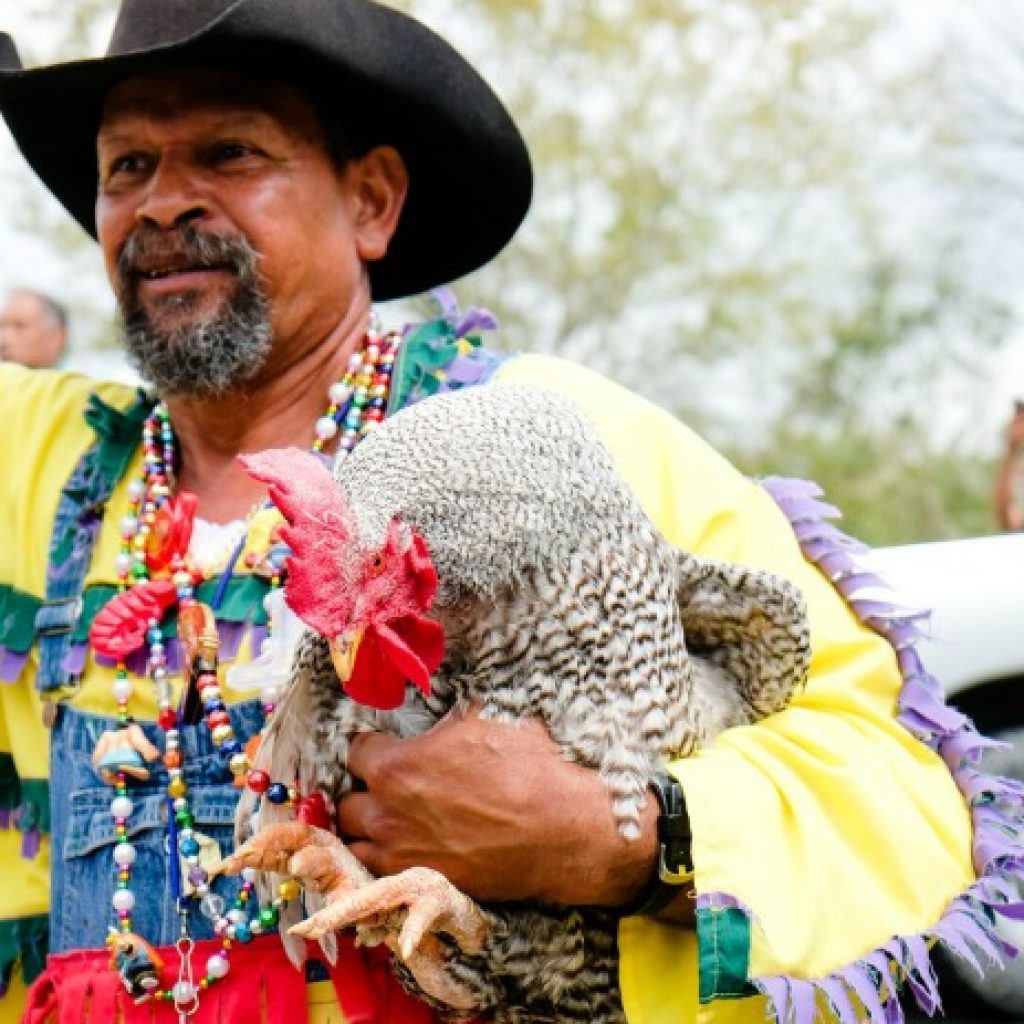 Time to Chase the Chicken

The Iowa Chicken Run starts as a hayride parade with everyone clambering for spots on homemade floats hitched to pickup trucks. Others follow along on ATVs and on horseback. The festive purple, gold and green shades of Mardi Gras are everywhere. A live Zydeco band has everyone dancing. And, local legend, Miss Doris, is also on hand passing out her tequila-soaked gummy bears to anyone who dares to imbibe.
The parade is led by a truck carrying a band playing zydeco music and Rodney—the chicken tossing man in charge. Chicken in hand, Rodney blows his whistle to signal a stop. Everyone jumps off the floats to do a few zydeco dance moves as Native American yells ring out. The whistle blows again as Rodney tosses the chicken. Kids (and some adults) scramble to chase after the bird—which, by the way, outsmarts everyone. Meanwhile, Rodney collects rice, beans, sausage, spices or whatever other ingredients the residents offer as a contribution to the township's gumbo feast. It is every bit as crazy as it sounds.
When the parade concludes, the whole town along with guests sit down to indulge in the community gumbo. As for the chicken, he's pardoned and can often be seen strutting his stuff around town for weeks to come.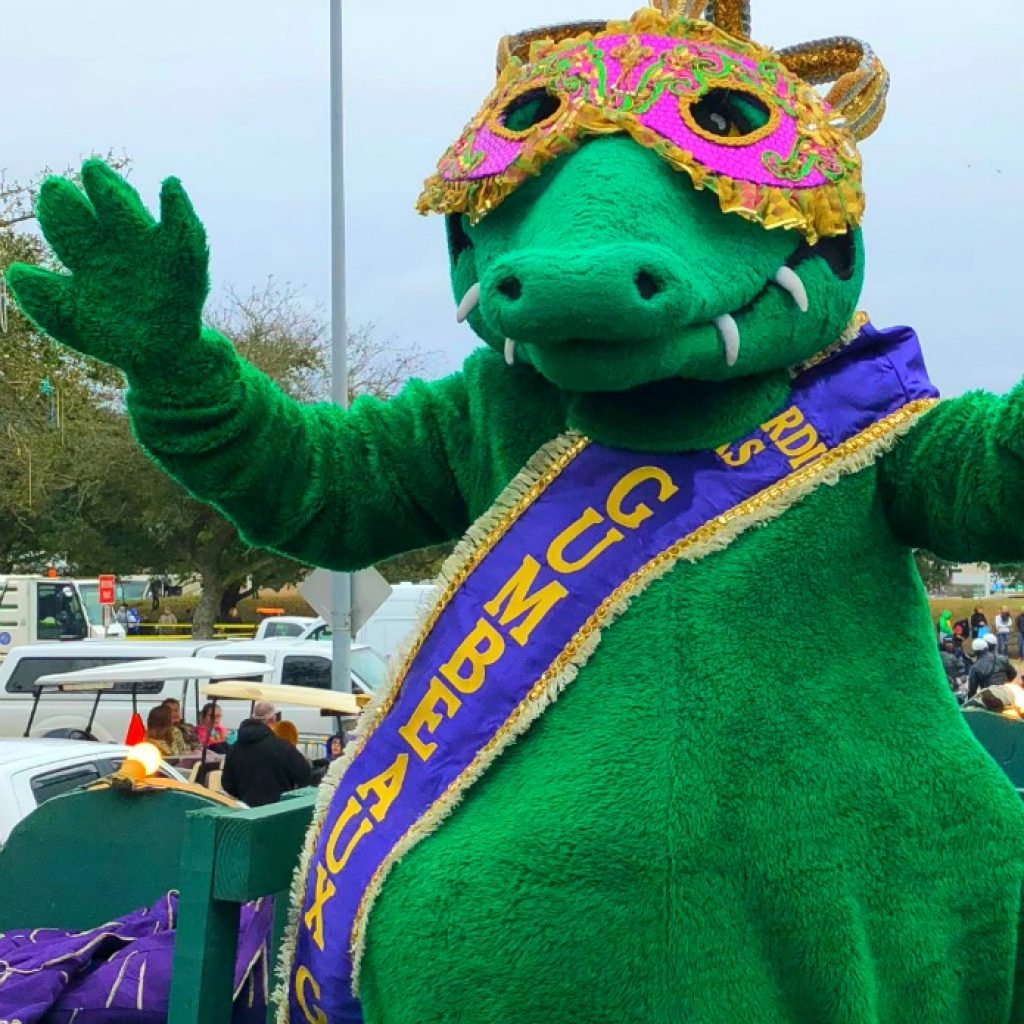 Everyone Loves a Parade

Although Mardi Gras season begins in January, the main events in Lake Charles kick off on the Saturday before Fat Tuesday with a children's parade. Decked out with a crown, mask and sequined cape, Gumbo Gator leads the parade. He's got plenty of dance moves for a big 'ole gator and he shows them off as he pumps up the crowd shouting "Happy Mardi Gras Y'all" to everyone he sees.
Local krewes follow Gumbo Gator's lead riding on elaborately decorated floats. There's plenty of food on hand—local favorites like "Hog on a Logue" and "Gator on a Stick" caught my eye but didn't make it on my plate!
There's plenty of lively music and an abundance of kids scrambling for gold, purple and green beads being tossed from the floats. I had the honor of riding on the float with Gumbo Gator and tossing the beads to the kids. It's not as easy as you'd think. Fortunately, I only whacked three or four kids in the head before getting the hang of it.
On Fat Tuesday, the Krewe of Krewes parade takes to the streets. Even though it's not designated as a children's parade, it's still family-friendly. Scream all you want for beads ladies but keep that shirt down—there's no flashing allowed in Lake Charles. And there's no inappropriate music. There's even a designated non-smoking and alcohol-free kids' zone.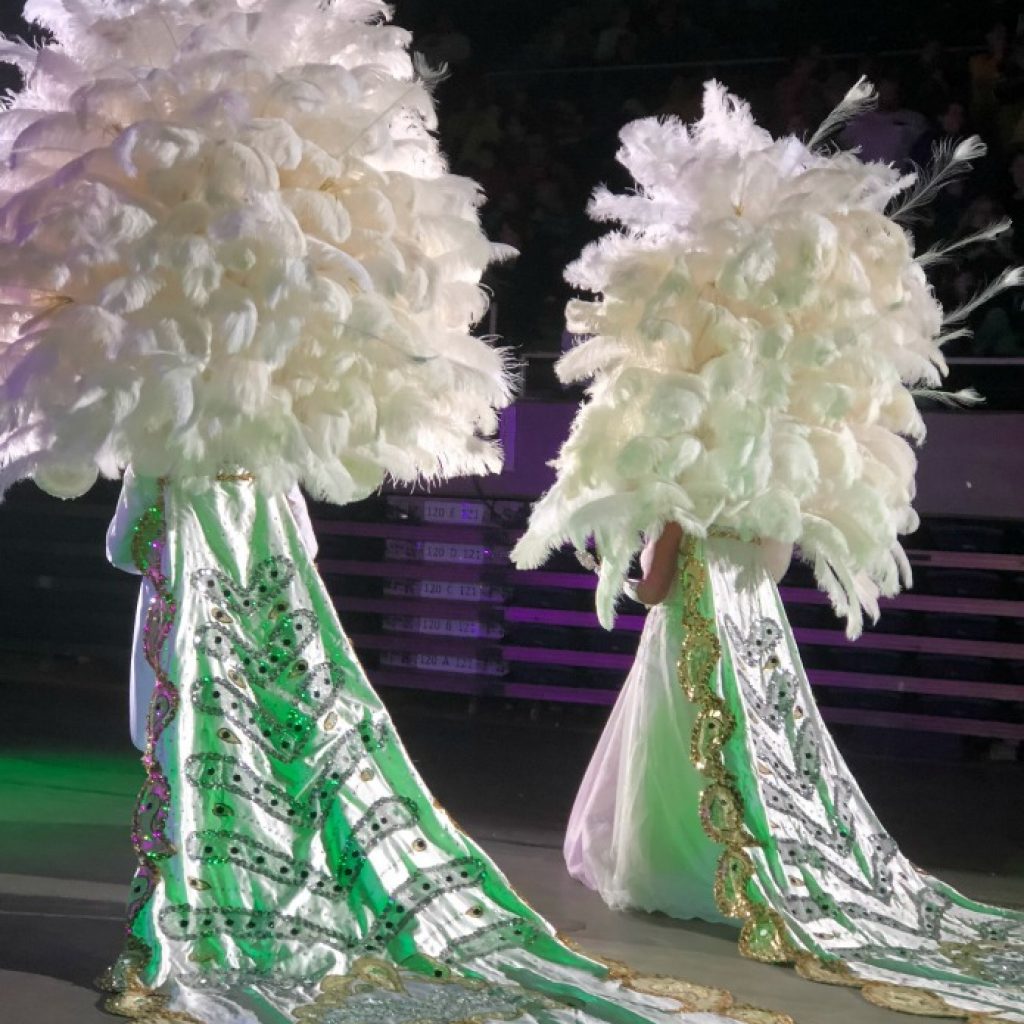 Hob Nob with Royalty at the Royal Gala

Unlike galas at other Mardi Gras celebrations, Lake Charles' is open to the entire community. Affordable for families, tickets sell for just $6 in advance and $7 at the door. Children age five and under are free.
More than 60 krewes' royalty dressed in lavish costumes promenade around the Lake Charles Civic Center Coliseum to the delight of spectators. The krewes are quite creative with their costumes. I had the opportunity to witness this extravaganza last year where I ran into KISS and the Strongman along with many other spectacularly clad royals.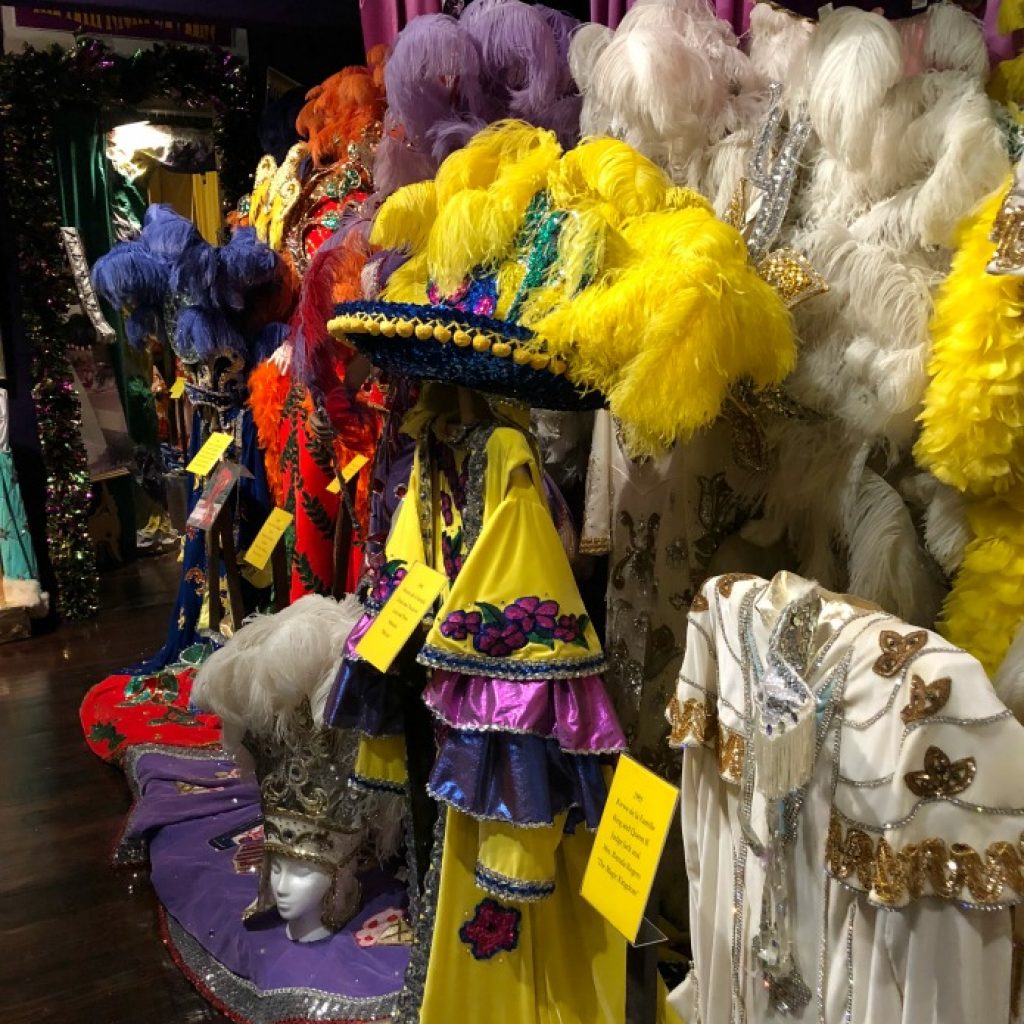 Mardi Gras Museum

While you're in town, don't miss the Mardi Gras Museum. Located in the Central School Arts & Humanities Center, the museum houses the largest collection of costumes in the South. Stroll through the museum's six rooms to learn about the history of Mardi Gras, the costume design process and the history of king cakes. Prepare to be amazed because these costumes are fabulous.
Laissez le bon temps rouler!
For event information and dates, visit www.visitlakecharles.org