Josh's Benches for Awareness, Places to Start Talking about Mental Health
"Josh was a happy, gifted kind soul, always eager to help out his friends," says his mother Cindy Nadelbach. However, a year ago Josh died by suicide. He was suffering from anxiety and depression and at the early age of 21, his life ended.
Cindy Nadelbach is doing something to help others who suffer from mental health issues and are thinking about suicide. She founded the non-profit Josh's Benches of Awareness back in November of 2018 and has been putting bright yellow benches in public places. The benches have the "National Suicide Prevention Lifeline" on them in bold lettering, as well as the message to "Call 211 or Text 898211" for help.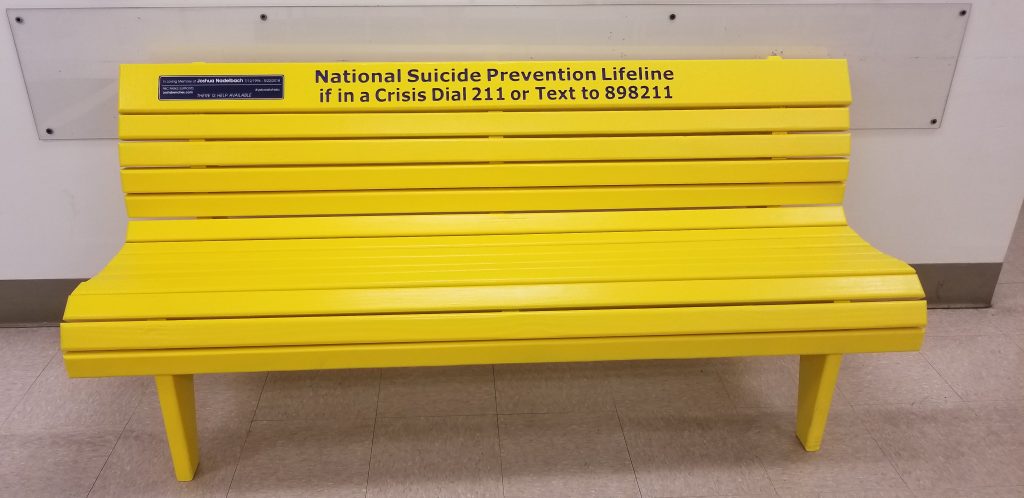 Nadelbach plans to get the benches placed nationwide to get people talking and raise awareness about mental health and suicide prevention. In the United States, suicide is the 3rd cause of death for ages 11 to 34. In fact, one out of three people suffers from depression and anxiety. Nadelbach says that you see it in high school and college quite often, where students are faced with a lot of stress. She sees is as a problem among the gaming community especially, where kids are losing their social skills and eventually losing confidence.
"Josh was the most selfless person I've ever known," she says, citing several of his acts of kindness. Josh's struggles began in high school when he started dealing with anxiety and depression at the age of fifteen. He did a lot of gaming himself and built up a lot of stress playing these games. While there are many contributing factors to each person's emotional well-being, she does pinpoint today's lack of face to face communication as one of those contributors. His anxiety began at about the age of 15. The anxiety and depression seemed to be in remission when Josh was about 19. So his death took everyone by surprise and left many "why" questions.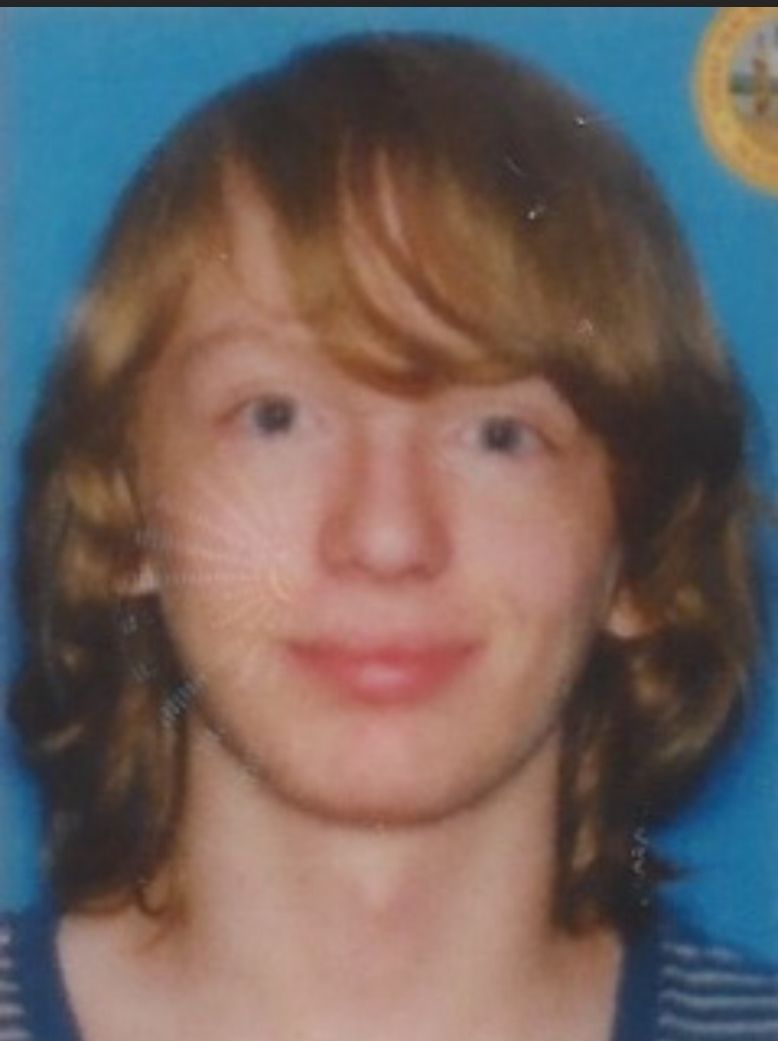 Nadelbach is also careful to correct the language that people use in talking about suicide. "He didn't commit suicide. It wasn't a crime," she says. It's more accurate to say that he was suffering, and he "died by suicide." "We need to get rid of the stigma," she says. "The brain is an organ in the body – why is there a stigma about mental illness?"
She chose bright yellow for the benches because it's a bright and happy color. Suicide is always something in the dark and it's not talked about. "We want to bring the darkness out of the word 'suicide' and bring it to light by talking about it," says Nadelbach. She explains that we need to talk about emotional wellness and have no more struggling in silence.
"Suicide should never be part of anyone's plan of action. There's no turning back." Depression is a silent killer. And suicide leaves behind so many "why" questions for the family and friends.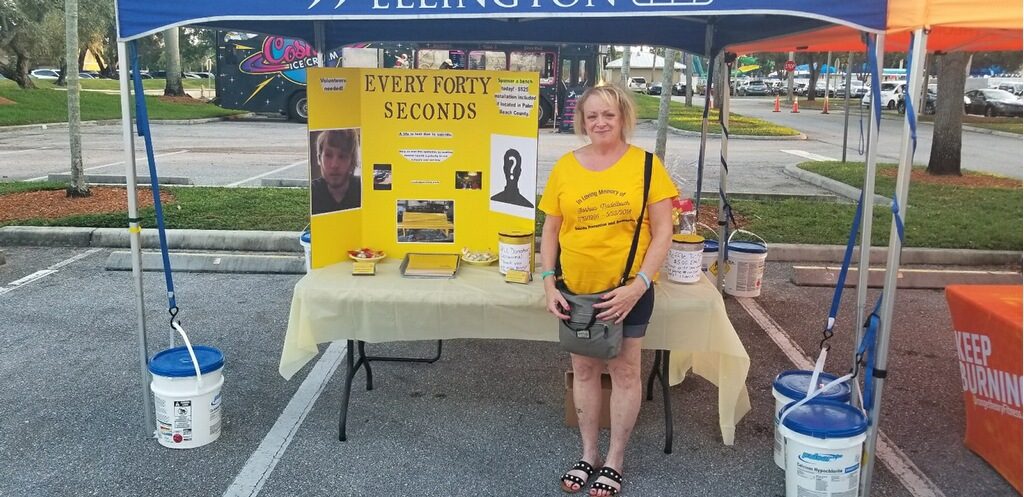 Right now there are nine of Josh's Benches in production. Nadelbach refers to them as awareness benches, in addition to serving as a memorial to Josh. There's one installed in Pierson Park in Wellington by the concession stand. There's one installed in Boynton Beach's Recreational Center, indoors at the entrance. There's another bench installed at Westgate Recreation Center in West Palm Beach. Benches are coming to Tiger Shark Cove Park, Forester Park in Wellington, the Wellington Dog Park, Okeeheelee Park and the Jaycee Park on the intracoastal as well as a few other locations.
The benches have received a very positive reaction from the community. "Everybody seems to love the idea," says Nadelbach. Anyone who would like to donate or sponsor a bench can do so at JoshsBenches.com.
As for the Nadelbachs, Cindy describes them as the all-American family. "We were a family of four with our son Josh and our daughter Lauren." The Nadelbachs have been married for 28 years and moved to Florida from New York in 2005. "Josh had over 60 friends," says Nadelbach. "But he didn't feel connected. He somehow still felt alone. That's the disconnect with anxiety."
To raise awareness, Nadelbach does events, like having a table at the Thursday night events by the Wellington Amphitheater. She gets the word out to people that someone dies by suicide every forty seconds. She explains that we all wear a mask out in public. And many times, a smiling face doesn't show any signs of trouble. At the table, she spends time talking to people about their concerns. She hands out memorial wrist bands in honor of Josh. She talks to people about the mission of Josh's Benches. There's always a need for donations and volunteers too.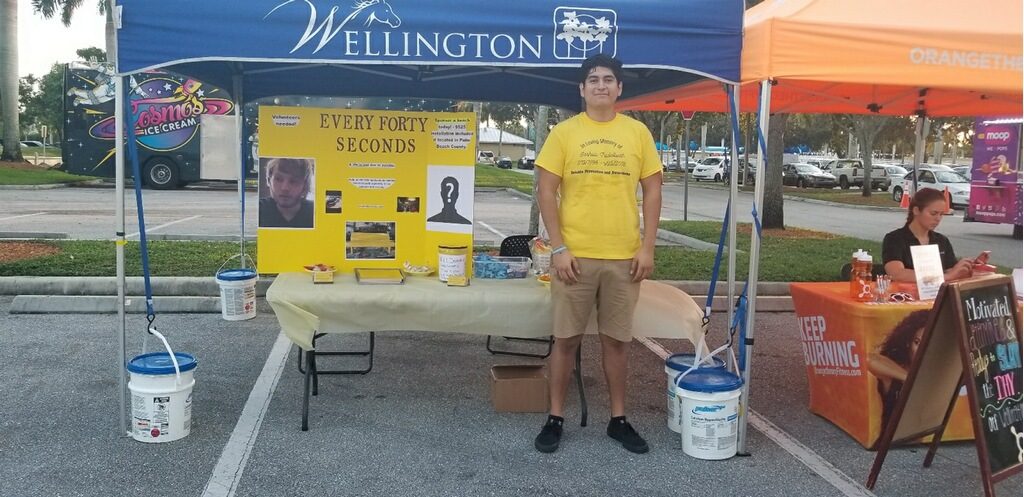 If you visit the "About Us" page on JoshsBenches.com, you'll see that Cindy Nadelbach is the founder of the organization and a young man Victor Perez is the co-founder. Perez was Josh's best friend and has really stepped up to the plate in helping out with Josh's Benches for Awareness, including designing the website.
A park bench is the perfect place to strike up a conversation. And the next time you see a bright yellow bench (marked "Josh's Benches for Awareness"), make sure to ask, "How are you?" to the person next to you." Just a simple question that shows care and concern can make a difference in someone's life and open doors to other subjects.
Josh's Benches for Awareness
A Non-Profit Organization
Cindy Nadelbach, (561) 319-6755
National Suicide Prevention Hotline
1-800-273-8255