Journey of a Blue Collar Collector – Part One
Motel Art to Masterpiece
By Angela Shaw
It all started over breakfast one morning when Phil Materio and his daughter were reading the Sunday paper.  The 1996 article was about a group of mid-century African American painters who made a side living by peddling their landscape oils. Jim Crow laws still reigned in South Florida and forced people of color to take low paying jobs. The enterprising men—later dubbed "The Highwaymen"— would pitch their paintings to tourists, residents and shop owners. Originally selling from 17 to 75 dollars each, the painters knew they weren't creating great art; they were just trying to make ends meet. Soon the artwork decorated the walls of banks, motels, attorney and dental offices. The news column went on to say that although the value of these landscapes was on the rise, they could still be found for a steal at garage sales, thrift shops and flea markets.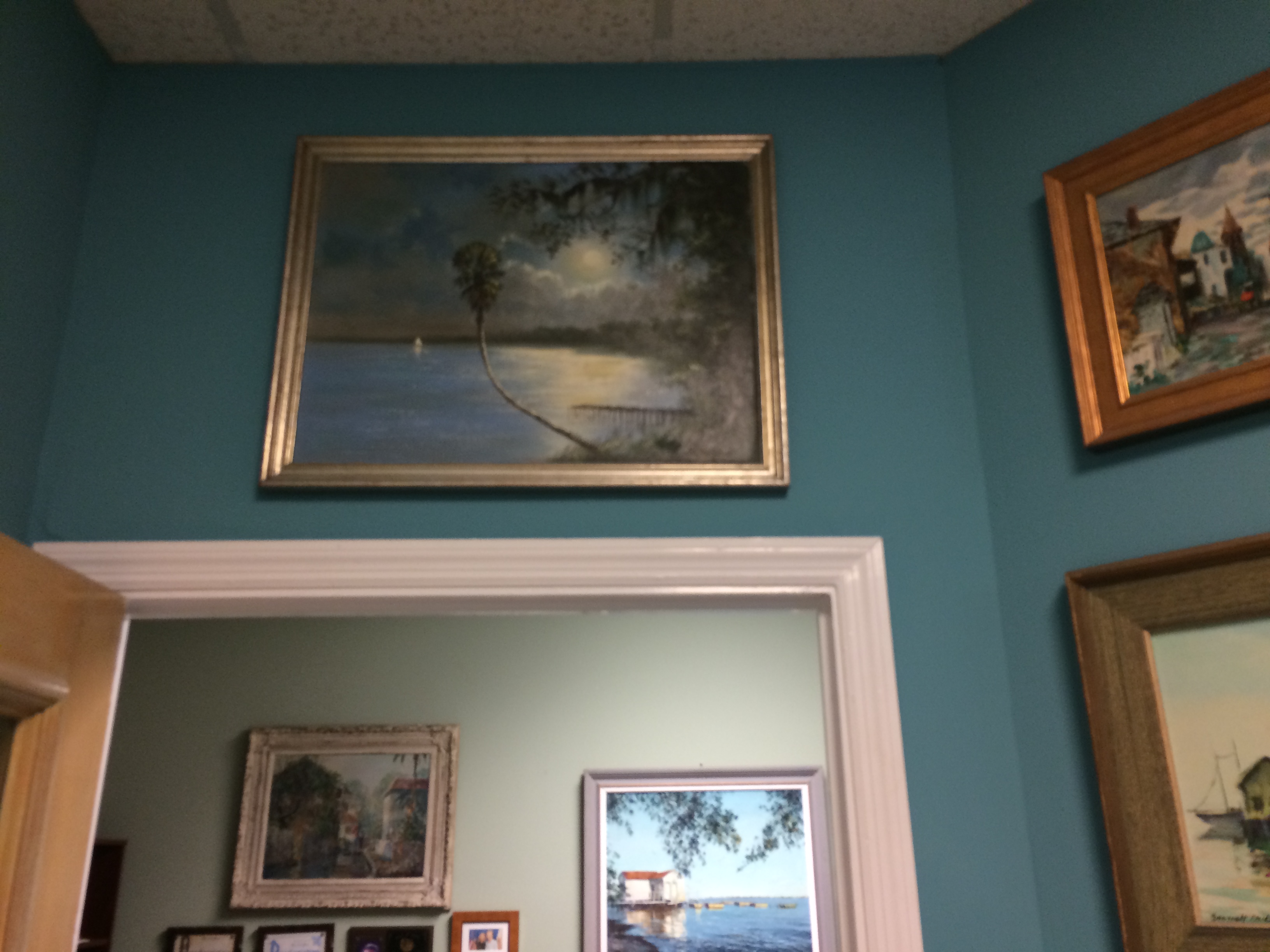 As a stained glass artist and craftsman, Mr. Materio's interest was immediately piqued and he and his daughter went right out to Lake Worth's antique row to see what they could find. The first store they walked into surprisingly revealed three Highwaymen paintings. Phil scooped them up for $17 to $26 a piece. His interest quickly turned into a veritable obsession and propelled him into a statewide search for Highwaymen art. With a self-imposed limit of $100 per painting, he scoured the state for these new found treasures.
Who'd have thought a mere news article could launch a lifelong quest?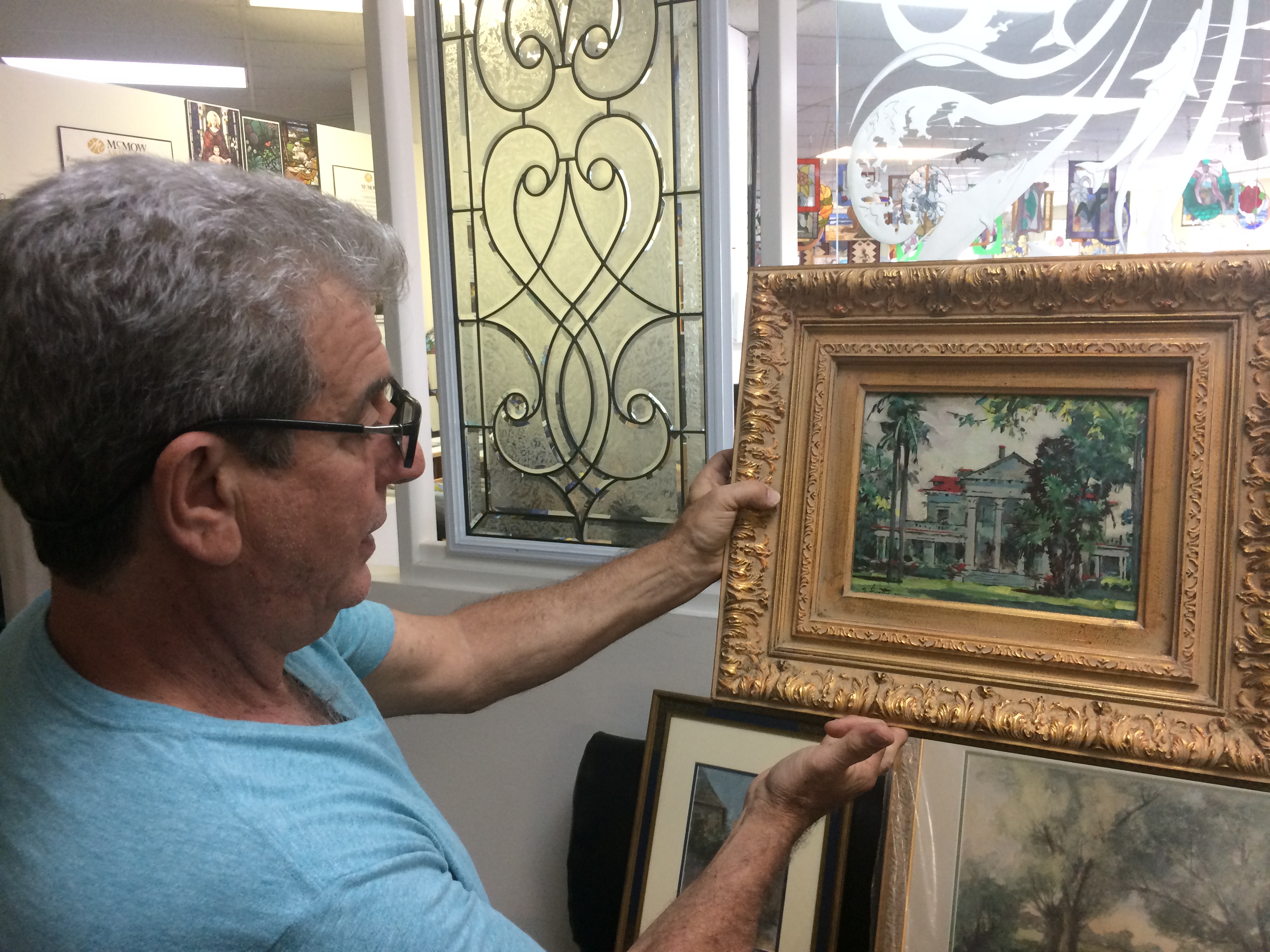 Materio didn't always have to travel far in order to build his collection. One of his neighbors was a doctor. When Phil asked him if he happened to have any of these paintings in his office, surprisingly, he said that he owned three. Phil was happy his neighbor agreed to sell two for $100.
Through his search, Materio acquired a deep knowledge of Florida's social, political and cultural history. The Highwaymen community was centered in the Fort Pierce area, spearheaded by American Impressionist Albert Backus. Considered the "Dean of Florida Landscape painting," Backus' bohemian air fostered inclusion of all races and classes. He would invite people of every stratum to his house for art-centered gatherings.
One such guest was Alfred Hair who became one of Backus' most enthusiastic students and a Highwaymen leader. Like other African Americans who worked in packing houses, factories and farms, he was a laborer. Ambitious and hard-working, Alfred set his sights on two things: (1) a Cadillac and, (2) a house in Miami. Under the tutelage of Albert Backus, Hair began painting scenes of Florida's terrain and skies in exaggerated colors; palms, Poinciana, grasses, rivers and lakes, mountainous clouds and flaming sunsets. Costs were minimized by using crown molding for frames and painting on Upson board (compressed fibers) instead of canvas. After Alfred sold enough artwork he bought his prized Cadillac. When envious friends asked where he got the money, they joined him in his painting venture. Alfred trained them in the Backus style, but no one could paint as fast as Hair. It was said he could finish one painting in an hour. Unfazed by potential competition, Backus had told his art students, "I don't care if you paint like me as long as you sell them for cheap."
The artists sold their works door-to-door, along roadsides and out of their trunks, sometimes with the paint still wet. The 26 "official" Highwaymen included Alfred Hair, Harold Newton, Roy McClendon, Livingston Roberts, Al Black, Hezekiah Baker, James Gibson and Maryann Carroll—the sole female—to name a few.
Alfred Hair never got his home in Miami, as his life was cut short in 1970, but he endowed Floridians with a unique genre of far more worth than a house. It took a while, however, for the art form to rise from mediocrity to fine art. Well into the 80's the Florida landscape paintings were still relegated to motel walls and dentists offices.
It wasn't until the early 2000s that the works started to appreciate. A few books and movies documented the Highwaymen's story of struggle and success and generated a new public interest. The popularity prompted dealers to raise prices. Materio says it's remarkable that in two decades, while many collectibles have dropped in price, these paintings have suffered no decline.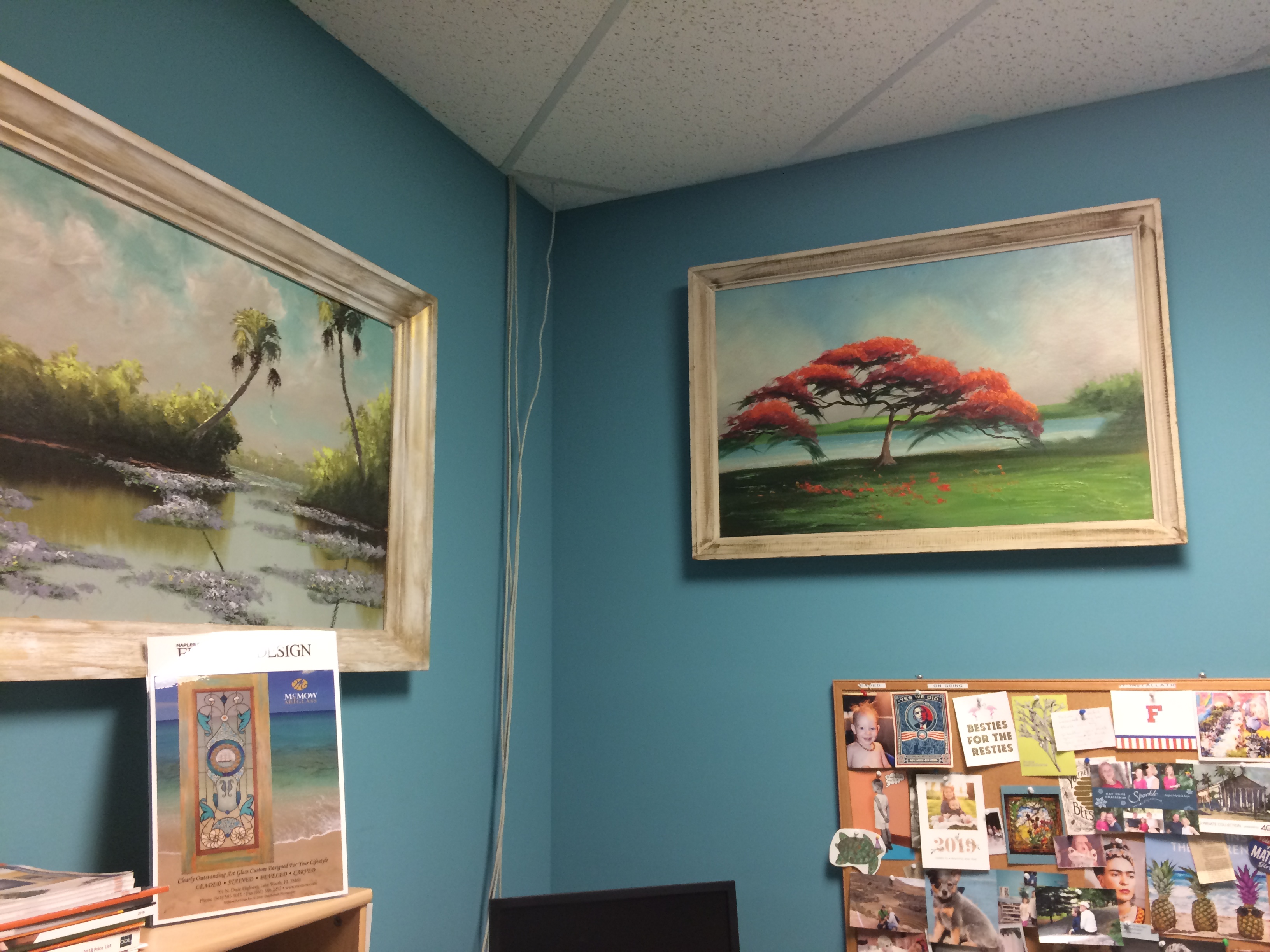 While Phil had amassed hundreds of Highwaymen pieces, he wondered if this was the only art of note in the Sunshine State. Were there other Florida-based painters to be discovered? After reading Mabel Mann's Art in Florida, he learned that there were three main creative hubs: Saint Augustine, Sarasota and Palm Beach. Materio threw himself into gathering the artwork of these communities. His blue-collar philosophy (much like a good stock investor's) was to buy undervalued pieces and watch them appreciate. After twenty years of collecting, 500 paintings and two storage units, his McMow Art Glass studio walls are a testament to his passion.
In Part Two of Journey of a Blue-Collar Collector, share in Phil Materio's discoveries of images of Sarasota's circus oddities, Palm Beach's mansions that no longer exist and St. Augustine's charming street scenes that have survived the centuries.