BANZAI WELLNESS MAGAZINE
LOCAL DENTIST UNVEILS HOTTEST TECHNOLOGY IN RESTORATIONS
by Cheryl Martin
Since his establishment in Wellington in 2005, Dr. Miguel Grillo has offered the most innovative services in dental care around Palm Beach County. With the addition of the new 3M Scanning device, the methods for creating crowns and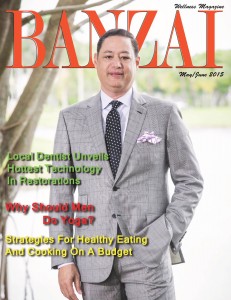 dentures at Healthy Smiles Dental Group has become state of the art. Messy impressions and long wait times are now a thing of the past, as this new technology allows for precise in-house digital oral scans that can be sent directly to the lab. Restorations just "drop right in" and the accuracy is so reliable, many cases don't even require a model. In emergency cases, crowns can be replaced the same day if started in the early morning.
These precisely fitting restorations eliminate the need for retakes, remakes and adjustments which means:
– Faster seating times and fewer return visits associated with remakes
– Lower material and labor costs
– Improved patient convenience, satisfaction and loyalty
In addition to cosmetic and restorative dental services, Dr. Grillo offers an advanced approach to promote healing with plasma rich growth factor (PRGF). This cutting edge therapy is a new approach to tissue regeneration and promotes rapid healing in many procedures in dental and oral surgery, especially in aging patients. PRGF utilizes the patient's own blood which contains growth factors that not only reduce healing time but minimizes bleeding, enhances soft tissue as well as regenerates bone healing. Dr. Miguel Grillo has more than 25 years of experience and is a member many prestigious organizations including the AmericanAcademy of Cosmetic Dentistry and the AmericanAcademy of General Dentistry. Born in the Dominican Republic and raised in New York City, Dr. Grillo came from a family of medical and dental professionals.
Dr. Grillo started his career in odontology, the study of teeth, their structure and health, in his native land of the Dominican Republic. He studied at the Universidad Odontologica Dominicana and received his degree of Dental Surgery in 1986. After graduating, he returned to the United States where he continued his dental training at New York University. He completed his residency and fellowship at Woodhull Medical Center in Brooklyn, N.Y., working in an integrated physician-dentist program. In 1998, while working in private practice, he received his Mastership from the American Dental Implant Association and a fellowship from the International Congress of Oral Implantologists.
Dr. Grillo has an unabating passion for offering the most current innovations in dental technology and making it affordable to his community. He knows all of his patients by name, and their comfort and satisfaction is his highest priority. His calming demeanor eases even the most dental-phobic patients making Dr. Grillo stand out as a favorite dentist in the area. Patients recommend him to friends and family for his quality work in general dentistry to teeth whitening, veneers and implants, and dental restoration.
Dr. Grillo also gives back to the community, every month he donates his time to providing dental services for those without insurance and with limited funds by doing philanthropic work at the Caridad Center in Boynton Beach. Dr. Grillo is the co-founder of the Dominican Healthcare Association of South Florida. The organization, made up of healthcare professionals of Dominican descent, focuses on providing one-of-a-kind care to South Florida. Dr. Grillo and his partners facilitated the launch of the Free Dental Operative and Donating Smiles, programs he is proud to participate in that allow him to use his skills to help those in need.
Along with a thriving career in dentistry, Dr. Grillo has been happily married to his wife, Wendy, for 31 years and is the proud father of four sons. In his spare time, he focuses on his other passion, aviation. He is a licensed pilot and has been an avid flier for 5 years.
Dr. Grillo and Healthy Smiles Dental Group is located at 9136 Forest Hill Blvd. in Wellington. To make an appointment call (561) 784-4670 or for information visit www.healthysmilesdg.com.
http://banzaiwellness.wix.com/magazine