For Immediate Release
Miss Lourdese Marzigliano, age 15, daughter of Michael and Lourdes Marzigliano of Lake Worth,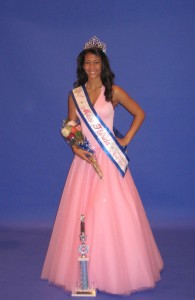 has been selected to represent Florida at the 2009 Miss America Junior Teen Pageant.
As the Florida Junior Teen, Lourdese will be attending the National Pageant for her age group in Florida and Disney World during the week of Thanksgiving 2009. She will compete for the National Pageant title of Miss America Junior Teen and thousands of dollars in cash awards, prizes and scholarships.
Nationwide, State Winners and State Pageant Finalists will compete in the twenty-fifth annual scholarship competition organized by the American Coed Pageants, Inc: National Talent, Speech, Academic Achievement, Community Service, Photogenic, Personality, Most Promising Model, Best Actress and National Cover Girl and Hostess Contests will be held in addition to the National Pageant Winner's Contest.
For more information on American Coed Pageants, contact Mrs. Carolyn Hawkins at the National Pageant Office at (850) 432-8662.