Kinetic Intentions Workshop at Bootz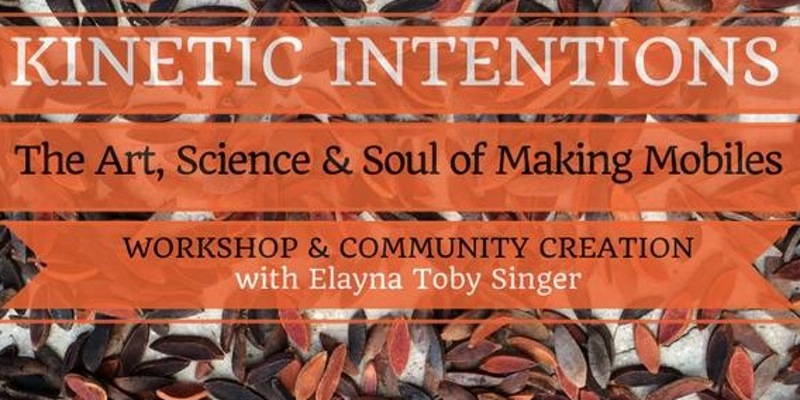 Join us in this hands on experiential workshop created by Elayna Toby Singer and explore the art, science & soul of making mobiles using fishing line and recycled seed pods from Florida's Mahogany trees which are threatened to extinction in the wild.
Experience the centering and meditative process of setting intentions for manifesting personal and environmental balance while learning to create a balanced mini- mobile. You'll love the workshop venue! Just 15 minutes west of downtown West Palm Beach at the Bootz Cultural Art Center at 420 S. State Rd 7, Suite 118 in Royal Palm Beach. Workshop is open to everyone aged 13 and up.
REGISTER for this FREE workshop online now!http://www.eventbrite.com/e/the-art-science-soul-of-making-mobiles-tickets-27931359448
Inspired by Wishing Trees and the Tibetan prayer flag tradition which holds that prayers and mantras are blown in the wind to spread good will and compassion, you'll write your intentions onto ribbons that will blow in the wind as part of the largest community kinetic tree art installation in Palm Beach County.
As a crescendo to the workshops, Elayna Toby Singer will create a seemingly magical motion-filled outdoor curtained "room" of 150 six foot long kinetic strands suspended among by four trees. This "living" room will be festooned with the kinetic Mini-Mobiles and Intention Ribbons during the International Kinetic Art Exhibit and Symposium February 3– 5, 2017.
At the February event the entire community is invited to write his or her own Intention Ribbon, select one of the 500 mini-mobiles crafted in the workshops, and then add both a Mini-Mobile and Intention Ribbon to one of the 150 six-foot kinetic strands, bringing this artful setting among trees to life.
About Kinetic Intentions
Created by the multi-talented, multi-media artist Elayna Toby Singer, Kinetic Intentions is an exuberant temporary Public Art Project that follows in the footsteps of the artist's award winning Kinetic-Connections Project that generated so much public attention in 2015. Kinetic Intentions is part of the City of Boynton Beach's 2017 International Kinetic Art Exhibit and Symposium. Check out project photos and videos atwww.elaynatobyart.com/kineticintentions
Kinetic Intentions, a creation of artist Elayna Toby Singer, is commissioned by the City of Boynton Beach's Art in Public Places. Singer has been creating kinetic art sculpture and jewelry since the mid 1990's and incorporating "found objects" since 2003. Locally, her commissioned works and exhibitions have been shown in Palm Beach and Broward Counties for more than six years. In 2009, Elayna Toby was invited by Habla: The Center for Language and Culture in Merida Mexico, to lead her first "Natural Mobiles" workshop. With a BS in Cultural Anthropology and an MS in Public Horticulture and Museum Management, Ms. Singer's career in creative placemaking began in the early 1990's when she spent fifteen years in some of the nation's leading public gardens and arboreta creating experiences that engaged the public in the art, science and heritage of plants and the essential role they play in our lives.