Lindsay Kellock's Winning Streak Continues with
Oxy-Gen Peak Performance Award at Gold Coast Opener CDI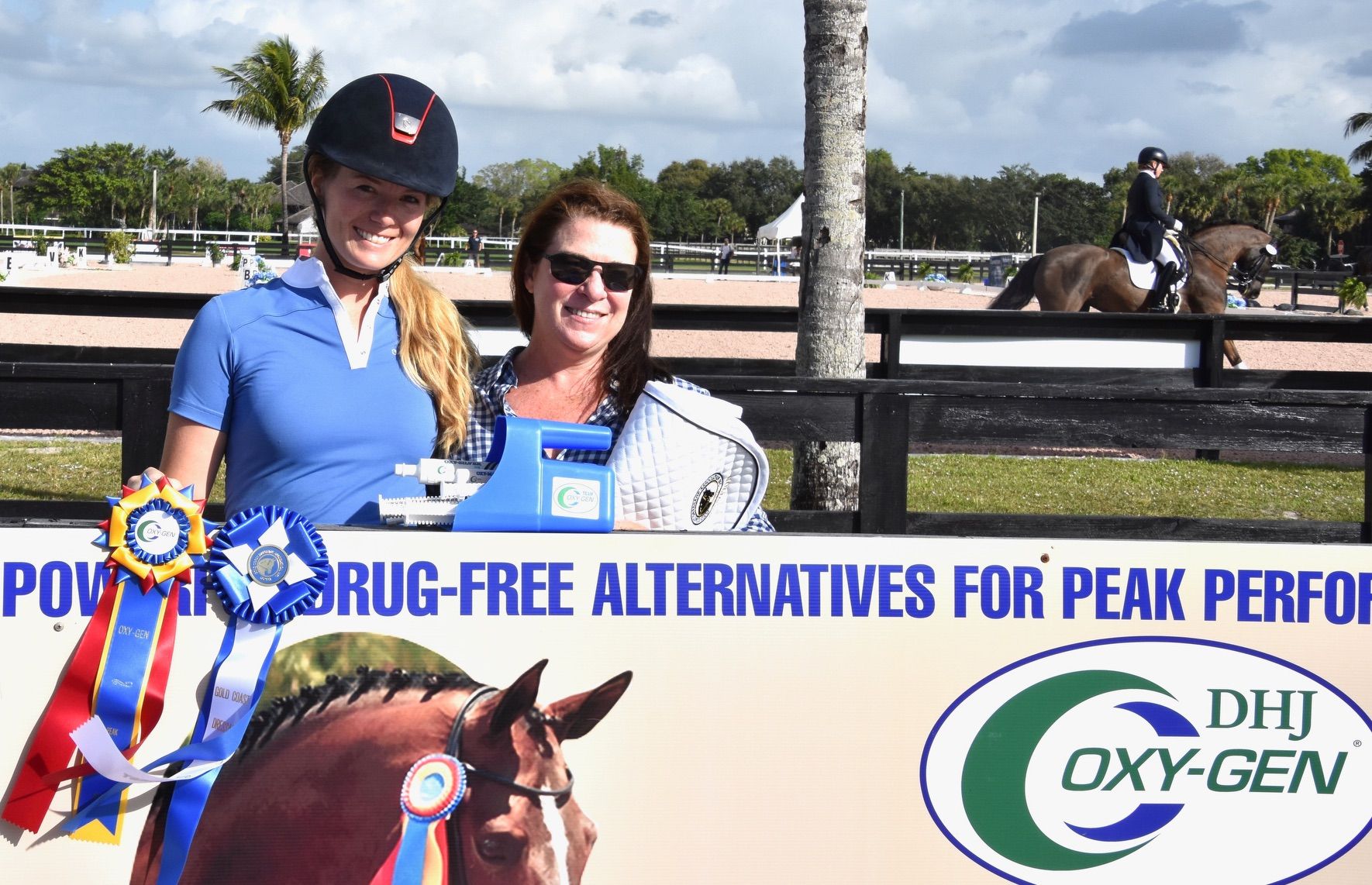 Wellington, FL (February 4,2020)–  After helping the 2019 Canadian Dressage Team clinch Pan American Games Gold, and her back-to-back wins at the Dressage at Devon CDI-W, the international equestrian press had every right to say that Toronto's Lindsay Kellock was having a "landmark year."
Kellock, rides for Enterprise Farm LLC and trains in Wellington, Florida, with four-time Olympic veteran and 1988 Canadian Olympic Bronze Team medalist Ashley Holzer, has given fans something new to talk about, receiving the Oxy-Gen Peak Performance Award for her winning (66.4%) introduction of Enterprise Farm LLC's Royal Santero to his first big competitive test during the Gold Coast Opener CDI2* in January in Wellington.
The Oxy-Gen Peak Performance Award recognizes dressage horse-and-rider pairs like Kellock and Royal Santero for naturally radiating good health from the inside out, and demonstrating the kind of willing partnership essential to competing successfully at the top levels of their sport.
"We're thrilled. He's only done one other show as a four-year-old, so this really is his first show at this high a level. He did everything I asked for," Kellock told Oxy-Gen Peak Performance Award presenters after their Level 4, Test 1 ride. "The weather was a little breezy but he didn't look at a thing! He was smooth throughout the whole ride. I'm still getting to know him better in the ring, too. If anything, I need to clean up my accuracy! This was a very successful first show for this talented horse."
Her new Oxy-Gen Peak Performance Award prize package of natural supplements that meet USEF and FEI competitive standards couldn't have come at a better time: "Our plans are to keep campaigning this horse at the National level. I'd like to qualify him by the end of the season for the Futures Challenge."
Kellock is also keeping an eye on a bigger prize with her other horse, Sebastien: the Tokyo Olympic team.  "We'll see!" Thanks to her Oxy-Gen Peak Performance Award prize package, she's got a powerful new member of the team to join her on the ride.
Oxy-Gen DHJ is proud to sponsor the Oxy-Gen Peak Performance Awards this season. Oxy-Gen DHJ supplements bring a whole new level of performance to the Global Dressage Festival.  For nearly 2 decades Oxy-Gen has been providing fast acting supplements for digestive health, joint, respiratory, immune performance and more.  The Oxy-Gen secret is octacosanol developed and proven for human athletes and combined with vitamin E for an unparalleled delivery to equine athletes.  Competitors see results in just 2 hours with the Oxy-Gen DJH drug-free, all-natural alternatives that meet all USEF and FEI testing guidelines.  Oxy-Gen DJH is available in Wellington at Tackeria and other fine shops or visit www.OxyInfoDHJ.com or follow them on Facebook at https://www.facebook.com/equineoxygen/