March, 2016- 40th AMERICAN RED CROSS DESIGNERS' SHOW HOUSE IS SIZZLING
2016 home is historic "North Station," a former fire station built in 1938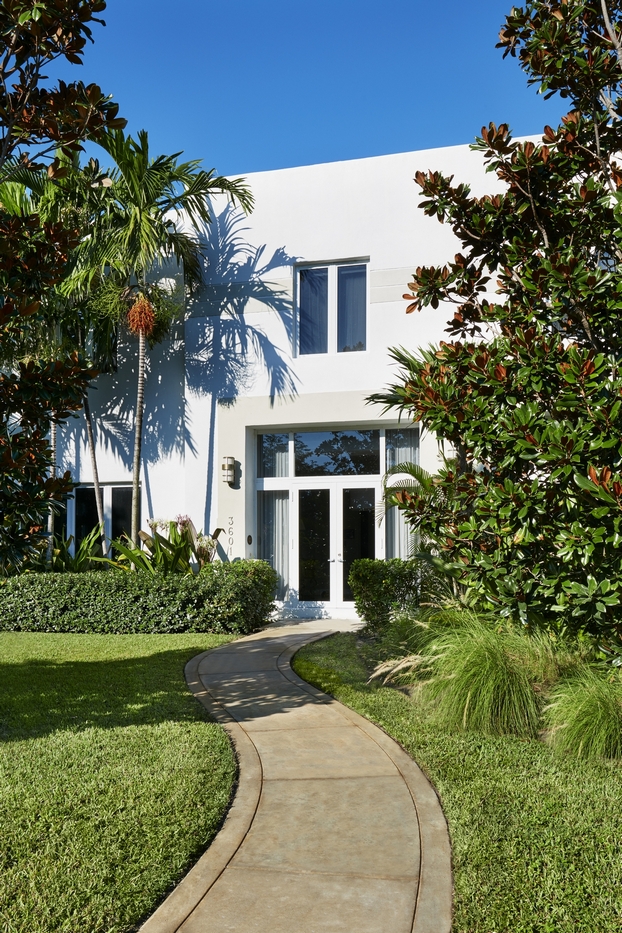 (WEST PALM BEACH, Fla.) Sound the alarms! The American Red Cross will celebrate the 40th anniversary of the Designers' Show House by highlighting one of its most critical missions – assisting those affected by fires. The 2016 featured home is the historic "North Station," former fire station #3 for the City of West Palm Beach. Built in 1938, the station was eventually renovated into a magnificent 4-bedroom Art Moderne-style home that sits on a lush half-acre at 3601 Poinsettia Ave., West Palm Beach. Last year, over 4,500 people attended this benefit event, making it the best attendance to date.
The 40th Designers' Show House benefit event for the American Red Cross is scheduled to open to the public on Thursday, February 25, 2016 through Saturday, March 26, 2016, Mondays to Saturdays from 10 a.m. to 4 p.m., and Sundays from noon to 4 p.m. The month-long event kicks off with a preview party on Wednesday, February 24, 2016. Highlighted by cocktails and hors d'oeuvres and a first peek at the make-over, the party offers an exclusive opportunity to mingle with the designers and ask questions about their rooms.
More than 14 renowned interior and exterior design firms will make their mark on the 4,500+ square-foot home, located in the Old Northwood neighborhood of West Palm Beach. The building was purchased in 2006 by Keith and Gretchen Miller, who converted the building into a residential home.
"With the Designers' Show House celebrating its 40th Anniversary, the designers are eager to make this the best year yet," said Bill Kopp, one of the general chairmen for this year's event. "I look forward to helping lead the 'best of the best' in interior and exterior design as the benefit highlights one of American Red Cross's most critical missions, helping those affected by fires."
In addition to Kopp, Designers' Show House General Chairmen include Stephen Mooney and Mary Monell Masri and Boutique Chairmen Susan Angert and Frank Maguire.
Selected designers for 2016 include:
Kerry Allabastro – Allabastro Designs, Stuart – Guest Bedroom #2
Joseph Cortes and Kevin Marnell – HomeLife, West Palm Beach – Family Room
Jack Fhillips – Jack Fhillips Design, West Palm Beach – Formal Living Room
Jennifer Garrigues and Diana El-Daher – Jennifer Garrigues, Inc., Palm Beach – Foyer
Piper Gonzalez – Piper Gonzalez Designs, Royal Palm Beach – Dining Room
Melissa Guerra and Noe Guerra – NXG Studio, North Palm Beach – 2nd Floor Terrace
Manny Lopez and Jobe Lopez – Lopez Group Inc., West Palm Beach – Landscaping
Mimi Masri – MMDesigns, LLC, Palm Beach – Outdoor Loggia
Stephen Mooney – Stephen Mooney Interiors Inc., Palm Beach – Guest Suite
Joseph Pubillones – Joseph Pubillones Interiors, Palm Beach – Staircase and Landing
Angela Reynolds – Angela Reynolds Design, Jupiter – Master Bedroom
Scott Robertson – Scott Robertson Interiors Inc., Lake Worth – Guest Bedroom #1
Melody Smith – Melody Smith Interiors, West Palm Beach – Kitchen
Veronica Volani-Inza – Veronica Volani-Inza Interior Design, Inc., West Palm Beach – Breakfast Nook
Sponsors to date include All My Sons, Benjamin Moore, First Republic Bank, Elite Stor, Evelyn & Arthur, Gulfstream Media Group, Kirchhoff and Associates, Quigley Maguire, Realtors Association of the Palm Beaches, RoboVault, Susan's Jewelry and The Window Guys.
The American Red Cross shelters, feeds and provides emotional support to individuals impacted by disasters both large and small; supplies more than 40 percent of the nation's blood; teaches skills that save lives; provides international humanitarian aid; and supports military members and their families. The Red Cross is a not-for-profit organization that depends on volunteers and the generosity of the American public to perform its mission.
Tickets to the Preview Party are $200 per person. General admission is $35 per person at the door. In addition to tours of the home, guests may also shop an on-site boutique. For more details and to purchase your preview party ticket, please visit www.redcross.org/DesignerShowHouse2016. Please contact Brianna Sidman at Brianna.sidman@redcross.org or 561-650-9131 to schedule your group of 10 or more.