Cantankerously Yours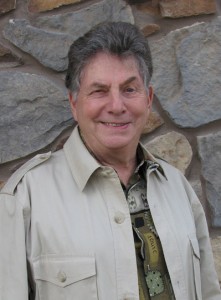 HARRIET GETS A SHOT
(BASED ON AN ACTUAL EVENT)
By Wendell Abern
CAST:
HARRIET WILLIAMS:  ATTRACTIVE, ANYWHERE FROM 30 TO 60.
RECEPTIONIST; RONALD (NURSE); DR. LOGAN; DR. FAIRMAN.
RECEPTION AREA, DOCTOR'S OFFICE. HARRIET PUTS DOWN MAGAZINE SHE WAS FLIPPING THROUGH, WALKS TO RECEPTIONIST.
HARRIET
                             (PLEASANTLY)  Will the doctor be much longer?
                                                 RECEPTIONIST
                             It should be any minute now.  She's been very
                             busy this morning.
                                                     HARRIET
                             I'm just here for a shot.  It only takes two minutes.
                                                 RECEPTIONIST
Yes, I understand.   It — (INTERRUPTED BY SHORT BUZZER)  Ah.  Okay, please go into the examining room now, Mrs. Williams.
HARRIET GOES INTO EXAMINING ROOM.  RONALD ENTERS.  WEARS STETHOSCOPE, CARRIES CLIPBOARD, PAPERS, HEADS TOWARD DESK.
RONALD
                             Good morning, I'm Dr. Logan's nurse, Ronald, I'll be
                             assisting Dr. Logan today.  Yes, I'm new, no, I'm not
gay.  (SITS DOWN)
HARRIET
                             Well, Ronald, I hope we can get this over with –
RONALD
                             Strip!
HARRIET
                             Excuse me?
RONALD
                             Undress, please.  There's a gown behind the screen.
HARRIET
                             (GETS UP UNCERTAINLY)  But I'm just here for
                             a shot.  I get a shot for pain in my hip.
RONALD
                             Please get on the examining table when you're ready.
HARRIET
(COMES FROM BEHIND SCREEN)  What do you have to examine?  (CLIMBS ONTO EXAMINING TABLE)
I get the same shot every four months. 
RONALD
(GETS UP FROM DESK, GOES TO HARRIET, APPLIES STETHOSCOPE)  Breathe.  (PAUSE)  Don't breathe. 
HARRIET
                             Breathe?!  For God's sake!  I'm here to get a shot…
In my hip!  Why are you testing my lungs?
RONALD
                             (WRAPS BLOOD PRESSURE CUFF AROUND HER
ARM)   Shhh.  Please relax while I take your blood pressure.
HARRIET
                             What?  Where's the doctor!?
RONALD
Hm.  Blood pressure's a little high.
HARRIET
It's going to be about 600 over 9,000 by the time
        Dr. Logan gets here!
RONALD TAKES TUBE OUT OF POCKET AND SQUEEZES SALVE ON FINGER.
HARRIET
                             What's that?!  I am not having a rectal exam!
RONALD
 This will just make it easy to apply the suction cups.
HARRIET
                             What suction cups? 
RONALD
                             (APPLIES SUCTION CUPS)  For your EKG.  Please lie back and be still.
HARRIET
                             EKG!  Why am I getting an EKG?
RONALD
                             Procedure.  Lie still, please.
HARRIET
                             Where's President Obama when I need him? 
RONALD
                             (REMOVES EKG WIRES)  I'll go get Dr. Fairman now.
HARRIET
                             (AS RONALD EXITS)   Who's Dr. Fairman?!
RONALD RE-ENTERS ALONG WITH DR. FAIRMAN.
DR. FAIRMAN
                             Hi, I'm Dr. Fairman, I'll be your anesthesiologist today.
HARRIET
                             My what?! 
DR. FAIRMAN
                             Dr. Logan ordered anesthesia for today's procedure.
HARRIET
                             Procedure?  What, procedure?  I get a shot! 
                             Since when does a shot require a procedure?
DR. FAIRMAN WALKS TO STAGE RIGHT, PULLS OUT IV POLE AND DRIP BAG.
HARRIET
                             What are you – LISTEN, I AM NOT HAVING
                             ANESTHESIA!  I DO NOT NEED ANESTHESIA!
DR. FAIRMAN
                             There, there.  Just lie back, please.
HARRIET
                             (WHILE BEING INJECTED)  Are we on Candid Camera?                                   Should I talk into your stethoscope?
DR. FAIRMAN
                             This is just to relax you.
HARRIET
This is absurd!  If someone comes to you with a
broken finger, do you give them heart surgery?
DR. FAIRMAN USES SYRINGE TO SQUIRT SOMETHING INTO THE DRIP BAG.
DR. FAIRMAN
                             Okay, Dr. Logan will be in shortly to give you the shot
                             for your pain.
RONALD
                             (WHILE EXITING)  I'll go get her.
HARRIET
                             This is only a dream.  That's what this is.  It's a dream.
DR. LOGAN AND RONALD ENTER ROOM, RONALD CARRYING HAIRNET.
RONALD BEGINS STRUGGLING WITH HARRIET TO PUT ON HAIRNET.
HARRIET
Howard, what — doctor, what is going on!  I came for a shot!  My usual shot!  Why do I need a hairnet?  Why am I getting an EKG, a –
DR. LOGAN
                             New procedures.  Just lean back and relax. 
DR. FAIRMAN
Ronald, bring in the oxygen, please.
HARRIET
                             What?!  I don't want oxygen!  No oxygen!
RONALD LEAVES AND RETURNS WITH OXYGEN EQUIPMENT.
HARRIET
                             I refuse to take —  (RONALD APPLIES OXYGEN
TUBE TO HARRIET'S NOSE, THEN EXITS AS
HARRIET FUMES.)
HARRIET
                             (TO DR. FAIRMAN)  If this is just a dream,
                             why don't you look like George Clooney?
RONALD RE-APPEARS, USING BOTH ARMS TO CARRY TOWELS.  SETS THEM DOWN AT END OF TABLE, TAKES ONE AND APPLIES TO HARRIET'S LEG.
HARRIET
                             What is that?  Ronald, what are you doing?
DR. LOGAN
                             Just some warm towels, Harriet – all part of
                             the procedure.
RONALD CONTINUES TO APPLY WARM TOWELS ALL OVER HARRIET'S BODY.
HARRIET
                             HELP!  HELP!  I'M BEING MUMMIFIED!
DR. LOGAN
                             Sh-h, Harriet, it's almost time for your shot.
                             Ronald, prepare the area, please.
RONALD REMOVES TOWEL FROM HARRIET'S HIP, STARTS TO RUB FIERCELY.
HARRIET
                             OW-W!  Ronald, you're rubbing off a whole
                             layer of skin!
DR. LOGAN PICKS UP SYRINGE, RONALD STOPS RUBBING.
HARRIET
                             WHAT THE HELL IS NEXT?  WATERBOARDING?
DR. LOGAN ADMINISTERS SHOT.  LIGHTS FADE TO BLACK FOR A FEW SECONDS, THEN GRADUALLY RETURN.
HARRIET IS NOW IN A BED, THE IV STILL ATTACHED, AS IS THE OXYGEN TUBE.  RONALD AND DRS. LOGAN AND FAIRMAN ARE STANDING OVER HER.
DR. FAIRMAN
                             Ah, she's coming around now.
HARRIET STIRS, SITS UP SLOWLY.
DR. LOGAN
                             There we are!  You did just fine, Harriet.
HARRIET
                             I did just fine at what?
DR. LOGAN
                             With your shot!  I gave you your shot, and you should
                             see some relief from the pain in your hip in a day or two.
HARRIET
                             (LOOKS AT WATCH)  It's after twelve!  I've been here
                             for more than three hours!
DR. FAIRMAN
                             And you did just fine. 
HOWARD GOES TO HEAD OF HARRIET'S BED, WHICH IS ON WHEELS AND BEGINS TO WHEEL IT OUT OF ROOM.
STAGE IS NOW EMPTY.  VOICES HEARD COMING FROM OFFSTAGE.
DR. FAIRMAN
We're just going to put you in recovery now for
a couple of hours.
DR. LOGAN
                             Now be sure to make a follow-up appointment
                             before you leave.
HARRIET
                             I get it.  I get it now!  This is a movie!  It's one
                             of those horror movies! 
AS LIGHTS FADE TO BLACK …
HARRIET
Which one of you plays Dracula?
*        *        *
Aside to readers:  Yes, this really did happen.  No, she did not return for a follow-up visit. 
Cantankerously Yours,
Wendell Abern
Wendell Abern can be reached at dendyabern@comcast.net.