Travel with Terri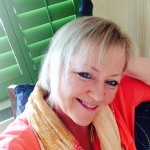 Highland Chocolates:  The Chocolate Factory with a Heart
Story and Photos by Terri Marshall
Chocolate factories are happy places.   The sweet smells make your nose happy and the delicious samples make your taste buds happy.  But Highland Chocolates in Wellsboro, Pennsylvania will make your heart happy.  This little chocolate factory located on the historic and picturesque Route 6 in Tioga County has been making delicious chocolates since 1994.  More importantly, Highland Chocolates has been making lives better for those in the community with intellectual disabilities.  Owned by Partners in Progress, a 501(c)(3) charitable organization, Highland Chocolates employs 19 individuals with various intellectual developmental disabilities.
Upon arrival we were greeted by our tour guide, Michael, who has been working with Highland for 10 years.  He handed us each a hairnet and led the way into the small factory.  Michael explained the equipment, had us guess the names he had given equipment – like Willy Wonka.  He introduced us to each person working the line and explained each job.  When the production manager, Lacey, tried to interject with additional information, Michael was quick to tell her, "I was going to say that!"  He was an absolute delight and very funny – passing out high fives to anyone who could guess the correct answer to his quizzes.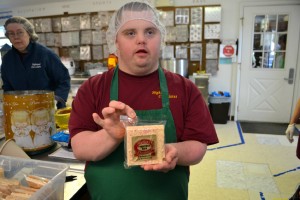 Each employee worked diligently at his or her assigned tasks as we walked through the factory, but all looked up to say hello.  One young lady was responsible for sorting broken pretzels from whole pretzels.  The whole pretzels would be covered with dark, milk and white chocolate.  The broken pretzels would become part of Highland's popular pretzel bark. The pretzels are donated by Herr's, a Pennsylvania based pretzel company.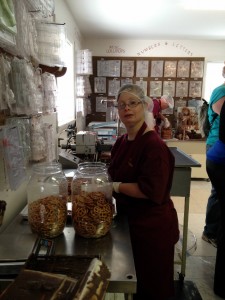 Other popular treats included chocolate covered Oreos, chocolate covered almonds, and fudge.  They also offer snack mixes and have hundreds of molds for specialty chocolates like sports, transportation and holidays.  Highland's also offers customized molds with corporate or individual logos as well as gift baskets.  Factory tours are offered daily and are free, but a donation is always welcome.  During Christmas and Easter, Highland's opens the factory to allow grandparents and grandkids to make chocolates together.
We happened to be visiting on a day when Roberta was working.  Having been with Highland for 17 years, Roberta has perfected the process of making the famous pretzel bark and was very happy to share her tricks of the trade with us.  As she was talking, Michael walked over to her, gave her a hug and said "Roberta's a keeper."  Personally, I think everyone at Highland Chocolates is a keeper.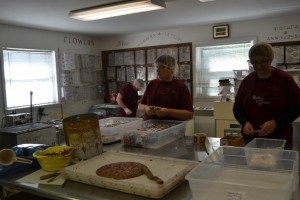 As the holiday season approaches and you start to make your shopping lists, consider ordering from Highland Chocolates.  You won't just be giving the gift of chocolate, you will be enhancing someone's life.  www.highlandchocolates.org
***
Terri is a New York City based writer who is happiest when she's globetrotting and loves bringing stories of her adventures to her readers.  She is the Globetrotting Grandmom for TravelingMom.com, the National Chocolate Examiner for Examiner.com, Special Projects Editor for TravelSquire.com, and a contributor to several other publications.  You can learn more about Terri and her work at www.trippingwithterri.com.   Connect with Terri on Facebook at https://www.facebook.com/TrippingwithTerrior on Twitter @trippingwterri .