Banzai Wellness Magazine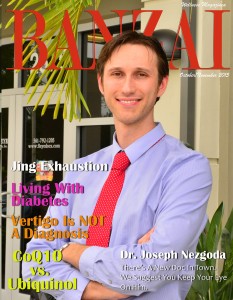 THERE'S A NEW DOC IN TOWN. WE SUGGEST YOU KEEP YOUR EYE ON HIM
by Gwen Cohan & Mancini Photography
http://www.fleyedocs.com/

This past August, Florida Eye Microsurgical Institute welcomed Joseph Nezgoda, M.D. as the newest member of their growing practice. Dr. Nezgoda, a fellowship trained retina specialist focusing on the treatment of macular degeneration, diabetic eye disease, retinal detachment, uveitis and inflammatory eye disease and other conditions of the retina and vitreous, was sought after by numerous medical practices and hospitals across the country, but he chose to join the Florida Eye family for several reasons. 

"It was a happy coincidence that one of the best practices in the country was also in the same county as where my family lives," says Dr. Nezgoda, adding, "Now I can spend time with my mother and grandparents who are in Palm Beach County. With all the traveling for my training, I was never able to see them on a regular basis." 

Dr. Nezgoda, a native of New Jersey, did indeed do his share of traveling while training for his specialty, spending time in Washington D.C., Maryland, New Jersey, New York City, Philadelphia, Cleveland and San Diego. He has also studied in Belgium and Italy, and while he hopes to continue his travels, he is happy to now call South Florida his home. 

Another reason Dr. Nezgoda selected Florida Eye, besides the practice's proximity to his family, is that he was thrilled to choose a practice that enjoys a wonderful reputation for putting patient's needs first and foremost. "It is also a privilege to work with Dr. Randy Katz, the senior retinal specialist in the group. Now we will have full-time coverage for our patients with retina issues in Wellington and Boynton Beach."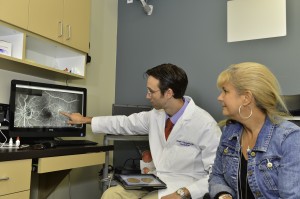 Dr. Nezgoda zeroed in on a retina specialty in medical school because he had an interest in helping patients of all ages. "As a retina specialist," says Dr. Nezgoda, "I have the privilege of helping the most vulnerable of all of our population. Very premature babies can get a condition called retinopathy of prematurity. This is the disease that claimed Stevie Wonder's eyesight. With modern medical technology we can support babies that are born at 23 or 24 weeks when they need special eye care. I've also had the pleasure of treating seniors for diseases such as wet macular degeneration. We have amazing new medicines that are able to stop and sometimes reverse a disease that was completely blinding as recently as 10 years ago. And as a major added plus, Florida Eye is one of the premiere centers for clinical trials in the country, which enables me to offer these cutting edge studies to my senior patients who qualify." 

As far as adjusting to his new Florida lifestyle, Dr. Nezgoda couldn't be happier. "Having grown up in the northeast, the climate of South Florida is certainly a welcome change. After a long day of work it's nice to get a swim in and given the water temperature I couldn't be more pleased." 
And the greatest perk about living in Palm Beach County? "Being able to enjoy my grandparent's cooking is perhaps the best part of being here, although I will of course need a gym membership to burn it all off!" 

Read more about Dr. Nezgoda, M.D. and all of the doctors and services offered at Florida Eye at www.fleyedocs.com.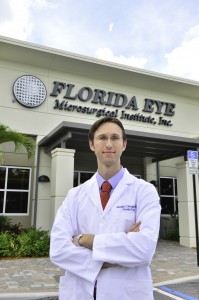 Florida Eye Microsurgical Institute offers a full range of total eye care, including routine examinations, emergency eye care, pediatric eye care, dry eyes, advanced corneal, retinal and cataract procedures, laser treatments, glaucoma and diabetic procedures, and various other sophisticated treatments. With its own pediatric wing and fully accredited outpatient surgical center in Boynton Beach, the Institute also has offices in Boca Raton, Wellington and Juno Beach. Also at Florida Eye with Dr. Nezgoda and Dr. Katz are Dr. Lee Friedman, Pediatric, ROP & Adult Strabismus Specialist, Dr. Barry Schechter, Director of Cornea & Cataract Service, Dr. Jason Gorscak, Refractive Cataract Surgery, Glaucoma & Comprehensive Care Specialist, and Dr. Jonathan Criss, Medical & Surgical Ophthalmology & Refractive Cataract Surgery Specialist.