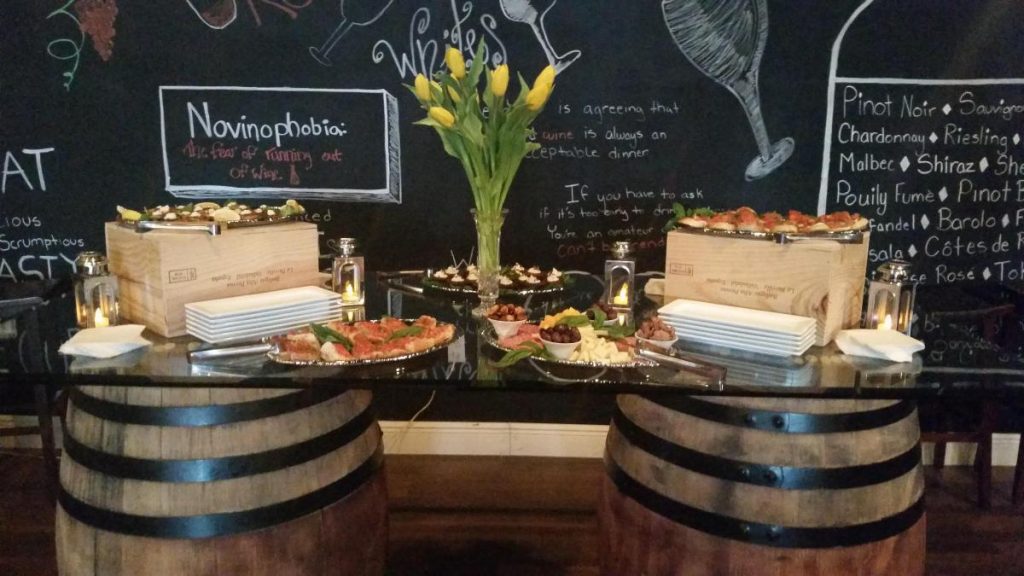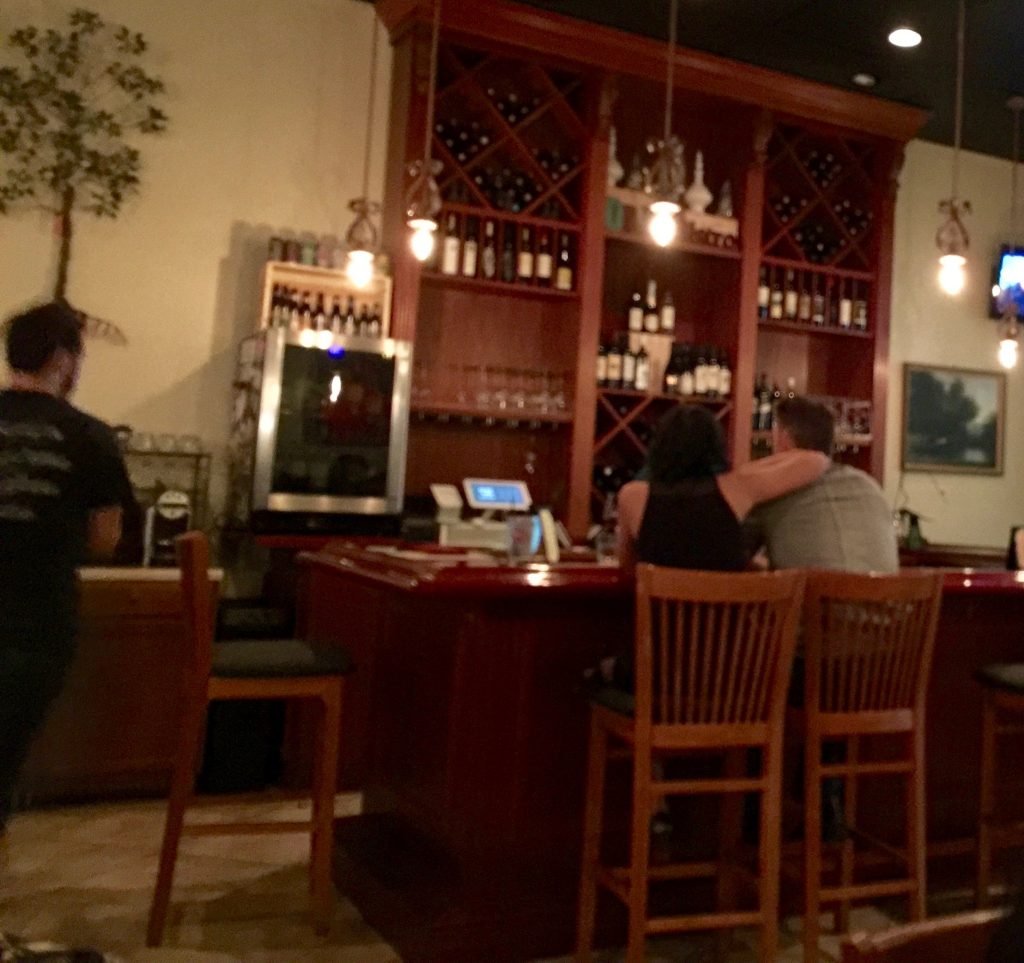 The Oak Bistro and Wine Bar is a hidden gem located in the Southern Palms Crossing shopping center. As soon as you walk through the door you are made to feel welcome and at home. Friendly staff greet you and seat you. The owners and chefs Lisa and Brian Jacobsen warmly and enthusiastically interact with the diners. Even the guests are friendly! And the food is delicious, fresh and seasonal. All of that and over 70 different bottles of wine with over 30 by the glass, as well as a variety of craft beers to choose from. The ambiance is warm and cozy and the walls are adorned with original artwork from local artists who are members of the Wellington Art Society.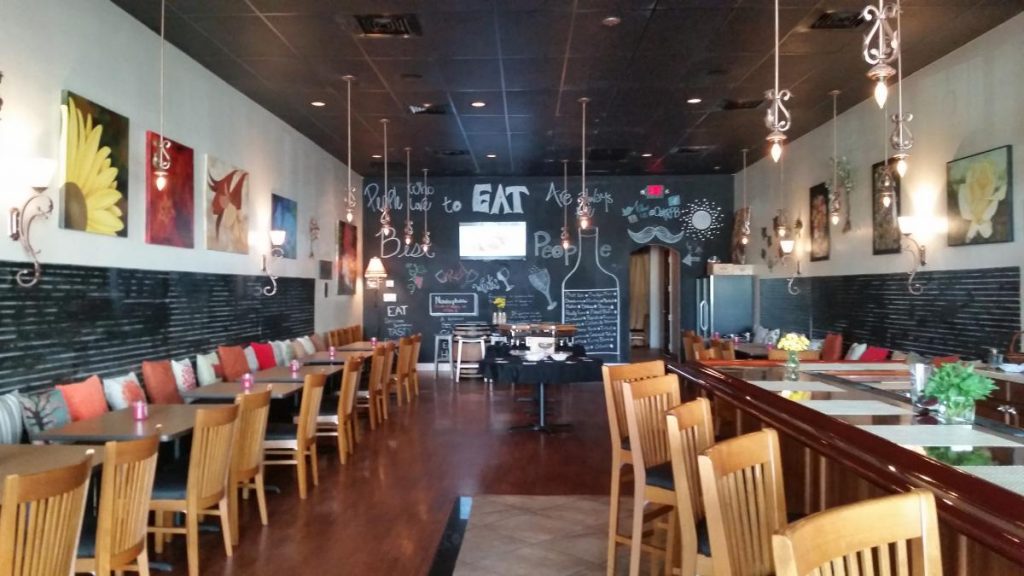 OaK Bistro and Wine Bar seems to me to be the perfect combination of classy and casual where you can come to "Wine Down" after a long day. You will find a well thought out eclectic menu of small plates and your server will be most helpful in suggesting the perfect beverage pairing. In addition to tapas they also serve nightly entrée specials ranging from grilled steaks, to fresh fish And if you don't see what you're looking for just ask, they truly aim to please. They are also very aware that many of their customers may have special dietary needs and are Gluten-free friendly, Paleo and AIP friendly.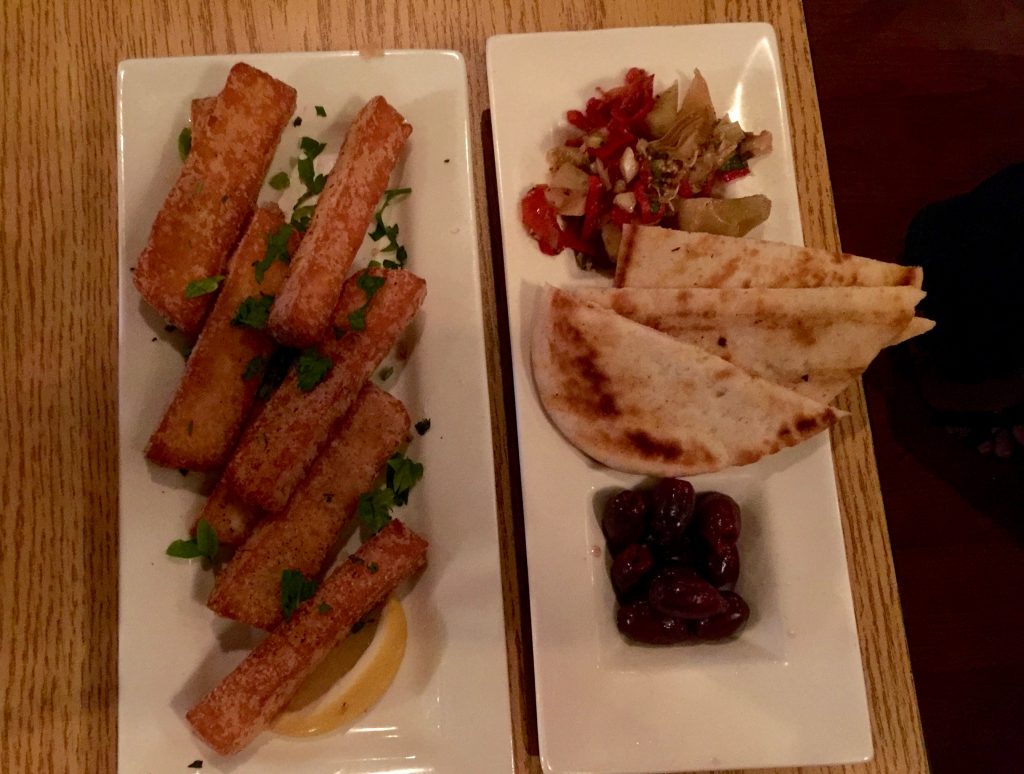 My husband and I went on a Wednesday night because it was our anniversary and Steve didn't want me to cook. Small plates are what we like most because we get to taste a few menu items and not feel guilty about ordering dessert. We decided on a trio of dishes. Two that we selected and a third that our waiter told us was addictive. Our choices were the Fried Halloumi Platter and the Italian Panini. The fried halloumi was fabulous. The cheese batons were lightly coated in panko for a crispy crust and the cheese was rich and chewy. The accompaniments of kalamata olives, grilled flat bread and artichoke salad really added to the enjoyment of the dish. The panini was so yummy. What could be bad? Toasted ciabatta stuffed with salami, capicola, ham, provolone, mozzarella, lettuce, tomato, pepperoncini and Italian vinaigrette. But the real star was the T's Chickpeas that our waiter had suggested. The bowl of fried chickpeas dusted with just salt and pepper was truly addictive, just as he said.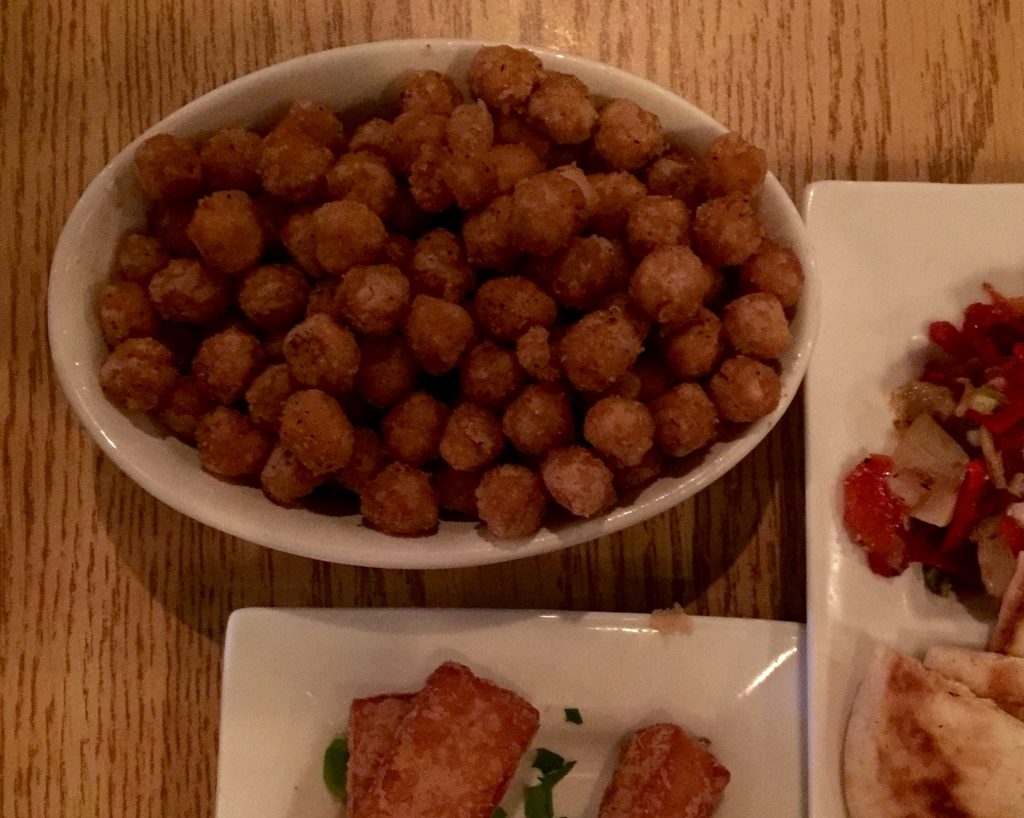 The term small plates might be a bit misleading. The portions are not small at all. The plates are generously filled and perfect for sharing which only adds to the convivial atmosphere. We were so taken with the fried chickpeas that the diners to the left and right of us as if they were really as good as we made them sound. So we let them all have a taste! They all agreed and said they would be sure to order them next time they went to the Oak Bistro.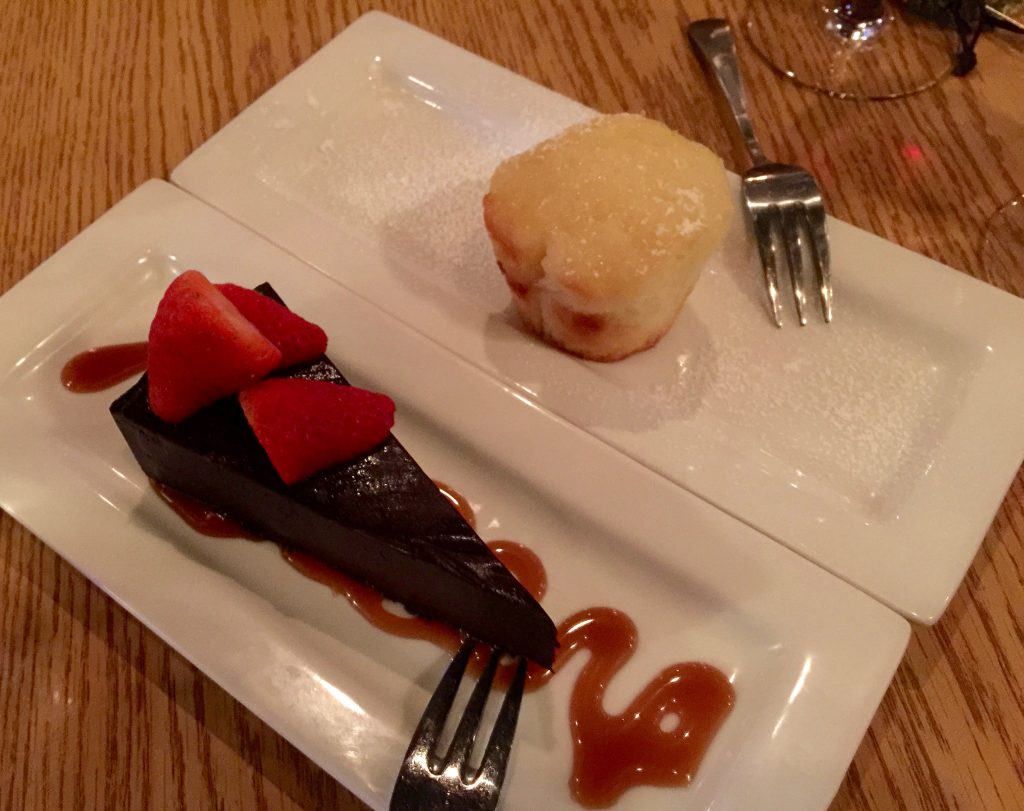 But that's not all we had. We had dessert. Yes, fabulous dessert. I had the Flourless Chocolate Cake with Fresh Strawberries and my husband the Gluten-free Lemon Cupcake. Both desserts were amazing! And, yes, we did share.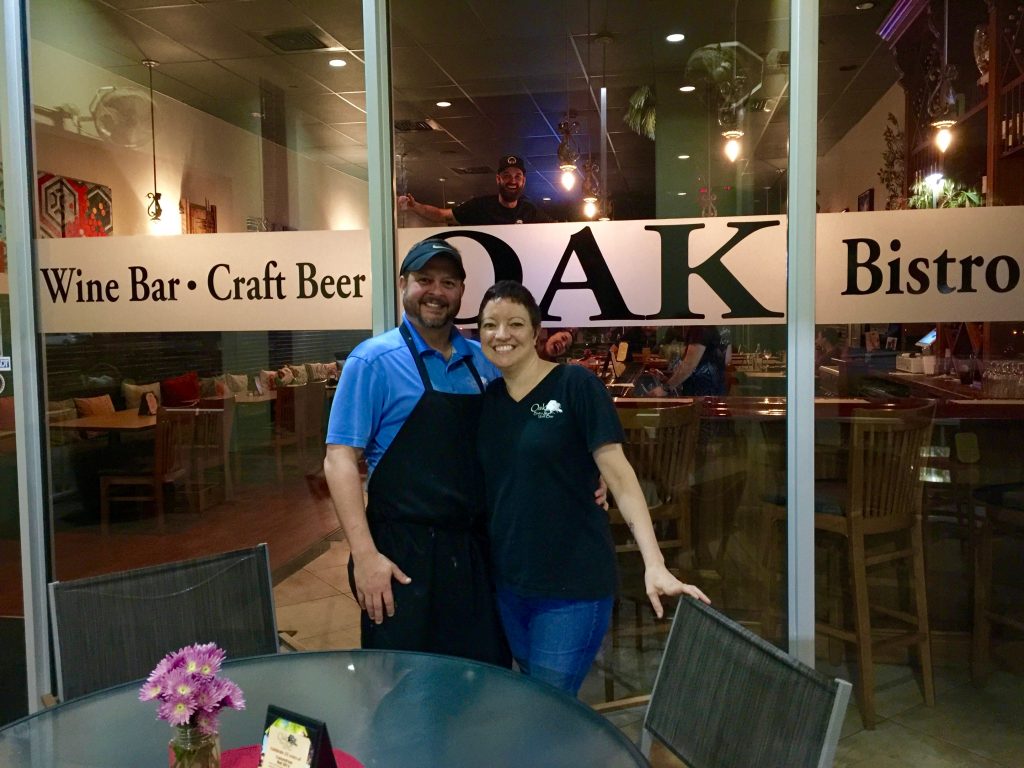 Oak Bistro and Wine Bar is open everyday for dinner and on Saturdays and Sundays they also serve brunch.
11051 Southern Blvd. Suite 210
Royal Palm Beach, FL
561-753-6217