Oatmeal and Protein Peanut Butter Balls
A Healthy Breakfast Recipe from Sherri Mraz, the Cookin' Yogi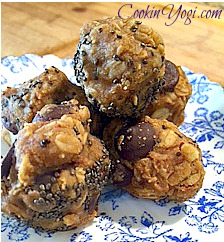 1/2 cup natural peanut or other nut butter
1/2 cup maple syrup
pinch sea salt
1 tsp vanilla extract
1 1/2 cups rolled oats
1/2 cup dark chocolate chips
1 tsp chia seeds
2 -3 tbls vanilla protein powder
1/4 cup sliced almonds
Directions
Melt peanut butter, maple syrup and salt together over low heat until smooth
Remove from heat and stir in oatmeal, protein powder, almonds and vanilla
Let cool completely
Fold in chocolate chips
Form into balls and roll in chia seeds
Can add coconut flakes, almonds, walnuts, or flax, whatever you like.
These snacks are loaded with protein, great for pre or post workouts and even breakfast. I throw a few in my sons lunch box to avoid the afternoon slump.
If you are interested in getting a good quality protein powder visit Natures Sunshine, you can get it at distributors cost as well. Please add my member number 3453229. Thank you ?