BANZAI WELLNESS MAGAZINE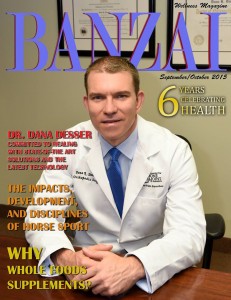 DR. DANA DESSER
COMMITTED TO HEALING WITH STATE-OF-THE ART SOLUTIONS AND THE LATEST TECHNOLOGY
BY LOIS SPATZ & LOIS SPATZ PHOTOGHRAPY
Injuries and aging can change the way we live our lives. Whether it is a broken ankle or an arthritic knee, our lives can be altered in a single moment. Even a gradual change in mobility can keep us from doing all the things we love and may even take for granted.
Hip and knee arthritis, rotator cuff injuries, overused or aging joints and fractured bones are the types of injuries that can cause immobility, pain and truly alter a healthy way of life. Finding the right doctor is the number one key to healing.
Doctor Dana Desser is that doctor. An orthopedic surgeon who takes pride and responsibility in offering state-of-the-art solutions as well as traditional surgical solutions, committing his practice to returning his patient's lives back to normal and in some cases, even better than before. Dr. Desser believes attempting to heal a patient without surgery is just as important as surgery itself.
The irony of his successful Royal Palm Beach orthopedic surgeon practice is in the rate of success his patients see without having to undergo surgery. Dr. Desser has evolved his practice into a place where the injured and suffering have access to the latest technology and nonsurgical solutions to even the most debilitating situations as well as offering the most current surgical techniques.
"My main goal is to allow the person to return to the life they were living before the injury, and to minimize recovery time as much as possible," Dr. Desser says with a certainty and a smile. "I want my patients to be as healthy as possible, for as long as possible and really enjoy an active life, especially as they age."
Dr. Desser's recent turn to regenerative orthopedic technology using amniotic fluid injections to repair, recover and return his patients back to a full range of motion has him feeling even more confident. "Being able to offer my patients the latest technology, allows me to help them maintain an active lifestyle while minimizing pain and recovery time, and this is very important to me," Desser said. "Offering non-operative alternative treatment options is a key part of my surgical practice."
Amniotic fluid based treatments offer a multipotent biological system that has the potential to speed up healing and can also enhance the body's natural regenerative process.
According to the US National Library of Medicine National Institutes of Health, amniotic fluid cells have been proposed as a powerful recovery tool for their ability to represent a source of new cells to replace those lost due to tissue injuries and degenerative diseases. They can replace damaged cells and restore tissue function after transplantation.
"This type of treatment allows me to improve a patient's quality of life, minimize complications and potentially restore full function to many of my patients who may want to consider non-surgical alternatives," Dr. Desser added. "Often times compared to the surgical alternative, I see faster and less painful results."
Amniotic fluid treatment can not only mean less down time but also may decrease the need for a surgical procedure. And when it comes to a painful injury or a degenerative disease, that can mean a world of difference to a suffering patient.
Dr. Desser did his internship at Wellington Regional Medical Center and considers Palm Beach County his home. After his orthopedic residency he completed a fellowship in hip and knee reconstruction. He has trained for years in traditional techniques, minimally invasive surgery and now cutting edge technology with amniotic fluid treatment to help and improve the lives of his patients. His office is located at the Center for Bone and Joint Surgery of the Palm Beaches off State Road 7 and filled with thank you cards and letters of gratitude from patients, tangible evidence he truly cares and delivers on his word. "Most of my patients hug me and call me by my first name."
When Dr. Desser is not seeing patients he enjoys training and seeing concerts with his family and most importantly, giving back to the community. "I feel so fortunate and blessed and being involved in the community gives me an opportunity to give back." In January Dr. Desser co-chaired the Wellington Dinner Dance at the Boys and Girls Club and continues to mentor youth in his spare time.
"With all the new technology in medicine, we are seeing patients overcoming the challenges of aging, and we have the tools to give patients what they need to have a better, more functional quality of life and stay active well into their seventies and beyond." Dr. Desser said.
Along with the Royal Palm location where Dr. Desser sees most patients, The Center for Bone and Joint Surgery of the Palm Beaches established in 1992, has three other Palm Beach County locations and offer on-site x-rays, MRIs, physical therapy, aquatic therapy and outpatient surgery.
To schedule a consultation or to make an appointment with Dr. Desser call (561) 798-6600 or visit boneandjoint.org for more information on the center.