Travel with Terri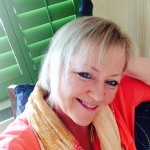 Getting to Know the Charms and Characters of St. John's, Newfoundland
Story and Photos by Terri Marshall
Arriving in St. John's, Newfoundland I was instantly charmed by the colors of the city.  Historic downtown streets are lined with wooden row houses painted red, yellow, lavender, green and blue.  Hilly streets wind past these "jelly bean" houses, stately churches and historic monuments.  I was charmed again as I got to know the people of this special place.  This a place of folklore, humor, and stunning natural beauty.
People speak to you as you pass by.  They want to engage in conversation, tell you about their city and invite you to become part of their world – if only for a week.  And when they speak, it is enchanting.  I could swear I had landed in Ireland instead of Canada's easternmost province.  Maybe it's that close proximity to Ireland.  When you stand on the most easterly point at Cape Spear overlooking the Atlantic Ocean you are directly across from County Clare, Ireland with just a watery road between you.   Immigrants from Ireland settled here centuries ago and the Irish lilt settled in with them.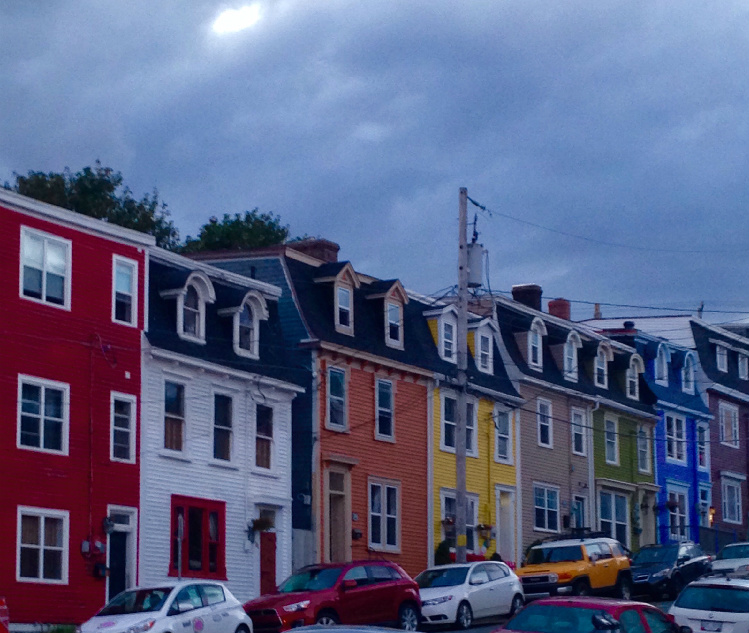 The residents of St. John's are unlike anyone else in Canada – or really anywhere.  They change words like dropping the "h" and adding it to another word beginning with a vowel.  I have no idea why, but I found it fascinating.  As our tour guide, Mike Edmunds, explained, "You can take the 'h' out of Holyrod and put it back in Avalon."
Mike also said the homeowners in Newfoundland have a great fondness for vinyl siding.  Outside of the historic protected downtown with its rows and rows of "jelly bean" houses, vinyl siding is everywhere.  Its popularity is attributed to the harsh winters that cause the paint on their brightly colored houses to fade.  Vinyl is much less work.
Often shrouded in heavy fog, Newfoundlanders are ecstatic when sunshine shows up.  It was present for my visit giving the reds, yellows, lavenders and blues of the wooden row houses even more brightness.  The residents love the sunshine so much they even want to share it with their laundry.  On a bright sunny day you will hear them say, "It's a fine day on clothes." And with that they will hang all of their mentionables and unmentionables out on the clothesline for all the world to see.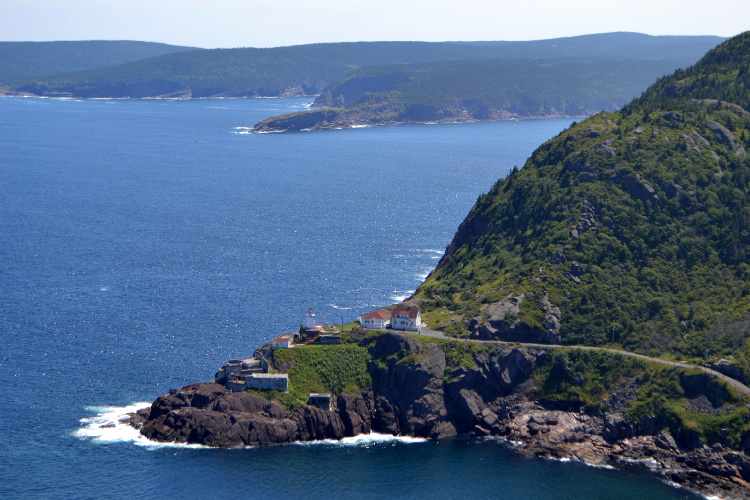 They seem to be a happy bunch and with the stunning natural beauty surrounding their city, I can see why.  I got my first glimpse of this magnificent landscape on my first trip up Signal Hill.  On one side, I could look down to the harbor of St. John's below and the narrow passageway that leads to the sea.  On the other side I stood speechless as I watched powerful waves of the Atlantic Ocean crash against the ancient rocks.  A lighthouse precariously perched on a rocky cliff stood watch below.  Whales were swimming in the deep blue waters delighting onlookers with an occasional appearance.  The power of the water is nothing short of amazing.  As one gentleman told me, "If ye fall in, ye won't drift ashore, you'll drift to Ireland."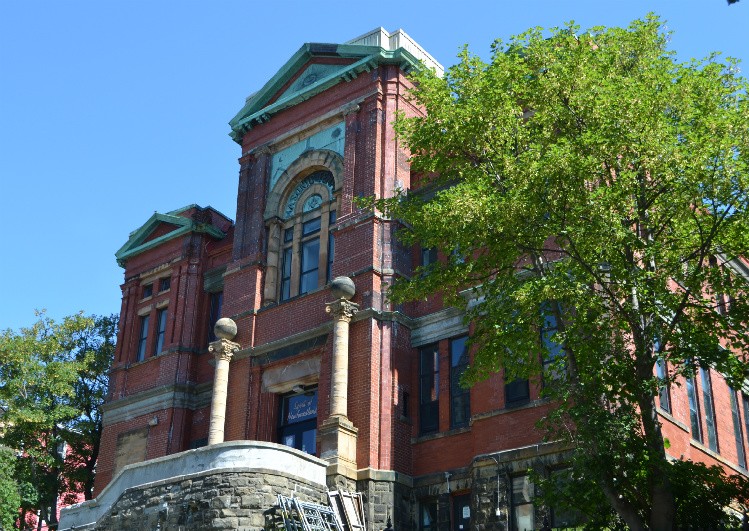 I couldn't bear to leave St. John's without becoming an honorary Newfoundlander by being "screeched in",  a longtime tradition most likely made up to make fools out of those of us who "come from away."  I had to participate nonetheless.  Screech is a rum sold in Newfoundland with 40% alcohol that is blended and bottled by the Newfoundland and Labrador Liquor Corporation.  It is also the potent spirit used in a screeching in ceremony.  This tradition takes place all over Newfoundland and most definitely in the pubs along George Street in St. John's, but for my screeching in, I chose the former Masonic Temple that now houses The Spirit of Newfoundland, a performing arts venue.  An architectural gem, the former Victorian Masonic Temple was built 112 years ago by the political and business leaders of the day.   There is an enormous pipe organ in the main room, pianos everywhere and plenty of symbols and mysteries to keep anyone intrigued.   It was in this historic place under the watchful eye of the ghosts of Masons past, that my friend, Kim, and I were screeched in.
The lovely young bartender regaled us with tales of folklore.  Then she explained the steps required to be screeched in as an honorary Newfoundlander.  First, there is a quote that must be said correctly, then a kiss for the cod followed by a shot of Screech. Following her lead I screeched out the phrase, "Deed I is me old cock and long may yer big jib draw."  And with that I kissed a dead cod fish and took a shot of Screech.
Terri is a New York City based writer who is happiest when she's globetrotting and loves bringing stories of her adventures to her readers.  She is the Globetrotting Grandmom for TravelingMom.com, the National Chocolate Examiner for Examiner.com, Special Projects Editor for TravelSquire.com, and a contributor to several other publications.  You can learn more about Terri and her work at www.trippingwithterri.com.   Connect with Terri on Facebook at https://www.facebook.com/TrippingwithTerri or on Twitter @trippingwterri .