FPL TO DONATE $30,000 TO HELP PROVIDE THOUSANDS OF MEALS FOR
PALM BEACH COUNTY RESIDENTS AFFECTED BY COVID-19
Palm Beach County Food Bank to receive $10,000 for its continued hunger relief efforts across the county
Palm Beach County, Fla. (May 27, 2020) – The Palm Beach County Food Bank announces today that Florida Power & Light Company (FPL), through the NextEra Energy Foundation, is contributing $10,000 for its hunger relief efforts. The donation will help the organization provide more than 8,000 additional meals to families in need.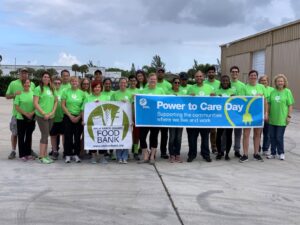 "During this challenging time, people are using the resources of the Palm Beach County Food Bank more than ever," said Karen Erren, executive director for the Palm Beach County Food Bank. "As the number of hungry residents continues to grow from the effects of COVID-19, we hope this generous donation from FPL will inspire others to also consider support as we continue to help our neighbors in need."
FPL's donation to the Food Bank is part of the company's commitment of more than $30,000 to nonprofit community partners dedicated to hunger relief and food insecurity programs in Palm Beach County. FPL, its affiliates and their employees have contributed more than $4 million in assistance to communities since the start of the pandemic.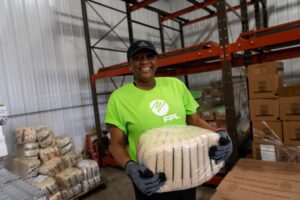 "As the COVID-19 pandemic continues to disrupt the lives of so many people in Palm Beach County and other communities, it also shines a heartbreaking light on the very real issue of food insecurity," said FPL President and CEO Eric Silagy. "As friends and neighbors who care deeply about the communities we serve, we are happy to do our part to help the men and women working tirelessly on the front lines to ensure the most vulnerable have access to meals during this difficult time."
Almost 200,000 residents in Palm Beach County are in need of meals for their families, and the number keeps growing amid the COVID-19 pandemic. FPL's donation will help the food bank and other partners distribute meals to those in need, including: The Glades Initiative, Hospitality Helping Hands, J.A.Y. (Jesus and You) Outreach Ministries, Inc., Church in the Palms, CROS Caring Kitchen, CROS Ministries and Boca Helping Hands, Inc.
"With children out of school and senior citizens at high risk, the need for food is essential," said Karis Engle, president and CEO of The Glades Initiative. "We want to thank FPL. Its support of The Glades Initiative allows us to continue assisting residents with access to food for so many of our most vulnerable residents in the Glades."
FPL continues to connect customers experiencing hardship as a result of COVID-19 with resources, including those available from federal, state and local authorities. For more information, customers can visit www.FPL.com/Help.
About Palm Beach County Food Bank
Before the COVID-19 pandemic, the Palm Beach County Food Bank provided access to nutritious food for more than 100,000 hungry Palm Beach County residents every month. In recent weeks, that demand has already doubled as more people are left without jobs and income. Typically, the food bank procures more than 5 million pounds of food annually from grocery stores, restaurants, food distributors, wholesalers and other sources, and provides it to almost 200 local community partners and programs, including food pantries, soup kitchens and residential housing programs. In the wake of COVID-19, food donations have become scarce and almost a third of its partner agencies have had to close their doors. For more information, visit pbcfoodbank.org.
About The Glades Initiative, Inc.
From assisting residents with access to vital services like Medicaid/Medicare to SNAP, Glades Area Food Bank and Pantry, training programs, and much more, The Glades Initiative, Inc., works to remove the barriers that Glades residents encounter within the local system of care. Since 2002, The Glades Initiative has helped thousands of hard-working residents put food on their table, access quality healthcare and focus on enjoying healthier, happier lives. Each year, its work results in clients accessing services valuing over $8.5 million. In addition to direct service, The Glades Initiative strives to improve the coordination of care in the Glades by working closely with partners and collaborating on important services. Visit  www.gladesinitiative.org.