Famous Producer Dick Arlett presents "Best Film" Award at 2nd Annual Cell Phone Film Festival for Middle School Students
Academy Award Winner, Famous Producers are judges!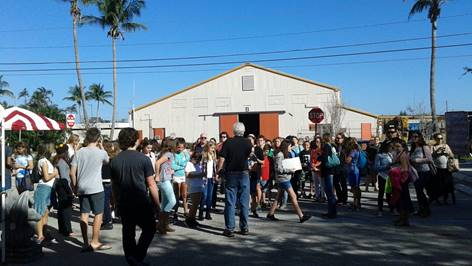 Palm Springs, Florida (12/1/16) – The Cell Phone Film Festival for middle school students is the only one of its kind anywhere in the world.  This free one-day event is held in October and is open to all middle school students in Palm Beach County, FL.  The 6th, 7th, & 8th graders learn how to shoot, act in and edit a short film using sets that were already constructed for the school's X-Scream Halloween show.  "There is nowhere else in the world that kids this age would get to shoot their own films in a state-of-the-art sound stage other than here at G-Star Studios (named one of the seven best sound stages in the world)," says Dawn Hauptner, founder of the festival.  "The kids had so much fun.  They wrote some terrific scripts and we had almost 20 final films submitted from our middle schoolers.  The films were so well-done, too.  We've got some really talented young film-makers, actors, and cinematographers."  Judge and producer, Dick Arlett stated, "This is so cool that G-Star Studios and the Palm Beach International Film Festival has joined this worldwide cell phone trend and recognizes the enormous benefits that a Cell Phone Film Festival has for young aspiring film makers… especially 11-13 year olds."
"This is the only Cell Phone Film Festival for Middle School Students that we know of in the world.  Next, we are planning a Cell Phone Commercial Challenge for middle and high school students.  This event will require them to write, shoot and edit a commercial on their cell phone," Hauptner said.
Dick Artlett, former Producer of The Today Show, the Bob Hope TV Specials and numerous award winning documentaries, will be presenting the 2nd annual Cell Phone Film Festival "Best Film" award this year for middle school students.  The Red Carpet Gala and Awards Ceremony will be a formal affair held at G-Star Studios in Palm Springs, Florida on December 10, 2016 at 4:00 p.m.  Eleven categories will be awarded and the winner of the "Best Film" will receive a second award at the Palm Beach International Film Festival Student Showcase of Films at Lynn University in March.
The judges for this year's entrants were Bobby Moresco, the Academy Award winning Co-writer and Producer of CRASH and Million Dollar Baby; Dean Lyon, a Special Visual Effects Supervisor of all three Lord of the Rings movies; Jeff Davis, the Film and Broadway Producer of Rock of Ages with Tom Cruise, Legally Blonde; Dick Arlett, world traveling Field Producer of NBC's The Today Show; and Arthur Bernstein, Writer and Producer of the film Walt Before Mickey.
For more information, contact Dawn Hauptner at 561-818-6534 or dawnhauptner@gmail.com.