Hey Kids! Check out this recipe for a sweet treat!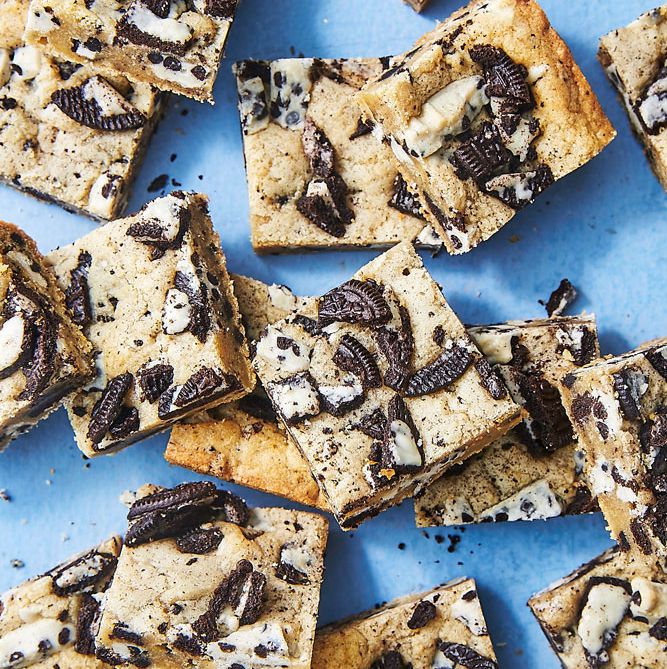 2 1/4 c.
all-purpose flour
3/4 c.
(1 1/2 sticks) melted butter
1/2 c.
packed brown sugar
1 tsp.
pure vanilla extract
1 1/2 c.
Cookies & Cream candies, such as Hershey's, chopped and divided
1 1/2 c.
Oreos, chopped and divided
Directions
Preheat oven to 350°. Line a 9″-x-13″ pan with parchment paper, leaving a 2″ overhang on all sides. In a large bowl, mix together flour, salt, and baking soda, and set aside.
In the bowl of an electric mixer, beat together melted butter and sugars until combined, then add eggs and vanilla and beat well, scraping down sides if necessary. Slowly add in flour mixture, and mix until just combined. Fold in 1 cup each of chopped candies and chopped Oreos.
Spread batter evenly into prepared pan and top with remaining candies and cookies.
Bake blondies until the edges are just golden, about 22 minutes. Let cool in pan for 10 minutes, then remove to a cooling rack and allow to cool completely before slicing.
Got an easy recipe for us to share? Send it to us at: editor@aroundwellington.com.