PALM BEACH PAR 3: A PRICELESS BEACHSIDE PEARL
By Mike May
When one thinks about what to do and where to go in Palm Beach, Florida, shopping on Worth Avenue, visiting the Flagler Museum, and staying at The Breakers immediately spring to mind. Playing golf on an oceanside par-three golf course does not immediately top many lists, but for golfers, it will….and deservedly so.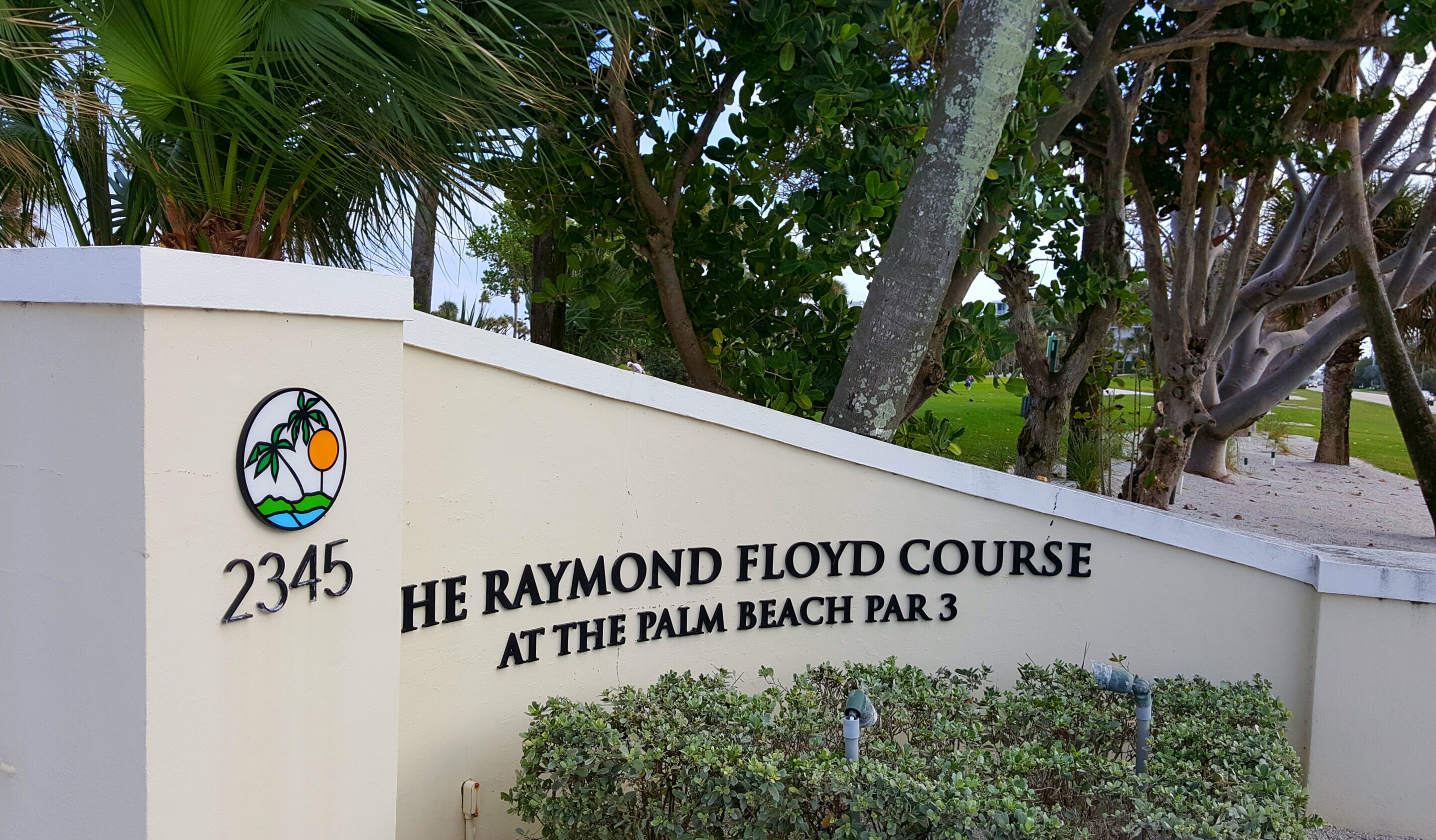 The Raymond Floyd Golf Course at Palm Beach Par 3 (2345 South Ocean Blvd., Palm Beach, FL; 561­547­0598; par3@townofpalmbeach.com) was originally designed by golf course architects Dick Wilson and Joe Lee. The course opened for play in 1961 and it was privately owned until 1973, when the Town of Palm Beach bought it for $5 million. The course was then redesigned in 2009 by Hall of Fame golfer and four­time major champion Raymond Floyd.
"What makes the Palm Beach Par 3 so unique is the magnificent setting by the ocean and intra-coastal and that it is not only open to the public, it is a municipal golf course with a private club feel," said Palm Beach Par 3 head professional/golf manager Tony Chateauvert. "I am excited to work for the Town of Palm Beach and run one of the premier golf properties anywhere in the world."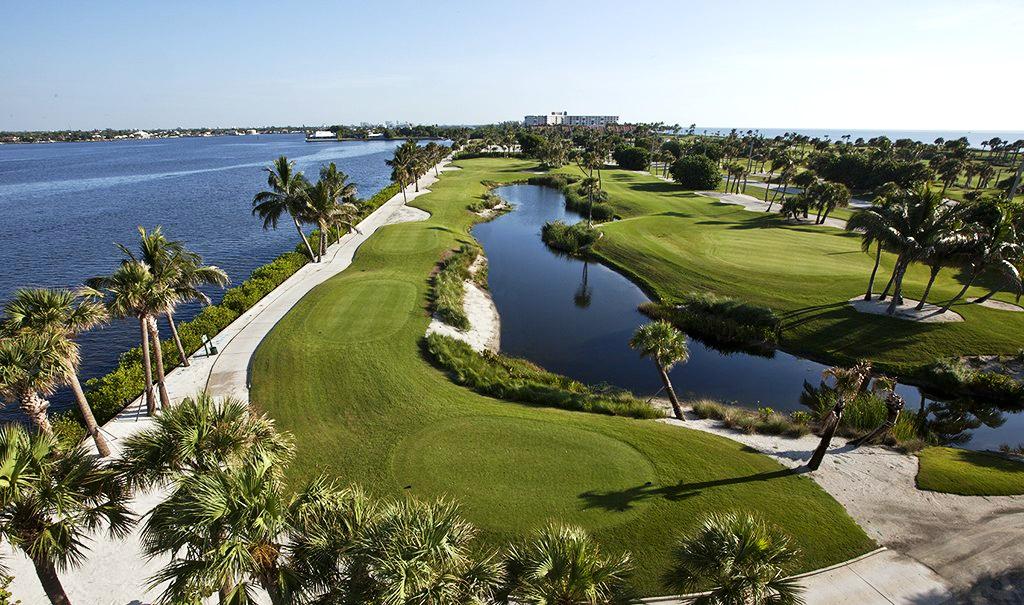 The spirit of Palm Beach Par 3 is best represented by its website: www.golfontheocean.com. Very few golf courses are as close to an ocean as Palm Beach Par 3. Kudos to the civic leaders in Palm Beach for having the foresight more than 50 years ago to realize that this community deserved and needed a golf course….and not another beachside mansion. The original design of this course by Wilson and Lee was great, but the efforts of Floyd and his redesign team have taken Palm Beach Par 3 to a level of excellence which many golfers thought was never possible. If you want to test your short game, reserve a tee time at this course. At Palm Beach Par 3, the holes from the back tees range from 81 yards to 211 yards. When there's a strong wind present, it can influence club selection by two or three clubs. At Palm Beach Par 3, you might need all 14 clubs on a windy day, which is nearly every day.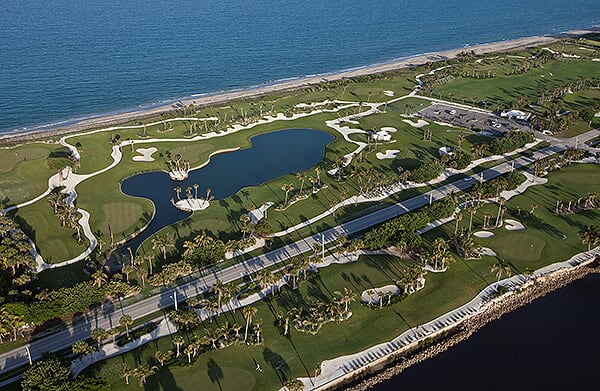 Strategically placed between the Atlantic Ocean (to the east) and the Intracoastal Waterway (to the west), Palm Beach Par 3 is situated on one of the most scenic parts of real estate in south Florida, as you can see either the Atlantic Ocean or the Intracoastal Waterway – which locals call the Lake Worth Lagoon – on every single hole. While playing seven holes (12th, 13th, 14th, 15th, 16th, 17th, and 18th), you can see both bodies of water. Just as the 13th, 14th, and 18th holes hug the beach along the ocean, the 4th, 5th, and 6th holes are just steps away from the Intracoastal Waterway. On those holes, any tee shots that drift in the wrong direction will find a watery grave. By the way, it's very difficult saving par from the bottom of the Lake Worth Lagoon or the Atlantic Ocean!
As great as the scenery is at Palm Beach Par 3, the condition of the entire course is even better, especially the greens which are receptive, fair, consistent, true, and very well maintained. Kudos to golf course superintendent Tim Campbell and his staff at Palm Beach Par 3 which must battle the constant side effects of the salt spray which is forever present on this seaside strip of real estate. It was a wise decision to use drought/salt water tolerant Paspalum turf on the course.
In addition to the presence of the Atlantic Ocean and the Lake Worth Lagoon, Palm Beach Par 3 has two lakes on the course which come into play on five holes – 1st, 3rd, 4th, 15th, and 16th. It's fair to say that a water hazard of some kind seems to loom on nearly every shot at Palm Beach Par 3. Also, this is an easy course to walk, though golf carts are available if you choose that mode of transportation.
The locals are not the only fans of this course as Golf Digest has named Palm Beach Par 3 as "The Best Par 3 in the U.S." on two occasions.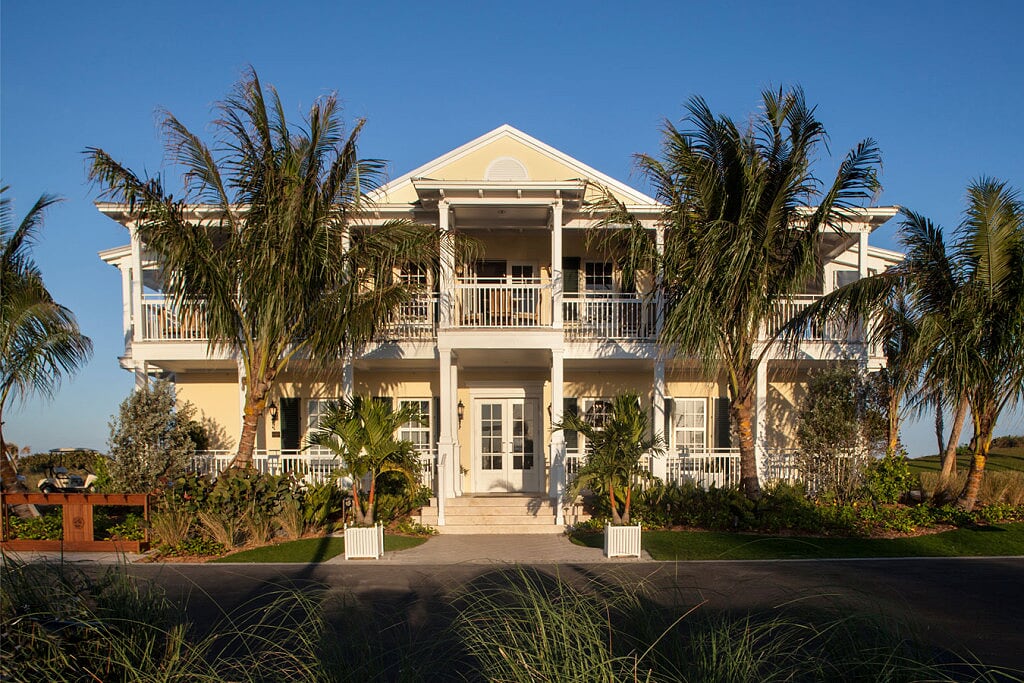 Even though real estate is in somewhat short supply at Palm Beach Par 3, this course has enough space for a driving range, a practice putting green, and a two­story clubhouse (opened in January of 2014) which features a full service pro shop and Al Fresco's Pizzeria/Ristorante/Bar (561-273-4130). Also, inside the clubhouse, golf aficionados will enjoy getting a glimpse of a reproduction of Floyd's 1986 U.S. Open trophy.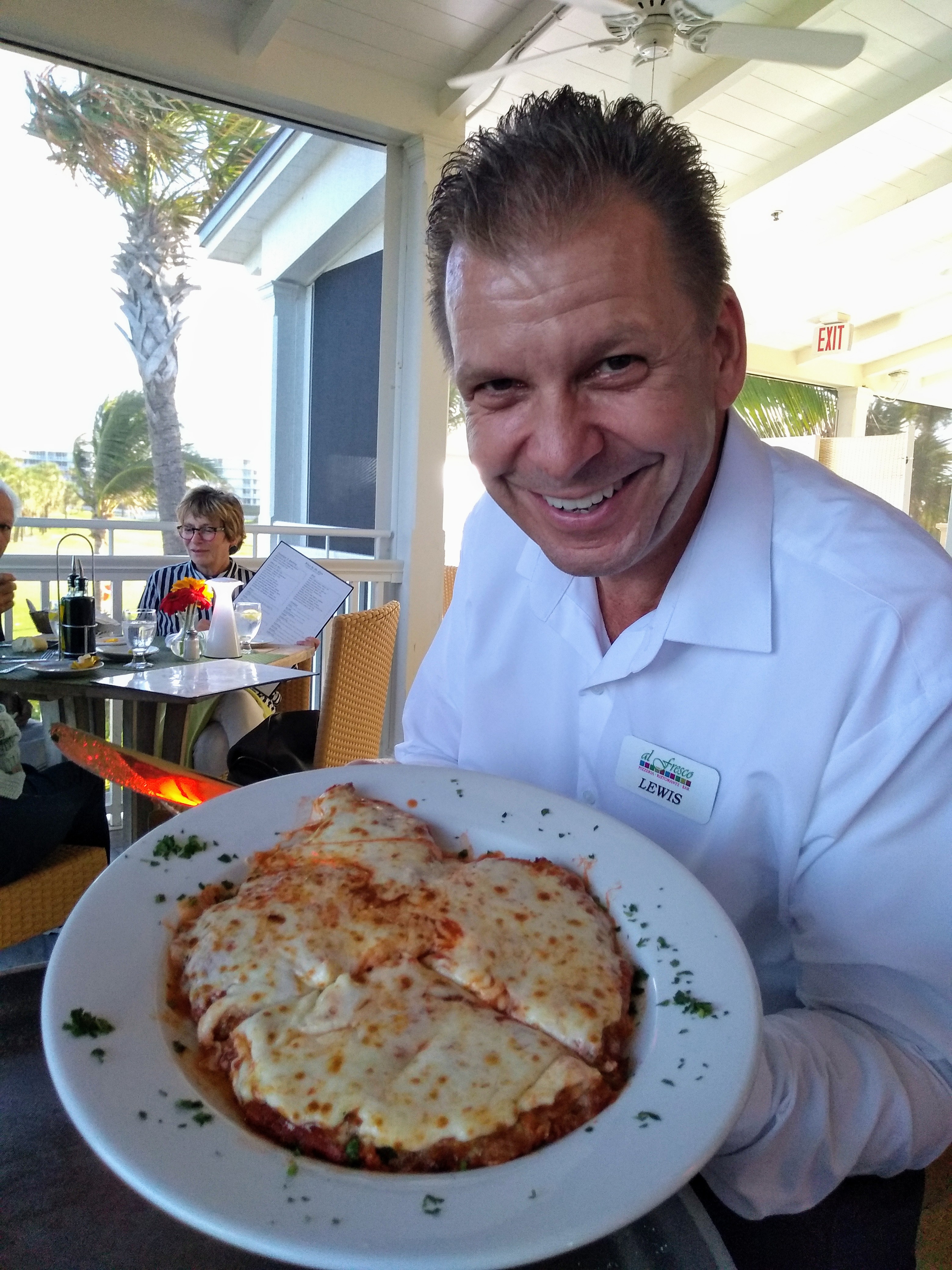 The view of the Atlantic Ocean from the veranda at Al Fresco's, as you gaze to the east, is priceless and peaceful. It helps put the game of golf – and any of your three­putt experiences on the course – in their proper perspective. Al Fresco's, which is open seven days a week, serves a full menu of items for breakfast, lunch, and dinner. You can begin your day watching the sun rise over the eastern horizon as you enjoy a hot cup of coffee and an omelet. Or, if you arrive for lunch or dinner, the list of tasty and delectable specials includes the signature meatballs, burrata mozzarella, pear salad, seafood pizza, and chicken parmigiana. For dessert, the key lime pie is so good that it might be the best and tastiest which is served in the state of Florida, which is a bold, yet accurate statement. Hopefully, when you visit Al Fresco's, I hope your waiter will be Lewis, who is kind, courteous, engaging, and entertaining.
'Golf on the Ocean' and dining at Al Fresco's now sounds enticing and irresistible. Do you agree?