SCREEN ON THE GREEN
Friday, May 10, 2019
"Mary Poppins Returns" (PG)
7 – 10 p.m. FREE | The Great Lawn, 100 Clematis Street, West Palm Beach, FL 33401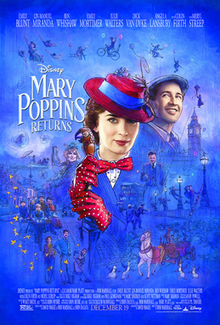 In depression-era London, a now-grown Jane and Michael Banks, along with Michael's three children, are visited by the enigmatic Mary Poppins following a personal loss. Through her unique magical skills, and with the aid of her friend Jack, she helps the family rediscover the joy and wonder missing in their lives. The free and family-friendly fun starts at 7 p.m.
Outdoor movie watching has never been more inviting than on the West Palm Beach Waterfront. Monthly, on the second Friday of the month, the City of West Palm Beach turns the Great Lawn into an open-air theater – movie and included views of the stars and sea are both FREE. Guests are encouraged to bring a blanket or chair and snuggle up for featured films – including newly released hits and throwback favorites. After hours, please call 561-822-2222 for information on event cancellations.