SCULPTURE IN MOTION DRIVES INTO THE ANN NORTON SCULPTURE GARDENS FOR THE 2ND ANNUAL EVENT
Classic pre- and post-war automobiles on display on Saturday, November 17th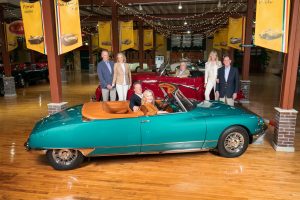 (West Palm Beach, Fla.) – The Second Annual Sculpture in Motion – The Art of Pre- and Post-War Automobiles races into the Ann Norton Sculpture Gardens on Saturday, November 17, 2018. Presented by Sentient Jet, the day-long event will be chaired by Frances and Jeffrey Fisher, Audrey and Martin Gruss, and Sam Lehrman and Lisa Kenna.
From 10 a.m. to 4 p.m., Sculpture in Motion welcomes visitors of all ages to experience the history and design of more than a dozen one-of-a-kind, classic pre- and post-war automobiles in this "dream car" exhibition. Children, accompanied by their parents, will have the opportunity to be engaged with STEAM activities in the Gardens' new Environmental Classroom from 10 a.m. to 1 p.m. John Barnes, founder of Cavallino Magazine and The Cavallino Classic, will once again serve as the guest curator for the exhibit and there will be tours and special presentations about the automobiles hosted by experts.
"Last year Sculpture in Motion resulted in the Gardens' highest volume of visitors on a single day to date," said Frances Fisher, Event Co-Chair and ANSG Board Chairman. "We are thrilled to be bringing this unique one-day exhibition back for a second time with even more rare, pre- and post-war automobiles and wonderful, new exhibitors. There is something magical about the artistic design of the cars against the dramatic backdrop of Ann Norton's monumental sculptures."
During the evening, Ann Norton Sculpture Gardens will be transformed into a unique outdoor showroom for a special VIP cocktail reception with more intimate viewing of the cars from 5:30 p.m. to 7:30 p.m. Throughout the day, guests will have the chance to cast their votes for 'Most Artistic,' 'Most Elegant,' 'People's Choice' and 'Young Connoisseur,' and awards will be presented to collectors at the reception that evening.
"Design is everywhere, but a car is personal," said Barnes. "The rich history that accompanies the commission of some of the most extraordinary vintage vehicles in our history is an aspiring message. I am excited to be curating this show again and bringing some exclusive and stunning vehicles through the garden gates for the public's enjoyment."
The host committee for Sculpture in Motion includes: Lyn Szamatulski and Jeff Koons, Pamela Cohen and Nick Korniloff, Kate and Jimmy Gubelmann, Lee and Laura Munder, Sally and Bill Soter, and Sarah and Tim Benitz.
In addition to Sentient Jet, sponsors to date include Gunster, Key Private Bank and Palm Beach Illustrated.
The Ann Norton Sculpture Gardens, Inc. is a non-profit foundation established in 1977 by resident sculptor Ann Weaver Norton (1905-1982). An urban sanctuary of almost two acres, the compound comprises Norton's historic house with exhibition galleries, her studio, monumental sculptures and tropical gardens of rare palms and cycads.
Located at 253 Barcelona Road in the historic El Cid neighborhood of West Palm Beach, the Ann Norton Sculpture Gardens will have special admission pricing for the entire day on Saturday, November 17, 2018. Daytime admission for curated tours is $25 for adults, $15 for ANSG members and $8 for children. Evening admission for the VIP cocktail reception is $250 per person or $175 for ANSG members. To purchase tickets or for more information, please visit ansg.org/exhibitions or call 561-832-5328.