BALLET PALM BEACH Educates & Entertains 150+ Young People at Boys and Girls Clubs of Palm Beach and Martin Counties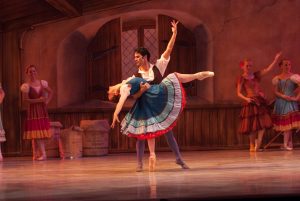 (Palm Beach Gardens, FL – October 26, 2018) Colleen Smith, Artistic Director of Ballet Palm Beach, today announced that it had educated and entertained more than 150 young people during recent performances at the Boys and Girls Clubs of Palm Beach and Martin Counties.
The first show was held on October 15 at the Cole-Clark Boys and Girls Club in Hobe Sound for local children along with those from Indiantown and Stuart. Two days later, Ballet Palm Beach danced for kids from all over Palm Beach County at the Max M. Fisher Club in Riviera Beach.
Fifteen company dancers in costume, along with five trainees and two character artists,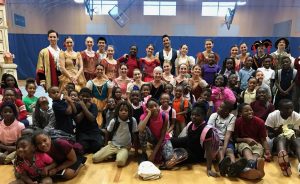 performed the first act of the ballet Don Quixote, followed by a Q&A and meet-and-greet with kids in the audience, who asked about choreography, pointe shoes and how the "dancers spun around so fast without falling over."
"We are excited to take our educational outreach programs throughout Palm Beach County through our partnership with the Boys and Girls Clubs," says Smith. "After two successful and well-received performances, we are ready for more this season."
In fact, the same show will be presented as part of the Palm Beach State College's Eissey Campus Theatre's Arts in the Gardens for Young People program for grade school students on January 25.
Upcoming performances by Ballet Palm Beach include:
+ Nov. 2-4
Gatsby
in residence at The King's Academy
Page Family Center for Performing Arts
+ Nov. 30-Dec. 1
The Nutcracker
at the Kravis Center's Dreyfoos Hall
+ Dec. 13-16
The Nutcracker
in residence at The King's Academy
Page Family Center for Performing Arts
+ Feb. 8-10
Romeo and Juliet
in residence at The King's Academy
Page Family Center for Performing Arts
+ March 25-27
PREMIERES
at the Kravis Center's Rinker Playhouse
+ May 10-12
Wonderland
in residence at The King's Academy
Page Family Center for Performing Arts
About Ballet Palm Beach:
Ballet Palm Beach (BPB), the professional ballet company of the Palm Beaches and Treasure Coast, is a nonprofit 501(c)(3) ballet company dedicated to preserving the art of classical ballet by cultivating new visions in choreography, impacting the next generation through the discipline of dance, and enriching the community through this universal art form. Established in 2001, the company has become a fixture in Palm Beach County. Each year BPB produces main stage ballets as well as outreach shows, both locally and abroad. For more information about the professional company or its school, Ballet Palm Beach Academy, or to support BPB's outreach efforts call 561.630.8235 or visit www.balletpalmbeach.org