South Florida Fair announces 2017 entertainment lineup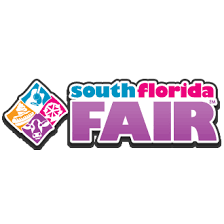 West Palm Beach, Fla. –– A diverse entertainment lineup is coming to the 2017 South Florida Fair, including bands to tie into its New Orleans flavored theme, including Rock & Roll Hall of Fame inductee Dr. John. Held Jan. 13-29 at the South Florida fairgrounds, 9067 Southern Blvd., West Palm Beach, eight national bands ranging from Christian rock and country to Cajun and good time rock 'n' roll will perform along with more than 150 local and regional bands, dance groups, school choirs and jazz bands on four stages.
Jordan Feliz will kick off the national entertainment schedule at 7:30 p.m. on Sun., Jan. 15. Starting his career as a hard-touring heavy metal singer, he switched gears to become a church worship leader, before signing a Nashville record deal writing songs as an R&B groove-pop artist. One of the cornerstones of Jordan's live shows is "Beloved" along with "The River."
Sidewalk Prophets also will perform on Sun., Jan. 15. This gospel-focused group is known for creating a type of sanctuary for their listeners with singles like "Live Like That" and "You Love Me Anyway." Sidewalk Prophets promises not to hold back — emotionally or musically.
Next up, at 8 p.m. on Tues., Jan. 17, Dr. John & The Nite Trippers will perform. Dr. John is a six-time Grammy Award-winning musician. Known throughout the world as the embodiment of New Orleans music, Dr. John is an international cultural icon. During the 1960s he performed on albums by Sonny and Cher, Van Morrison, Aretha Franklin and The Rolling Stones. His blend of snaky rhythms, Crescent City funk, and voodoo flair make him one of the city's prime musical ambassadors.
Starting at 8 p.m. on Wed., Jan 18, Neal McCoy takes the stage. He has released 15 studio albums on different labels and 34 singles to country radio. In 1993, he emerged with back-to-back number 1 singles "No Doubt About It" and "Wink." More recently, his "A Tribute to Charley Pride: Deluxe Edition," is the latest CD release in the Cracker Barrel Old Country Store® exclusive music program.
On Thurs., Jan. 19, at 8 p.m., following the first of two Bike Night parades, Molly Hatchet, which formed in the early 1970s, will entertain guests. Their music, a mixture of blues, country, gospel and the English invasion of rock 'n' roll, was to be coined "Southern Rock." Their name refers to a 17th century ax murderess who would behead her lovers with the hand tool Lizzy Borden made famous. As unique as their name is, their tradition of developing the common bond and unity keeps their style of music alive and well.
At 2 p.m. on Mon., Jan. 23, the Preservation Hall Jazz Band will bring the unmistakable sound of the Crescent City, performing its vibrant and irresistible style of New Orleans jazz. The band has traveled worldwide spreading their mission to nurture and perpetuate this unique art form. Whether performing at Carnegie Hall or for British royalty, their music embodies a timeless spirit. Ben Jaffe, current director and son of founder Allan and Sandra, continues a legacy of its greatest attributes in the modern day as a venue band and record label.
Next, on Tues., Jan. 24, at 8 p.m., Reel Big Fish will take the stage. As one of the legions of Southern California ska-punk bands to edge into the mainstream in the mid-1990s, they were distinguished by their hyperkinetic stage shows, juvenile humor, and metallic shards of ska. Their underground following broke into mainstream in 1997 when their single, "Sell Out," became a modern rock radio and MTV favorite. In 2012, the band released its first album of new material, Candy Coated Fury.
On Wed., Jan. 25, at 8 p.m., Chase Bryant, a 23-year old Texan, will entertain fans with his top flight guitar playing and head-turning song writing. As a Red Bow recording artist and co-producer of his debut album, Chase views his audience as a lifelong relationship and music is the connection. To Chase, music is everything.
The main stage lineup will conclude with the fair's second Bike Night at 8 p.m. on Thurs., Jan. 26, with 38 Special. After more than three decades together, this band continues to bring their signature blast of Southern Rock to over 100 cities a year. Their many Gold and Platinum awards stand in testament to the endurance of a legendary powerhouse. Some of the songs most associated with them are "Hold On Loosely," "Rockin' into the Night," "Second Chance." Since 1976 the band has released more than 15 albums with sales in excess of 20 million.
General concert seating is free with a fair admission ticket (which is required). Reserved seating is also available for purchase online at www.southfloridafair.com for $10 for all concerts, which is in addition to the fair admission ticket. Tickets are available at Palm Beach County Publix supermarkets and online advance discount ticket sales will continue through Jan. 12 at midnight. Bud's Chicken & Seafood and Palm Beach County BB&T Bank branches also will sell advance discount tickets beginning Dec. 2. Adult admission, 12 and older, is $10 in advance, $15 at the gate. A child's admission, under 12, is $5 in advance, $8 at the gate (5 years and younger are free).Those who are 60 years of age and older pay $7 in advance and $9 at the gate.
For more information, call (561) 793-0333 or visit the website, http://www.southfloridafair.com.
National Bands Schedule-South Florida Fair 2017
Sun., Jan. 15, 7:30 p.m. – Jordan Feliz and Sidewalk Prophets
Tues., Jan. 17, 8 p.m. – Dr. John & the Nite Trippers
Wed., Jan. 18, 8 p.m. – Neal McCoy
Thurs., Jan. 19, 8 p.m. – Molly Hatchet
Mon., Jan. 23, 2 p.m. – Preservation Hall Jazz Band.
Tues., Jan. 24, 8 p.m. – Reel Big Fish
Wed., Jan. 25, 8 p.m. – Chase Bryant
Thurs., Jan. 26, 8 p.m. – 38 Special