South Florida Fair to produce its first ever home improvement show in the Expo Center
WEST PALM BEACH, Fla. — At a time when many people are spending more times in their homes due to the pandemic, the South Florida Fair is offering them a one-stop shopping experience by producing a Home Improvement & More Show, Friday, Oct. 23 through Sunday, Oct. 25. Hours are from 10 a.m.-5 p.m. Friday and Saturday and 10 a.m.-4 p.m. on Sunday. Admission and parking are free.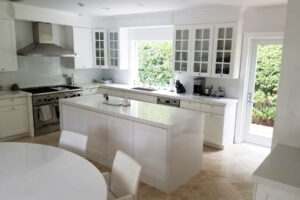 There will be more than 60 vendors representing various areas including impact windows, kitchen, bath, water filtration, patios, doors, landscape, security, remolding, hot tubs, roofing, gazebos, household items, art, jewelry, window treatment, decks and patios, screens, tree services, home fitness, marble and granite, and automotive.
Some of the businesses will be offering specials only available at the show.
Fair organizers decided to produce the show after recognizing the high demand for home improvement, renovation, products and services.
"Given what we've been experiencing since March with this pandemic, there has never been such a high demand for at-home enhancements in kitchens and baths, lawn and landscape, décor and home office ideas," said Vicki Chouris, president & CEO of the South Florida Fair & Palm Beach County Expositions.
Exhibitor and vendor applications are still being accepted from businesses that specialize in residential interior and exterior renovations, home products and services, security, insurance, or financial assistance. For applications or space availability, email Tim Pachis, tim@southfloridafair.com, or call (561) 795-6446.
Masks are required for entry and guests will be asked to social distance.
Event sponsors include Bath Fitter, Kubota/FCE, Superior Sleep, Storm Tight Windows, Southeast Spas, and The Palm Beach Post.
About South Florida Fair & Palm Beach County Expositions, Inc.: The South Florida Fair & Palm Beach County Expositions, Inc., a 501(c)(3) nonprofit organization, produces multiple events throughout the year. Located at 9067 Southern Boulevard in West Palm Beach, its largest event is the 2021 South Florida Fair, which will be held Jan. 15 – 31, 2021. For more information, call (561) 793-0333 or visit the website,http://www.southfloridafair.com.