AW Spotlight
Talented Guitarist, Alex Shaw, Accepts Invitation to China
By Rachel Baumel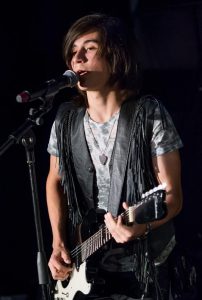 Guitarist and Wellington resident, Alex Shaw, 15, has been performing all over the USA and Canada since the age of 8.  A YouTube sensation with over 2 million hits has brought him great notoriety. He has traveled from coast to coast with his exquisite talent for guitar playing.
In January 2016, while performing a demo set at the National Association of Music Merchants (NAMM) convention in Anaheim, CA, Alex was given an incredible opportunity. The international partners of Samick Music Corporation caught his performance. They immediately invited him; all expenses paid, to be their artist representative at Music China, Asia's largest international music trade show in Shanghai. As a result, Alex, (accompanied by his mother Charlene) will be featured at this spectacular event from October 26 – 29.
I had the privilege of interviewing this talented Dreyfoos High School student prior to his trip abroad. He impresses me to be a very well-rounded young man.
Here are the results of this conversation:
What do you like most about living in Wellington?
I love the atmosphere, [it is] very family oriented and beautiful with all the polo fields. It's like it's own little town – I love it.
Who have you studied guitar with? 
I started studying the guitar when I was 8 years old with local guitar teacher Mark Boreffi. I credit him with giving me a solid foundation. As I grew older I focused on strengthening my music theory knowledge, so I started taking lessons with Frank Axtell. I'm currently training with guitarist and producer, Scott Gailor, where I'm concentrating on theory and songwriting.
How many hours a day do you practice? 
I pick up my guitar every day, whether it's to practice scales, run through songs or just sitting on my bed noodling to unwind after a busy day. It usually depends on my homework, but I'd say on most days, I practice about an hour.
Do you study both classical and popular music? 
When I first started playing, I was influenced by classic rock because I thought it was cool to play all those crazy guitar solos, but my taste began to change and more recently I've started to dive deep into studying blues and funk.
Are you involved in any other hobbies or sports? 
I played baseball for a few years when I was younger but music quickly became more of a priority in my life. Some of my other interests include vintage things, collecting old albums, and watches.
What other academic subjects do you enjoy besides music? 
I would have to say that my favorite subject besides music would be History. I especially enjoy studying US History.
What is your favorite book? 
I'd have to say my favorite book would be "The Old Man and The Sea"
What do you enjoy most about attending Dreyfoos School of the Arts?
I enjoy being surrounded by people, like myself, who are artistic in their own way and are working on their craft with the hope of possibly making it their career.
Do you plan on attending college? If so, what college would be your #1 choice?
I plan on attending college if my music journey doesn't take me on another path. Hopefully, I will attend my dream college: Berklee College of Music, in Boston.
What are you most looking forward to on your trip to Shanghai?
Probably the history of China – I'm a history nerd. I love studying different cultures. It's going to be great to see how people live on the other side of the world. The music convention will be the biggest one [of its type] in the world… seeing all these amazing companies there and being able to represent one of them will be [my] best experience yet!
What advice do you have for aspiring guitar players? 
The best advice I could offer is to never give up on your dream and work hard. Don't let anyone convince you that you can't do it. Stay humble and above all, stay true to yourself, and do what makes you happy.
To view Alex's talent yourself go to:
For more information about Alex Shaw go to:
www.facebook.com/alexrocksfans