The Arc Sweeps Up Awards in 2019
Riviera Beach, Fla. – The Arc of Palm Beach County may need a new shelving system to display all the awards and accolades it accumulated this year – 11 in total. The nonprofit, which empowers children and adults with disabilities, received numerous honors, including a national nod for creating an innovative program, and statewide recognition for leadership and service.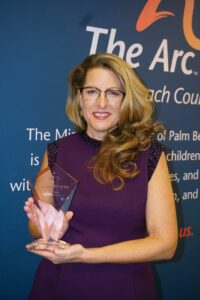 The Arc of Florida recognized two team members at the Palm Beach Chapter. Potentials School Principal Bairbre Flood received the Leadership in Education Award. Flood is passionate about using therapeutic intervention, instruction, and inclusion to help her students achieve. The Arc of Florida selected Brooke Teta for the Direct Service Staff Award. As an instructor in The Arc's Adult Day Program, Teta prides herself on creating experiences and activities for clients that will help them to meet their life goals.
"I see the work my team does and the lives that they impact on a daily basis. They are incredible," said Kimberly McCarten, president and CEO of The Arc of Palm Beach County. "To have our peers, partners, and the community recognize our dedication, is both satisfying and humbling."
In October, McCarten accepted the Program Innovation Award at The Arc's 2019 National Convention in Washington, D.C., for designing and implementing a student mentor program. The Arc of Palm Beach County was also named Nonprofit of the Year by Nonprofits First, received the Community Champion Award from the United Way of Palm Beach County, and the Financial Organization of the Year Award from AmeriCorps. The Unicorn Children's Foundation presented The Arc with three awards and the Florida Consortium of Public Charter Schools provided another two making 2019 a very successful year.
About The Arc of Palm Beach County
The Arc is changing the conversation around disabilities by defying definitions, inspiring possibilities, and improving the lives of the people we serve. Since 1958, The Arc has envisioned a community where every person feels welcome, connected, and accepted.