Cultural Corner
The President's Photographer
By Lori Hope Baumel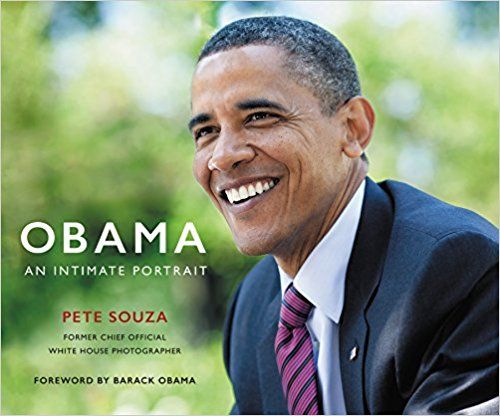 "Pete Souza served as Chief Official White House Photographer for President Obama's full two terms. He was with the President during more crucial moments than anyone else–and he photographed them all. Souza took nearly two million photographs of President Obama, capturing moments both highly classified and disarmingly candid." – Amazon.com
On Saturday, September 16, 2017, I was fortunate to witness a conversation with Pete Souza, photographer for President Ronald Reagan and President Barack Obama. The moderator was Mr. Michael Shaw. This event was part of the largest photo festival in the country, Photoville, and held at Brooklyn Bridge Park in New York. It was presented in partnership with Reading the Pictures and United Photo Industries.
Souza was not the first presidential photographer I had ever met. Thanks to the incredible programming at the Palm Beach Photographic Center, I met David Hume Kennerly, President Gerald Ford's photographer, at one of their annual Fotofusion lectures. Souza appeared as part of a book tour for Obama: An Intimate Portrait, which will be available on November 7, 2017. This oversized 12"x10" hardcover exquisite photo biography includes a foreword by the President himself.
During the SRO event at St. Ann's Warehouse main stage, I learned that Mr. Souza considers himself a visual storyteller. His photos encompass symbolism, composition and body language. During the eight-year period he spent with the Obama administration, he took approximately two million photographs. Souza spoke of his ability to establish a sense of invisibility while in the room with the President and world-renowned dignitaries. Selected photos were projected on a screen while he described them. They included pictures of the BP oil spill, the President meeting with prisoners, and the situation room during the capture of Bin Ladin. Often pressed for time, one would think that Souza was a master of his craft. His images told both painful and admirable stories. Souza's humility filled the room when he admitted that often his best images were simply good luck. He (only) carried two cameras and three lenses at all times. During his tenure, upon approval, he posted most of his images on the once popular FLIKR, and later Instagram – giving the public access to daily life at the White House. The humility of President Obama is depicted over and over, particularly when he defers his seat (at the head of the table) to the general monitoring the mission to capture Bin Ladin. Souza had positioned himself in a corner while the most powerful people in our government gathered to watch the events unfold in real time.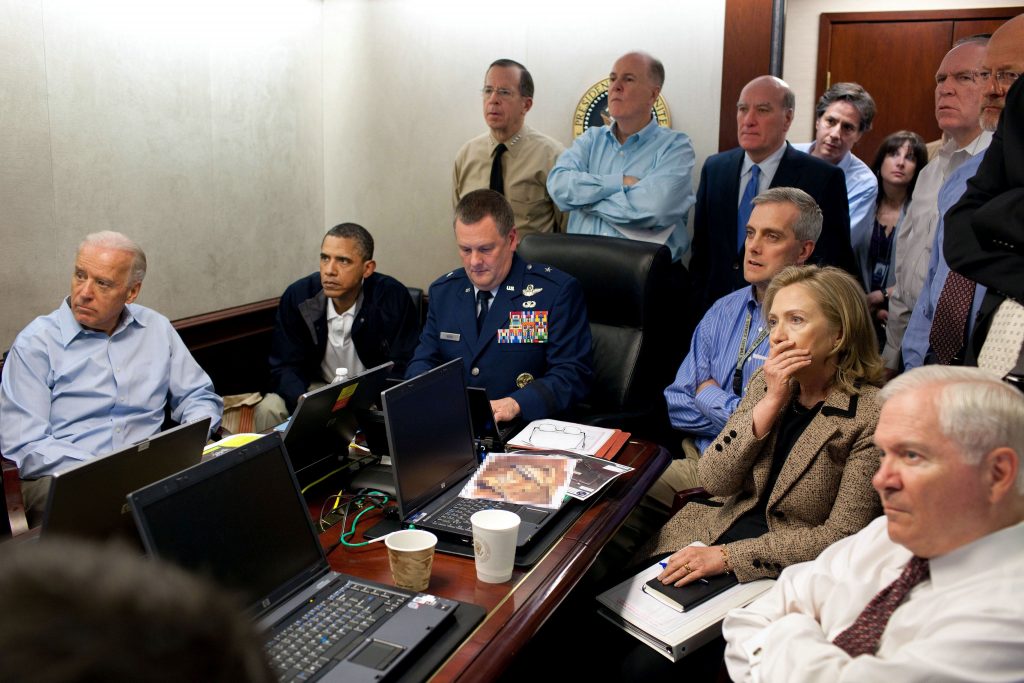 Souza's commentary was fascinating. Although the pictures were quite descriptive, he told us what was left unseen. For example, in the picture above, we see the final hours of months of planning and calculation. At this point, all they could do was sit, wait and watch. What we don't see is that Vice-President Joseph Biden had rosary beads in his hands.
Souza described his relationship with the President as "a professional friend." As his
photographer, Souza spent more waking hours with the President than Obama was able to
spend with his own family. The only sick day Souza took was to have a colonoscopy.
Souza firmly believed that each picture should depict something historic about the presidency. Very few photos of the Obama children were permitted. At the end of each day, he would turn in his digital images to be reviewed for security purposes. They would then be edited by his assistant, Alice Gabriner, who sat in the audience right in front of me. When asked, "Would you ever take on the role of presidential photographer again?" He replied, "No, it wore me out."
On a more positive note, Souza was not treated like a fly on the wall. He truly enjoyed when the Obama family dogs, Bo and Sunny were out and about. They seemed to lighten up the moment. One day, activists/singers Alicia Keys and Bono came to the White House for lunch in the private dining room adjacent to the Oval office. Bono saw a guitar case in the corner of the room, a memento from a Rock the Vote event. He tuned the guitar and started to play and sing the Beatles song Norwegian Wood. In the midst of this, the President turned to Souza and said, "How cool is this?" It reminded Souza that he was not just President Obama's photographer, he was his friend.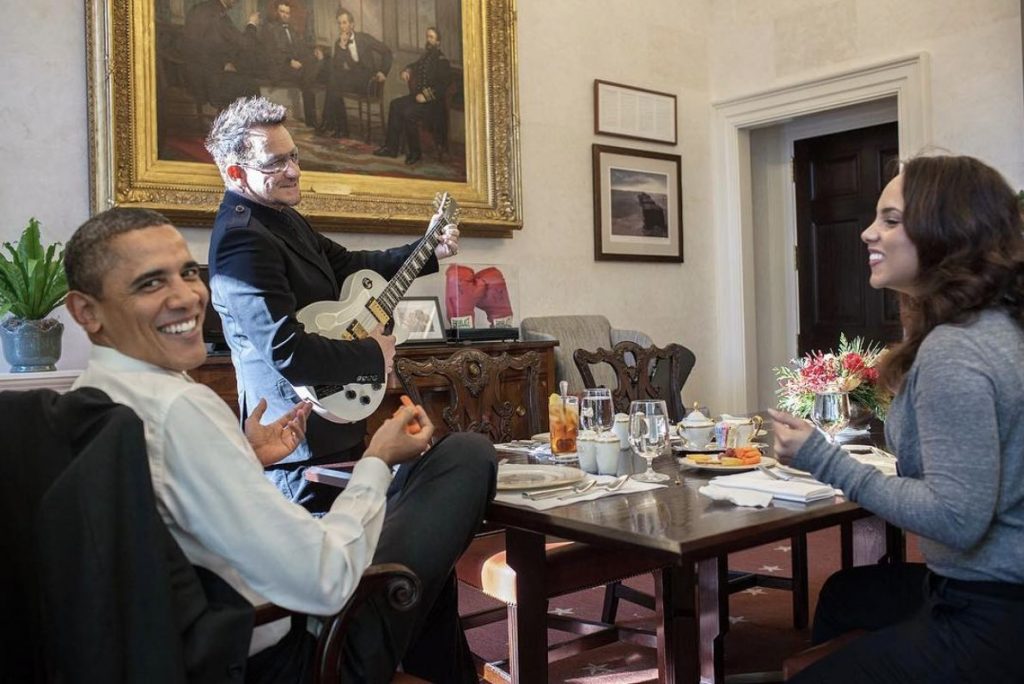 Live…. Go… Do!
Top 5 for November 2017
1) Lynn University's Conservatory of Music announces their November concerts:
Mostly Music Series
This unique concert series better acquaints audiences with not only music, but also the lives and artistic development of the Western world's great composers. These concerts feature the conservatory's artist-faculty and students. Actors bring the composers to life through the reading of their letters. Mostly Music was conceived and is hosted by Marshall Turkin and is staged by Jan McArt. Series tickets are $45.
Nov. 2
Haydn
Franz Joseph Haydn lived in an era when musicians were considered servants like other hired help in the household, but he lived on to play an integral role in the creation and development of the great Classical style, inspiring Mozart and teaching Beethoven.
• Thursday: 7:30 p.m.
Location: Count and Countess de Hoernle International Center / Amarnick-Goldstein Concert Hall
Tickets: $20
Nov. 9
The Wildacres Bassoon Trio
Lynn faculty member Eric Van der Veer is joined by special guest bassoonists Sasha Gee Enegren and Lisa Alexander.
• Thursday: 7:30 p.m.
Location: Count and Countess de Hoernle International Center / Amarnick-Goldstein Concert Hall
Tickets: $20
Nov. 11–12
Lynn Philharmonia No. 3
• Saturday: 7:30 p.m.
• Sunday: 4 p.m.
• Conductor: Guillermo Figueroa
• Featuring the winners of the Annual Concerto Competition
Location: Keith C. and Elaine Johnson World Performing Arts Center
Tickets: $50 for box, $40 for orchestra, $35 for mezzanine
Nov. 30
Dean's Showcase No. 2
• Thursday: 7:30 p.m.
Location: Count and Countess de Hoernle International Center / Amarnick-Goldstein Concert Hall
Tickets: $10
To view the concert schedule through May in the World Performing Arts Center, the Amarnick-Goldstein Concert Hall or the Snyder Sanctuary, all located on Lynn's Boca Raton campus go to: www.lynn.edu/events.
2) Cultural Council of Palm Beach County
CULTURE & COCKTAILS
At
The Colony Hotel, Palm Beach
PUTTING IT TOGETHER
November 6, 2017
A Conversation about the Birth & Growth of
The Cultural Council of Palm Beach County
In honor of the 40th anniversary of the Cultural Council, two of our founders and
earliest supporters will share behind-the-scene stories and amusing anecdotes
about how it all began.
Alexander W. Dreyfoos
Entrepreneur, Inventor, Photographer and Cultural Philanthropist
George T. Elmore
Founder & President of Hardrives, Inc. & Former Board Chair of the Cultural
Council
Interviewed by Bill Bone
Trial Lawyer & Partner at Larmoyeux & Bone, P.L.
CULTURE & COCKTAILS is generously sponsored by The Roe Green Foundation,
Roe Green, Founder and The Milton and Tamar Maltz Family Foundation.
Additional support for the series is provided by the Palm Beach Daily News, First
Republic Bank, and PR-BS, a Boca-based public relations firm.
Admission is $65 for advance RSVPs, $85 at the door, and FREE for members of
the Cultural Council ($250 level and above). All proceeds go to support artist
programs of the nonprofit Cultural Council of Palm Beach County. For
membership information, please contact Debbie Calabria at (561) 472-3330.
Each event will run from 5 to 7 pm, with registration and cocktails from 5 to 5:45
p.m., and the "Conversation" from 5:45 to 7 pm, including audience Q&A. The
Colony will serve complimentary beverages and an array of specially prepared
hors d'oeuvres before each CULTURE & COCKTAILS conversation.
3) Mandel JCC Hosts Eclectic Art and Cultural Events
Ellen Wedner, Vice President of Arts & Culture at Mandel JCC and Director of the
Donald M. Ephraim Palm Beach Jewish Film Festival, today invited the book buffs and
movie fans to several literary and cinematic events this fall in Boynton Beach and Palm
Beach Gardens.The Mandel JCC is located at 8500 Jog Road, in Boynton Beach and at
5221 Hood Road in Palm Beach Gardens. For more information or to register for any of
the following book events, please go to: www.JCCOnline.com/bookfestival.
Holocaust Memorial Week, November 6-9
Monday, November 6
4:30 pm at the Mandel JCC in Boynton Beach
NOT THE LAST BUTTERFLY PROJECT
The Mandel JCC is inviting people to sip some wine, nibble on some munchies, and
unleash the artist within by painting ceramic butterflies. The butterflies will
commemorate the 1.5 million children lost during the Holocaust. The painted butterflies
will become part of a large visual arts installation at both of the Mandel JCC Locations
(Boynton Beach and West Palm Beach). Be part of this international project of hope and
remembrance. Butterfly Donation: $14 Film and Literary Society and JCC Members;
$18 Nonmembers
Tuesday, November 7
10 am at the Mandel JCC in Boynton Beach
7 pm at the Mandel JCC in Palm Beach Gardens
Book:
A WORLD ERASED: A Grandson's Search for his Family's Holocaust Secrets
Author: Noah Lederman
Synopsis:
This poignant memoir, by the grandson of Holocaust survivors, transports readers from
his grandparents' kitchen table in Brooklyn to World War II Poland. In the 1950s, Noah's
grandparents raised their children on Holocaust stories. But these Holocaust tales gave
his father and aunt constant nightmares, so in Noah's adolescence his grandmother
used a PG version. When his Poppy died, it seemed Grandma could do little more than
mourn. Then Noah travels to Poland, and cautiously told Grandma about his time in
Warsaw, fearing this would bring up painful memories. But, instead, remembering the
Holocaust unexpectedly rejuvenated her, ending five years of mourning. Together, they
explored the memories that his grandmother had buried for decades. Following his
presentation, Lederman will sign copies of his book.
Tickets: $12 Literary Society and JCC Members; $14 Nonmembers
Wednesday, November 8
7 pm at the Mandel JCC in Boynton Beach
Thursday, November 9
7 pm at the Mandel JCC in Palm Beach Gardens
YIDDISHKAYT, GOD AND THE HOLOCAUST
Presenters: Avi Hoffman & Miriam Hoffman
Synopsis:
A multimedia presentation, including film clips, on life in the European Jewish world both
pre and post-war. A highlight of this evening focuses on the depiction of God in
Holocaust literature and the arts. Presenters are renowned entertainer and Jewish
cultural activist Avi Hoffman, and his mother, author, journalist and playwright, and
retired Columbia University Professor Miriam Hoffman.
Tickets: $12 Literary Society Authors & Readers, and Film Society Actors; $14
Nonmembers
Note: Special Combo Ticket Discount for both A World Erased and Yiddishkayt: $20
Literary Society Authors & Readers, and Film Society Actors; $24 Nonmembers
(To order tickets for Holocaust Memorial Week events, please call 561.509.0117 or
561.712.5232.)
Signature Book Festival Luncheon with a Special Performance
Wednesday, November 15
Book Luncheon at the Kravis Center, Cohen Pavilion
11 am for shopping boutique; noon luncheon
Book: AFTER ANATEVKA
Author & Broadway Performer: Alexandria Silber
Synopsis:
A sweeping historical novel in the grand tradition of Russian literature that imagines
what happens to the characters of Fiddler on the Roof after the curtain falls. The world
knows well the tale of Tevye, the beloved Jewish dairyman from the shtetl Anatevka of
Tsarist Russia. In stories originally written by Sholem Aleichem and then made worldfamous in the celebrated musical Fiddler on the Roof, Tevye, his wife Golde, and their
five daughters dealt with the outside influences that were encroaching upon their
humble lives. But what happened to those remarkable characters after the curtain fell?
Tickets: $136 Literary Society Members; $136 Guest
Note: All tickets include a copy of the book.
Co-Chairs: Sheila Engelstein and Zelda Mason
The Donald M. Ephraim Palm Beach Jewish Film Festival
Reel Matters: Issues, Heroes & Happenings
Tuesday, November 28
7 pm at the Mandel JCC in Boynton Beach
Thursday, November 30
7 pm at the Mandel JCC in Palm Beach Gardens
Film: AN AMERICAN CONSCIENCE: The Reinhold Niebuhr Story
Director: Martin Doblmeier
Synopsis:
Reinhold Niebuhr's Serenity Prayer remains one of the most quoted writings in
American literature. Yet Niebuhr's impact was far greater, as presidents and civil rights leaders like Martin Luther King, Jr. often turned to Niebuhr's writings for guidance and inspiration. Niebuhr rose from a small Midwest church pulpit to become the nation's
moral voice – an American conscience – during some of the most defining moments in
American history. From award-winning director Martin Doblmeier comes this powerful,
insightful and inspiring documentary, rich in archival material and featuring interviews
with a host of notable historians and theologians. As David Brooks wrote in The New
York Times, "Niebuhr had audacity. He wrote big books on big subjects. He took big
public stands." (USA, 2017, 60 minutes plus after film discussion.)
Tickets: $10 Film Society Member; $12 Nonmembers
(For Tickets, call 877-318-0071 or visit www.pbjff.org.)
Wednesday, November 29
+ 10 am at Mandel JCC in Boynton Beach
+ 7 pm at the Mandel JCC in Palm Beach Gardens
Book: TWENTY-SIX SECONDS: A Personal History of the Zapruder Film
Author: Alexandra Zapruder
Synopsis:
On November 22, 1963, Abraham Zapruder left his office hoping for a glimpse of
President John F. Kennedy's motorcade as it passed by Dealey Plaza. A Russian
Jewish immigrant who wholeheartedly loved his home in America, Abe thrilled at the
chance to see the young president in person – and perhaps to bring back a home movie
of this once-in-a-lifetime moment for his family. The 26 seconds of Abraham Zapruder's
footage depicting the JFK assassination is now iconic, forever embedded in American
culture and identity. The first major instance of citizen journalism, this amateur film
forced Abraham Zapruder to face unprecedented dilemma: how to handle his
unexpected ownership of a vitally important yet unspeakably terrible piece of American
history?
Tickets: $14 Literary Society Member; $16 Nonmembers
(For Tickets, call 561-509-0117 or 561-712-5232.)
4) The Kravis Center Season is in full swing!
Click here to see the full brochure and performance calendar:
https://www.kravis.org/publication/brochure1718/
5) Watch the Annual Macy's Thanksgiving Parade
Yes! It's that happy time again. Before the turkey goes in the oven, stay in your pajamas, put up the coffee, and bring in the holiday season with my favorite parade of the year. Watch it at 9 AM on your NBC station. For a terrific interactive map and website about the parade see: https://www.macys.com/social/parade/