Trustbridge, Bringing Hospice Care to Palm Beach County and Beyond
When and why was Hospice of Palm Beach County founded?
Trustbridge is a community nonprofit that provides support for families facing serious illness 24 hours a day. Trustbridge combines Hospice of Palm Beach County, Hospice of Broward County and Hospice by the Sea. Since 1978, these three hospices have cared for 200,000 families in South Florida. Our other services include home health care, palliative medicine, caregiver support and grief support/bereavement programs for adults and children.

Tell us about the different things that Hospice / Trustbridge does.
Hospice is a special type of supportive care that is focused on comfort and quality of life, for a patient facing a serious and life limiting illness. We provide hospice care wherever the patient resides—in the home, in a residence of your choice, in a caregiving facility or in one of our hospice inpatient care centers. Trustbridge provides the physical, emotional and spiritual care to help patients and their families find comfort and peace during a difficult time.
In addition to hospice care, Trustbridge also provides home health care for adults who are medically homebound. We bring our expertise and resources to your family home, offering much-needed support and comfort for patients and family caregivers.
The loss of a loved one, even if it is expected and peaceful, brings about grief and many emotions. Trustbridge offers a grief support program for adults and children who have experienced the loss of a loved one. We offer individual and family counseling, grief camps for children and other events. All of our groups, workshops and family activities are open to everyone in the community who has lost a loved one.

What is it like to be a Hospice nurse? What qualities must one possess?
Our nurses provide caring, compassionate and professional care to our patients. Being a hospice nurse truly requires having a caring, compassionate heart. Our nurses have extensive training and knowledge related to end of life care and are able to communicate compassionately with patients and family members during such a difficult time.

Tell us about the best way to give back to Hospice. How does donating used vehicles help?
Every gift, no matter the size, makes a difference. The best way to give back is by giving the gift that works for you. There are many ways to give; including monetary gifts, memorial gifts, planned gifts, matching gifts through your employer, participating in or sponsoring a special event, donating your gently used goods to one of our three Resale Shops, donating a vehicle to our Hospice Cars program or volunteering your time.
Donating used vehicles helps our organization immensely as we receive a portion of the proceeds for each vehicle sold through Chariots 4 Charity. Our organization takes any type of vehicle including cars, boats, trucks, RVs, jet-skis and golf carts. Our team takes care of all the paperwork, so the donor receives a tax deduction, someone in the community will purchase a vehicle for a fantastic price and the Foundation can apply the money received towards hospice services that are greatly needed.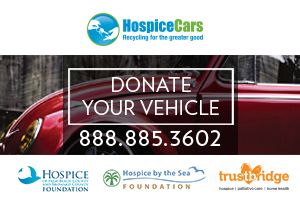 Monetary donations can be made through hpbcf.org or by phone at (561) 494-6887. Resale Shop addresses and car donation information can be viewed at hpbcf.org or by calling (561) 494- 6814 (Resale Shops) (888) 885-3602 (Hospice Cars).
For more information about our Foundation, you can visit hpbcf.org or call (561) 494-6888.
What are some of the things people don't know that you wish they did know when it comes to end of life decisions for a loved one?
Many families tell us that they wish they had known about hospice care and the world of support that is available to them much sooner. The sooner their loved one is under the comforting and compassionate care of our medical professionals, the sooner we are able to provide the emotional, physical and spiritual support they need during this time in their lives.
Who qualifies for Hospice care?
Typically, those who qualify for hospice care under the Medicare hospice benefit have end-stage illness with a life expectancy of 6 months or less if their disease follows its normal course. Some people have multiple conditions that contribute to a limited life expectancy, rather than a single illness.
Give an example of a testimonial.
We have Testimonials from families available on our website under the News & Media section. Please visit www.trustbridge.com.
Where are your facilities located?
Trustbridge has inpatient care centers located throughout Palm Beach and Broward counties. Our inpatient care centers provide care in a setting where patients and families are embraced and supported. Please visit www.trustbridge.com to learn more.