WHY SCHEDULE DUCT CLEANING DURING THE FALL IN SOUTH FLORIDA?
By Jathy Garcia, Hi-Tech Plumbing & Air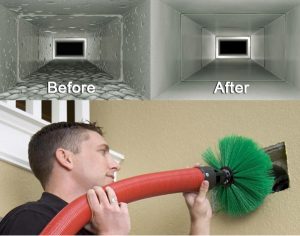 With temperatures finally cooling down after the intense summer heat, there's no need for you to operate your HVAC system. Now's the time to open your windows, and let that cooler and fresher air stream through your home. If you haven't done so in a handful of years, now's also the best time to schedule duct cleaning.
INCREASE HVAC EFFICIENCY
According to the U.S. Department of Energy, many homeowners waste anywhere between 25 and 40 percent of the energy they use in their homes. Much of that wasted energy is a result of an inefficiently operating HVAC system.
Dirt, dust and other contaminants that have built up in your HVAC system cause it to strain itself to produce your desired temperature. They also shorten your HVAC system's lifespan. While changing your air filter regularly – at least once every 60 days – helps prevent dirty ductwork, there's no substitute for professional duct cleaning and sanitation.
IMPROVE INDOOR AIR QUALITY
When you forgo changing your air filter regularly and scheduling duct cleaning routinely, contaminants build up and blow through your home. That results in poor indoor quality, which can impact not only your comfort but also your health. With fewer allergens, irritants and odors in the air, you'll breathe easier and sleep better.
ENJOY A HAPPIER AND HEALTHIER HOLIDAY SEASON
When an HVAC system is clean, it won't have to work harder to reach and maintain your desired temperature. As a result, it'll consume less energy and help you save on your utility bills throughout the holidays and winter.
Duct cleaning will also ensure that everyone who's gathered around the dinner table for a holiday feast is breathing in healthy air. The last thing you want is to expose your loved ones to unhealthy air that results in a respiratory illness.
Don't let dirty ductwork put a damper on your holiday season. Our team of duct cleaning experts is standing by to improve your quality of life and indoor air experience. Remember don't fret… just call Hi-Tech!