By Jathy Garcia aka Your Plumber in a Skirt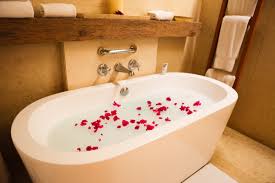 As Valentine's Day approaches and many of our homes smell of fresh flower bouquets and mysteriously completed check lists, let's not forget another love that many times is forgotten: Your plumbing system! While you've been worried about filling your tummy with delicious chocolates and strawberries or maybe reaching your New Years goals, there is another system waiting patiently for your attention. Both you and your Valentine can show love to your pipes and drains by keeping it as clean and healthy as they can be! You may ask how can I show my plumbing some love:
All year round your plumbing has your back, it doesn't complain or whine at you. It works 24 hours 7 days a week to keep the water flowing and drains moving on its way to its proper place. Often times we forget how valuable good ole fashioned indoor plumbing really is to daily life.
So why should you show some love to your plumbing system?
1- Showing love means better dependability
Nobody ever expects something to break in their home, especially the plumbing, and for many people these breakdowns just never seem to come at an ideal time. Regrettably many of these issues could have been prevented by simply paying attention to various systems and treating the issue before it turns into a major problem. Your plumbing is no exception. For example: when was the last time you checked your water heater? Did you know the manufacturers recommend you to drain down the heater to keep it working at peak efficiency?
2- Showing Love means lower costs
Spending a little bit to prevent a serious problem can go a long way towards preventing you from having to spend a whole lot of cash. A major plumbing repair can not only cost you in downtime, but it can make a hefty hole in your pocket if it becomes a critical emergency. For example: when was the last time you checked your home faucets, hose bibs or spigots around your home for any drips or leaks? Leaking pipes and faucets also cost you a lot in wasted water, so a quick fix could actually save you hundreds over the course of the year.
3- Showing Love means No Sudden Emergencies
Maintaining your plumbing not only increases your reliability, but it dramatically decreases the chances that something devastating will go wrong when you least expect it to. Rusted, corroded pipes under pressure can burst, a water heater can create pressure and start to leak, and tree roots in a sewer line can cause your entire home to back up. But taking a few extra preventative steps and having a trained eye to survey and inspect your property can do wonders for preventing these issues from ever emerging to an emergency.
Remember to show your plumbing some love this year, by lowering your costs with preventive measures, avoiding emergencies and it may even save you a pretty penny!

Hi-Tech Plumbing & Air are considered the experts when it comes to plumbing and air conditioning service. They are a licensed and insured service company that has been serving residential and commercial customers throughout Palm Beach County for almost 20 years.