Mary Tidy-Coyle brings lifelong love of art and concept about how personal experiences shift perception into classrooms at the Armory Art Center
Mary Tidy-Coyle tells her students at the Armory that creating art is more than fun, it requires continual 'practice.'
"Art is a growing process…something to nurture," said Tidy-Coyle, of The Acreage.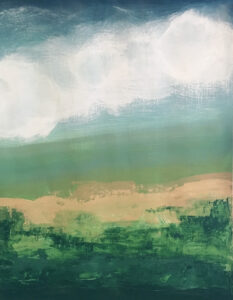 A celebrated artist, Tidy-Coyle has been practicing art for as long as she can remember.
"I don't know if it was ever a 'realization,' that I was an artist…it seems to be something that has always been a part of me…"
As a child, she recalls always creating, drawing, and coloring and is thankful that her family was so supportive of her ever-growing interests and continuing goals in the arts. Her educational accolades involve earning a Master of Fine Arts Degree from Tyler School of Art from the Pennsylvania Academy of the Fine Arts and Bachelor of Fine Arts Degree from Tyler School of Art at Temple University.
"I am very proud to be a part of our Nation's first art museum and school," she said of her studies on the renowned campus of PAFA. "So many of the great artists we study in Art History went to PAFA."
At the Armory, Art History, critique and analyses are intentionally woven into her teaching methods for students of every skill level. "I get them to talk about (art)…show them how to be creative observers."
For example, when students work on still life paintings – drawing and painting objects, she'll offer, "That apple looks great…it is an apple…but not THIS apple!"
Accountability for work and honest criticism are a staple, students have come to know and respect. "It builds confidence in themselves as artists and it shows in their work."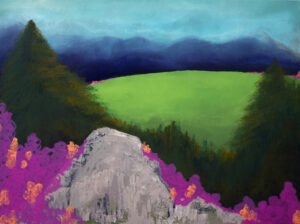 In addition to serving the community as an Armory Instructor, Tidy-Coyle also teaches at Palm Beach State College, and provides lessons to middle and high school-aged students.
"It's never too late, or too early, to try something you have an interest in, or a passion about," she said. "The creative process is a wonderful thing to experience first-hand…it expands your perspective, helps you practice patience, and heightens your observation."
"There's a certain uniqueness that comes with attending an art school, being surrounded by creatives – where everyone speaks the same 'language,'" she said.
"I think the Armory Art Center offers its community a step into the art world around them, and beyond," said Tidy-Coyle. "Having a community organization that believes in the significance of art as a cultural necessity, is such a wonderful thing to have access to…"

Mary Tidy-Coyle Artist Statement: In my work I am interested in how an environment can influence who we are, and how personal experiences shift perception. By sifting an experience through the creative process – I can record, document and reflect. My process is based on working in a series, in which I explore an idea, or subject, through multiples. My use of materials is based off of my subject matter, allowing me to work in a wide variety of media and techniques; from utilizing technology through filmmaking to something as traditional as painting. When working in more traditional materials (painting & drawing), I often rely on Art History and the formal elements to guide me – in my collection of landscape paintings – which are based on my travels and living experiences in different regions of the United States. I look to such artists as Richard Diebenkorn, Georgia O'Keeffe, Mark Rothko and Helen Frankenthaler. While experiencing such diverse landscapes and environments I become inspired creatively, particularly as I ponder our current environmental climate crisis. The idea of a contemporary artist approaching the landscape – a historically traditional subject matter – may seem irrelevant, but I disagree. The landscape has never been more significant as it is today.