CCE LAUNCHES THE DISCOVER SERIES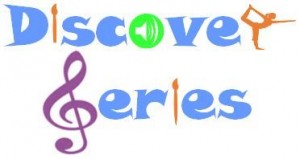 Program will expose third-graders to range of art forms in three-year program
(WEST PALM BEACH, Fla.) – Have you ever wondered if your child is a potential Picasso or Oscar-bound actor? Prima ballerina or concert cellist? Award-winning author or roving reporter? On June 17th, the Center for Creative Education (CCE) will offer 60 rising third-grade students a unique opportunity to discover their passion for the arts.  CCE is launching the "Discover Series", a signature program that will allow young children to explore music, dance, theater, visual arts and media.  The students do not have to have a specific talent or art experience. CCE is looking for kids with curiosity, a strong commitment to study the arts and the discipline to attend the weekly classes on a regular basis.
Students wishing to apply to the Discover Series must be Palm BeachCounty third-graders willing to commit to the program for the full three years.  Those enrolled will be a part of the program from third through fifth grade.  Tuition for the initial year's 10-month program is $900 per student per year, but thanks to a $250,000 grant (from a generous donor who wishes to remain anonymous) almost all of the openings are underwritten with full or partial, need-based, scholarships.  Scholarship requests are available on the application. Registration and open houses are free and art supplies are provided.
Weekly classes begin on June 17, 2014 and run through March 12, 2015, with breaks for holidays.  Class sizes are limited and openings are available on a first-come, first-served, application basis.  Classes will take place at 425 24th Street, CCE's namesake facility in the heart of West Palm Beach's NorthwoodVillage. Interested parents and their children should plan to attend one of two open house sessions at CCE on either Tuesday, May 13 from 6:00 -7:30 pm or Saturday, May 24 from 10:00 – 11:30 am.  They will be able to meet the arts faculty, see brief demonstrations and take part in hands-on activities in each art area.
"The goal of the CCE Discover Series is to expose children to the arts and to give those who show special interest and commitment the instructional background and opportunity to pursue their passion," said Robert Hamon, CEO for the arts integration and education organization. "It's our goal that by their third and final year in the Discover Series, students will have increased knowledge and understanding of the arts, preparing them to take their artistic interest further- for the joy of performance, to apply to an audition school or simply for their own enjoyment.  In the future they may participate in the arts, or may support them as a consumer or a philanthropist."
The non-profit CCE served nearly 13,000 Palm BeachCounty students last year – using the arts to educate and inspire creative thinking in Palm BeachCounty classrooms and after-school programming. Many of the students involved in CCE's programming are at risk of educational failure. Through their exploration of the arts, students learn commitment, discipline, open-mindedness, team-building and creative thinking – necessary skills for developing the whole child.
In the first year of CCE's Discover Series, 3rd grade students will be exposed to piano /keyboard, visual arts, theater/drama, wind instruments /band, dance, voice/choir, media arts and string instruments/orchestra – learning eight different art forms and spending a month exploring each form.  In the second year, the students, now 4th graders, will have more control over their art selections – choosing four of those art forms to explore more closely. In the third year, students will select two art areas for a deeper concentration and level of instruction.  Each year CCE will add a new group of 3rd graders so that by the third year there will be 3rd, 4th and 5th graders in the program.
Students will commit to one of two class times for the year – Tuesdays from 4:30 to 6:30 p.m. or Thursdays from 5:30 – 7:30 p.m.  No auditions or prior art experience is necessary and all materials will be provided.  If the organization receives more applications than there are available spots, a waiting list will be created.
The CCE Discover Series arts faculty will be partnering with other local arts organizations to present a performance or activity every month as a way to wrap up each focus area. Participating arts organizations include:  Gastesi-Bezerra, the official piano-duo-in-residence at Palm Beach Atlantic University; Youth Speak Out International; Young Singers of the Palm Beaches; Locomotion Theater; Ballet Palm Beach; Music Educators Brass Ensemble and more.
"In the ever changing global economy in which we live, we are no longer focused on the three 'Rs' of Reading, Writing and 'Rithmatic," said Olga Vazquez, CCE's new manager of in-house programs – a position created to oversee the new Discover Series. "Today's educators are looking at the four 'Cs' – Critical thinking, Creativity, Collaboration and Communication. The arts naturally help develop the four C's and the Discover Series is designed to improve these skills in students through direct instruction in the arts. Students will 'discover' their potential and passion for the arts – first through exposure to these fine and performing arts areas, and then through interactive workshops and guest performances. The opportunity for children at this age to receive instruction in a wide variety of art forms, and then to speak with professional artists from the community and decide which arts make them happy is completely unique and very exciting. There isn't anything else like this program in Palm Beach County."
The Discover Series completes the circle of arts education that the Center for Creative Education provides: arts-integrated curriculum, arts-enhanced curriculum and art as curriculum.  They have long been linking arts and academics in their "LEAP" program, in which a CCE teaching artist and a classroom teacher collaborate to teach the content of art and another subject.  Their after-school program, "CADRE", uses art as a "hook" to reinforce classroom studies.  Now CCE's Discover Series will offer instruction in "art for art's sake", allowing third graders to explore a range of art forms and decide what sparks their creativity.
For information and registration forms for CCE's Discover Series, visit the Center for Creative Education's website at cceflorida.org or call at 561.805.9927.
###