Art Fest on the Green 2018
12th Annual Juried Fine Art & Fine Craft Show
Saturday, January 27, 2018, 9-5p
Sunday, January 28, 2018, 10-4p
Painting Sculpture Ceramics Jewelry Mixed Media Photography and More!
Wellington Amphitheater-Wellington, Florida
Artist demos Food Trucks Live Music Children's Art Activity Area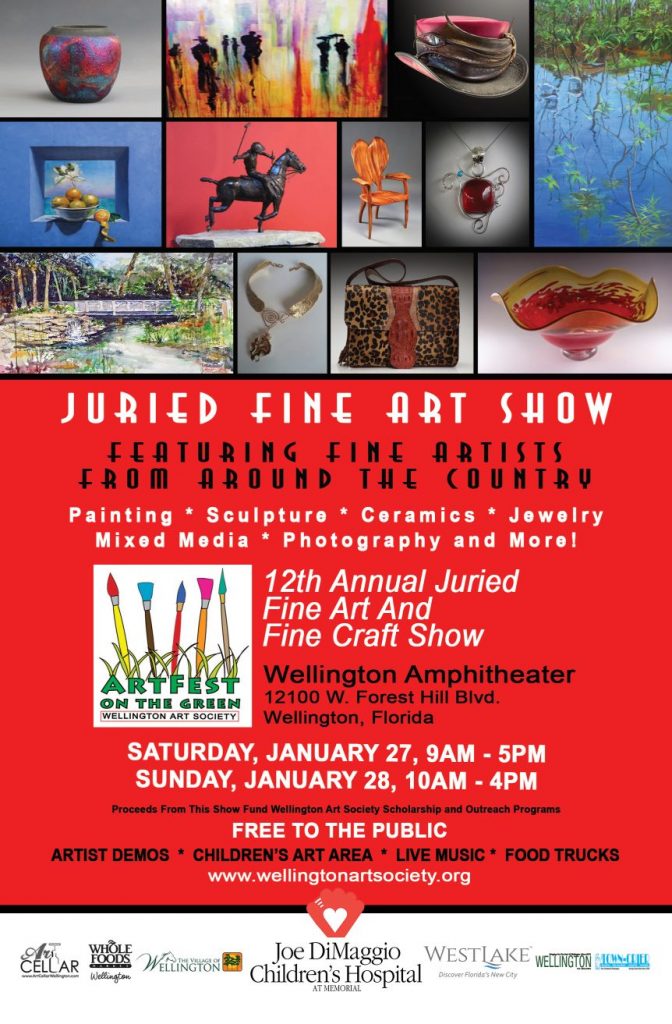 The Wellington Art Society will present its 12th Annual Art Fest on the Green at the Wellington Amphitheater at 12100 W. Forest Hill Blvd., Wellington, FL on Saturday, January 27th from 9 a.m. to 5 p.m. and Sunday, January 28th from 10 a.m. to 4 p.m. Art Fest is a celebration of art, life, and bringing art and community together in a beautiful outdoor setting.
Support from Community Partners and Sponsors helps create a favorite family friendly event everyone looks forward to every year. The juried fine art and fine craft show will feature artists from around the country showing original artwork across multiple mediums, including painting, sculpture, pottery, jewelry, textiles, photography and more. Awards for Excellence will be presented to Artists for Best in Show, 1st,2nd, 3rd Place and Honorable Mentions.
Art Fest on the Green gives the community an opportunity to interact with the artists, learn more about their creative process, different mediums and techniques, and hear about the artists' inspiration and accomplishments.
Children will have a great time creating their own work of art to take home at the Children's Art Activity Area.
Live acoustic music will be performed by popular local and regional musicians during Show hours. Food Trucks will be on site offering a variety of delicious food.
Proceeds from Art Fest on the Green help fund the Wellington Art Society's long-standing Scholarship Program and other Art Outreach Programs.
Many artists will be working on site. The 55 fine artists participating in the festival were selected for their creativity, mastery of the technique, and level of excellence.
Also, this year several artists will be presenting their latest art work exclusively at the Show, offering originals and limited editions for sale.
Manny Jomok, a plein air watercolorist, will present his recent captivating Palm Beach landscapes painted on site at popular area locations: Society of the Four Arts, Old Key Lime house, Grassy Waters Preserve, Gumbo Limbo Nature Center, Loxahatchee Panorama, Mounts Botanical Gardens.
Many of Manny's paintings are done with other artists as part of meet-ups
he helps organize with Plein Air Palm Beach. www.PleinAirPalmBeach.com "Painting today's culture for tomorrow's history".
Manny teaches watercolor and exhibits in FL and Maine. His artwork is found in corporate and private collections in the US, Canada, England, and Australia. www.mannyjart.com
Sheree Blum, Wellington, FL glass artist, will introduce her latest fabulous Palm Beach inspired glass plates, bowls, and decorative pieces.
Using a glass process that allows her to translate her ideas and designs into vibrant functional pieces she fulfills her need to create. "Why else would a glass artist get up at 4am to check the kiln to see the magic of her design work done 12 hours before? "she asks.
Her glasswork has been featured in Epicurious America's Best Recipes,2014, "People" magazine 2014 (Jennie Garth Tabletop Décor) "Coastal Living" 201`5, "Southern Lady" 2017.
Sheree's glass bowls, dessert plates and cake stands have been sold in Anthropologie Stores across the US, the UK and on-line. Sheree participates in many Fine Art and Fine Craft Shows throughout the country and accepts commissions for special edition pieces. www.kickingglassbysheree.com
Tim Gaydos, top award-winning artist in several mediums, will present his recent paintings of reflections in Nature.
"In recent years I have been moving more and more toward abstracting the landscape by eliminating detail, simplifying shapes, exaggerating colors with the intent of creating stronger composition."
Tim is a master pastelist of the Pastel Society of America since 1987. He has received over 200 awards, most notably the American Watercolor Society Gold Medal of Honor. He has had many solo exhibitions and his work is in the Public Collections at; Rutgers University, Butler Institute of American Art, Metropolitan Opera, L.L. Bean Corporation and Tides Institute & Museum. www.timgaydos.com
Art Fest Co-Chairs Leslie Pfeiffer and Toni Willey and WAS Volunteers will be on hand to assist visitors as they navigate through the fine art selection by professional and emerging artists from across the country displaying their original artwork as well as the Children's Art Activity Area where art can be created, shared, and taken home. With a wide variety of original art for sale there is something for everyone in the Show. It is a fantastic opportunity to take home an original work of art and a have a great story to share about the artists.
The Wellington Art Society, a 501 c 3 charitable organization, has over 100 members -artists and art enthusiasts. W.A.S. provides a platform for artists of all mediums to share their work, learn more about their craft, and serve the community through their art.
For more information please contact:
Leslie Pfeiffer, mysticway1@bellsouth.net , 561-632-3677
Toni Willey, tgwilley@gmail.com , 561-389-4798