Cultural Corner
Connecting Canal Street Artist
By Angela Shaw
If you head west on state road 80—the highway that spans the width of Florida–you'll quickly come to C street. Then if you take a right, and then another right onto the rutted dirt road called Connecting Canal, which, of course, runs along a canal, you'll come upon a wonderfully hidden residence called Pferdekamper Studio. Don't bother trying to use your iPhone maps app because the address is off the grid.  When you see the sign "Art Show," you'll know you've arrived.
Slightly outside of Wellington, the home belongs to Gisela Pferdekamper, an artist herself who helps promote other artists.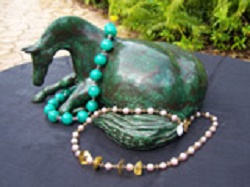 Her last name, Pferdekamper, actually means "horse's camp" which is highly appropriate because Gisela and her husband, Howald, have been involved with horses ever since they married in Germany, from where they both came. When they first moved to the Wellington ranch eleven years ago, it housed many horses. And before that, they developed the multi-ranch community of White Fences, and founded the Palm Beach Dressage Derby.  I'd say they've contributed tons to the western communities since they first landed in 1976.
When they moved from Germany, they brought 33 Hanoverian horses in tow. The trip was originally planned for the winter months to enable the horses to more easily acclimate to Florida's weather—an extreme contrast to northern Germany's. But complications prevented them. When they were ready to crate the animals for a flight west, Gisela said that the crates they received were the wrong size. They were meant for cows and only stood about 4 feet high. This would never work for a horse on a 9-hour flight. So the journey was delayed two months while they farmed out the horses to nearby ranches and waited for the right sized crates to come.  Finally, the horses boarded—two months late—and they arrived in Florida during hot and humid April. Many horses lost weight during the ordeal, but eventually recovered.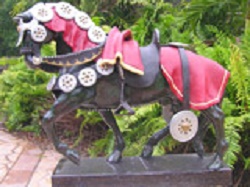 Gisela has a love for both art and nature. Her compound is evidence of it. Outside there are pergolas and walks, as well as great botanicals thriving everywhere. She even has a bird aviary. It once held several white peacocks. Now there's just one named, "Come, Come," one dove—who incidentally loves to perch on "Come, Come" and groom him—one pheasant, several non-egg-producing chickens and one cockatoo. A few large dogs rule the roost.
The horses gradually spent out their season and Gisela renovated the barn into an artist's studio. The high ceilings and open feel are the perfect places to display and work on her paintings. She specializes in a series called "Fat Horses." They are truly funny. And I doubt anyone is offended by the un-politically correct adjective when applied to a horse.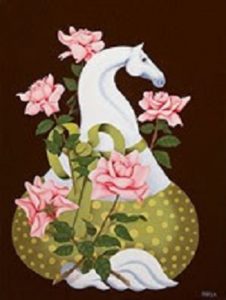 Gisela's more modestly proportioned horses are wonderful, too. They all look like they are having a good time. Here is her "Horses over the Clouds."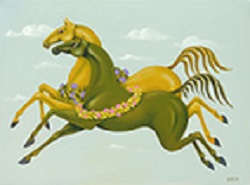 She recently branched out to painting zebras.  She says, "A zebra is kind of like a horse." The zebras have been a big hit with admirers.  She cites their popularity to their dramatic color contrast and playfulness.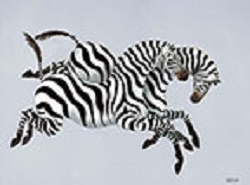 The barn-turned-studio is also home to a large kiln. It wasn't long before Gisela started working with clay.  She forms everything from hand without a wheel.  Here's a three-dimensional version of her full-figured equines.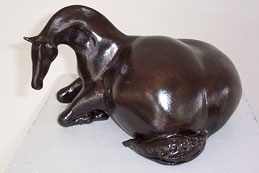 Gisela's clay specialty is the Tangine. The Tangine is a Moroccan pot that uses water and a return system to cook meat and vegetables. Unlike a crock pot, the ingredients do not get cooked to death and retain their nutrients.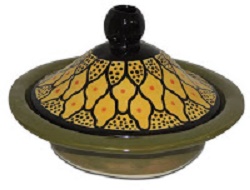 Because of the domed or cone-shaped lid of the Tangine, steam is trapped and returns the condensed liquid to the pot; hence a minimal amount of water is needed to cook meats and vegetables to buttery tenderness.
Gisela also paints fiberglass horses in various themes. These are also popular works.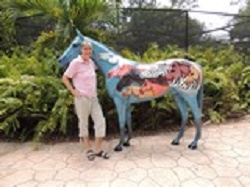 Twice a year Gisela puts on an art show in her barn studio. She recently held one that featured potters, jewelry makers, illustrators and painters.  While the sales were a bit down, "It was a great party," she said. If it's her goal to showcase and promote other artists, she's certainly doing her part.
When I asked Gisela if she'd like to add anything more, she said. "Yes. Wellington is not high on art. They love their horses, but art is not as important to them. This is why I have my shows."
Perhaps that will change. In the meantime, you can see more of Gisela's work on her website. Don't miss her next art show in March.