EAU PALM BEACH RESORT & SPA TO RECEIVE BRANDING BOOST
Forbes Five-Star property in great hands with recent marketing promotion and new hire 
(MANALAPAN, Fla.)  
Leadership at Eau Palm Beach Resort & Spa is pleased to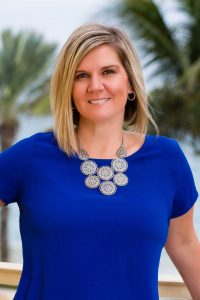 announce Michelle Phillips as its new director of brand management. A hotelier of the Resort since October 2013, Phillips will now be responsible for ensuring all aspects of the Resort's marketing and guest experience live up to its brand promises.  In addition, Lindsay Dufresne was hired as marketing manager.
Phillips has been instrumental in the success of the newly rebranded Eau Palm Beach Resort & Spa, as she started just after the Resort officially transitioned from a national brand to an independent luxury resort. Since that time, the Resort has earned consecutive AAA Five Diamond recognition and its first ever Forbes Five-Star award earlier this year.  The Resort was one of only eight properties in the U.S. to achieve the Forbes Five-Star award in 2016 for both the resort and spa.
"Michelle is the perfect person to lead Eau Palm Beach Resort & Spa through its next phase of branding," said Michael King, chief operating officer for Eau Palm Beach.  "Her focused and vibrant personality personifies Eau Palm Beach's serious commitment to being the resort of choice for sophisticated fun.  We look forward to her future campaigns, which will continue to shape our internal culture and guest experiences."
Phillips earned a bachelor's degree in communication for business and a master's degree in integrated marketing and management communications, both from Florida State University.  She then concentrated her career on marketing in the hospitality industry, most recently working for the global brand, Starwood Hotels & Resorts.  Phillips was hired by Eau Palm Beach Resort & Spa as a marketing manager, and after much success, was promoted to assistant director of marketing and brand management in January 2015. She says her recent promotion to director of brand management is a dream come true.
"I believe life is short, so you should work somewhere you love, and that could not be more true for me," said Phillips.  "It is truly an honor to be able to lead the branding efforts for the amazing Eau Palm Beach Resort & Spa.  Our team is one of the best in the business, as proven time and again by our rave guest reviews and industry accolades, because we maintain a distinctive and differentiating experience.  I look forward to continuing to tell our unique story, one of luxury and elegant fun, for it is surely just getting started."
A Wellington resident, Phillips enjoys spending time with her family on the weekend, including her husband and 4-year-old son.  She also participates in Eau Palm Beach community initiatives, including Habitat for Humanity and AVDA.
Lindsay Dufresne, a marketing and communications professional with more than 12 years of experience, was hired to support the Resort's branding and marketing efforts.  Dufresne will be developing, leading and implementing strategies and tactics for advertising, marketing promotions, collateral and email campaigns. She most recently worked as a field marketing manager for Sonesta Hotels.  She holds a bachelor's degree in communications and public relations from Marist College.  A native of New York, Dufresne is passionate about the ocean and physical fitness, and can be found spending time with her friends and family on the weekend.
"We are thrilled to welcome Lindsay to our team," said Phillips.  "With more than seven years of experience focused specifically on hospitality, she has the necessary skills to jump right in and make an impact here at Eau Palm Beach.  In addition, she illuminates the spirit of Eau Palm Beach, which makes her a great brand ambassador.  We look forward to continued success with her expertise and support."
For more information, or to book a reservation, please visit 
www.eaupalmbeach.com
 or call 561-533-6000. Follow Eau Palm Beach Resort & Spa on Facebook and Twitter @eaupalmbeachresort and @eaupalmbeach, respectively.
###
About Eau Palm Beach Resort & Spa
Situated on a secluded private beach on seven acres of the Atlantic coast with breathtaking ocean views and lush tropical gardens, the AAA Five Diamond and Forbes Five-Star Eau Palm Beach Resort & Spa was recognized as Florida's top resort in the 2015 Condé Nast Traveler Readers' Choice Awards. Spacious accommodations offer a Capri meets Santorini meets Palm Beach vibe and feature private balconies with hanging chairs to enjoy ocean views. The resort's many amenities include the Forbes Five-Star, award-winning 42,000-square-foot Eau Spa, three tennis courts, two pools, a fitness center and an outstanding child and teen club called AquaNuts/Coast. With over 30,000 square feet of meeting and event space, Eau Palm Beach Resort & Spa accommodates groups from 10 to 1,000 and offers a wide variety of indoor and outdoor venues for private events. Eau Palm Beach Resort & Spa has four restaurants and is just minutes from the lively Palm Beach nightlife and shopping. Eau Palm Beach Resort & Spa is a distinctive member of the Preferred Hotels & Resorts Legend Collection. For more information, please call 800-328-0170 or 561-533-6000, visit www.eaupalmbeach.com, or contact your travel professional.  For information about Eau Spa, or to book an appointment, please visit www.eauspa.com, call 561-540-4960 or email concierge@eauspa.com.