Francis, Our Cat.
With
Frankie and Johnnie
By
John F. Rifenberg
We have a family crisis. Our wonderful cat, Francis, needs to go to the veterinarian this morning. This is a real chore, because Francis is part feral, meaning he's an indoor and outdoor cat. Or should I say, he does what he wants to do when he wants to. Or maybe that's how he feels his about life. He also has to have a certain diet of dry food (expensive) then wet-food (also expensive) and of course, special treats. This is in addition to what he brings to the backdoor showing off his hunting skills. Plus adding to this pleasure of having him in our family, he's a Tokenize Siamese, which means he's a big cat; 18 and half pounds of muscle.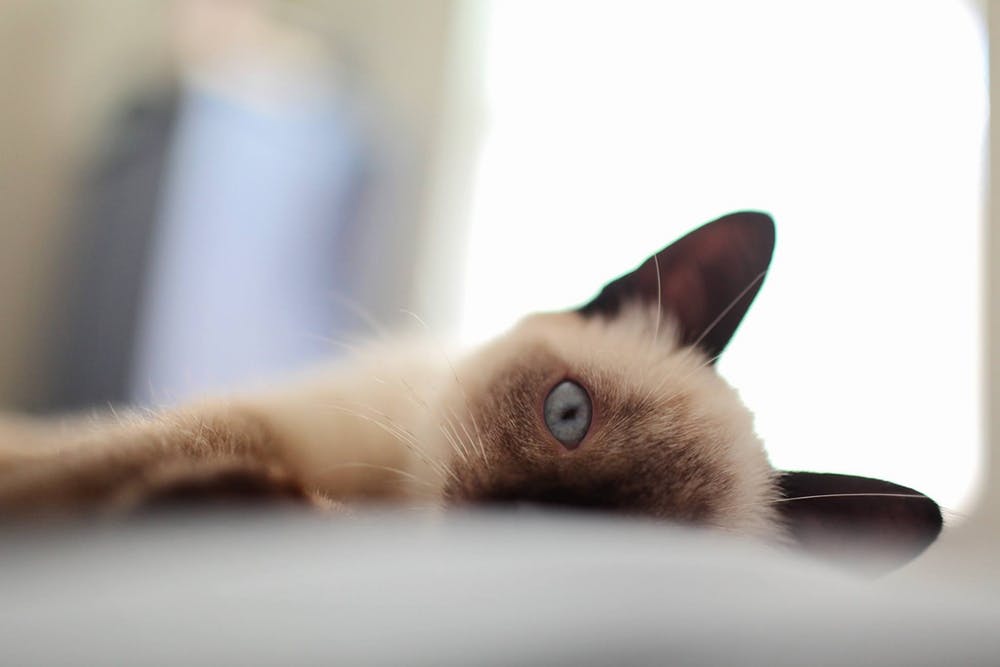 I'll tell you the truth. About this silver panther that roams our property. He's a mommy's boy! Yes! He thinks he's the king of the jungle (our yard) and our house is his castle. But when his mother (Frankie) calls her special cat call, he comes running out of the woods or where ever he is. He knows there's a real good chance of food, perhaps a belly-rub involved, and maybe a special treat.  Now that I think about it, I come running when Frankie calls for me, I'm also hoping for a belly-rub and maybe a special treat.
My bride, Frankie had to work today. Since I'm retired and have nothing to do all day, that's the consensus of the neighborhood, I was elected to take Francis to the vet. I will spare all of the details, but getting him into his huge travel case, takes two people as a team. We finally get him into it and then carry him to the back of the SUV. He's crying like it's the end of the world. Frankie talks to him and he seems to be settling down. I start to think everything is going to be fine. I jump into the SUV and down the road I go.
As soon as we drive away from the house, he starts crying, big-time crying. I tell him that everything is fine. We all go to the doctor and nobody likes it. All he has to do is get a shot. Maybe that wasn't the right thing to say it seems he understood what I said. Great! He's finally listening to me. His crying is breaking my heart while it seems I get every traffic red light. And my blood pressure is going thru the roof.
It's the longest mile I have ever driven. I had to settle down; I sure don't want any blood pressure problems. I imagine driving while having a blood pressure attack and hitting a tree as the SUV catches on fire. The first responders on the scene would have to make a decision of who to save first. The old guy, who is frantically gathering his cd's from the front seat or the young virile cat in the back of the SUV  and in his prime. I hear one of the men say to the other. "Call his wife and see who we should save first." I'm thinking, don't ask her that, she may not be in a good mood and she may have to think about it. I'm not feeling well, is it getting hot in here?
We finally arrive at the vet's office. Everything has gone almost as planned. I tell the staff that he doesn't take medicine very well. He seems to know when there's something in his food. The doctor then says that Francis can tell when his food is tampered with, its causes negative energy in the room. He might be stressed. Stressed? Does anyone have a blood pressure cuff? The staff gives me the prices for stuff Francis needs, but I have no idea what it does. I find myself saying "Whatever it costs only the best for him!"  Did I just say that! I call Frankie to report in.
She answers the phone "What went wrong." I was proud to announce to her that everything is fine and the King would be home soon. I added that we can't eat this week in order to pay for his bill.
Francis is back in his kingdom. Frankie is proud of me for handling this task as there were no injuries. I'm happy and looking forward to a belly-rub and maybe a special treat. And now, back to my honey-do list.
***
John Rifenberg is co-chairman of the writing group of Royal Palm Beach. He has just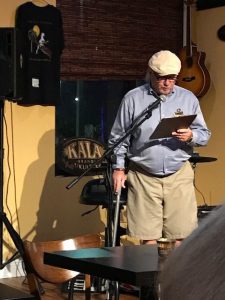 finished his newest book "The Alphabet Out of Order," which is an assortment of stories and poems, including his award winning short stories.