Cultural Corner
Henry Flagler: Cultural Pioneer
By Angela Shaw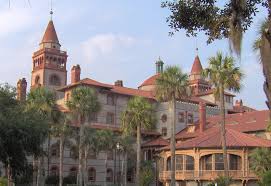 Last weekend I traveled to St Augustine for a reunion with my New England cousins. We stayed at the Sarah Petty Anderson house in the heart of America's first town, within walking distance of all the major sights like the San Marco Fort and the renowned Flagler College. What a gorgeous structure Flagler built back in 1888 as his first hotel to support his railroad system the sun-seekers of a century ago!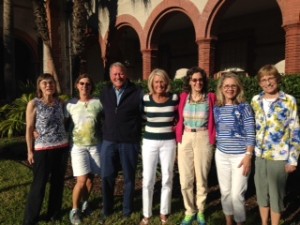 Even though I was far from Wellington, I mused on how Flagler impacted these two cities and all the communities along Florida's coast.
His second hotel was built in West Palm Beach.
If it weren't for pioneers such as Henry Flagler, we wouldn't have Wellington, much less the art and culture we enjoy in this community.  Sure, someone else probably would have built the railroads and settled the swampy land. But he did it, and his story is worth retelling and appreciating.
Upon a visit to Jacksonville for his wife's health, Flagler bought the Jacksonville, St Augustine and Halifax railroads in partnership with John D. Rockefeller.
Flagler built his first hotel in St Augustine, The Ponce de Leon Hotel, which is now Flagler College. It was and still is considered an architectural marvel. After establishing three hotels, and the huge Memorial Presbyterian Church, in memory of a deceased daughter,  he and his Florida East Coast Railway continue southward.
He purchased an existing hotel in Ormond Beach,  then visited Lake Worth, which he referred to as a "veritable paradise." He built his second hotel, The Poinciana, boasting the largest all wooden structure in the world with a dining room that seated 1600.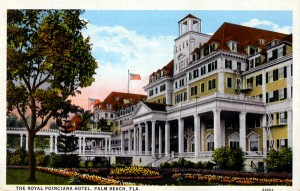 Then came another little (I jest) local hotel named the Palm Beach Inn, known to us as "The Breaker's."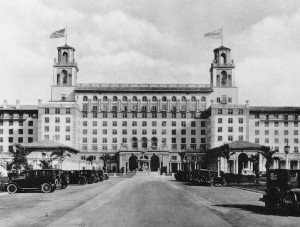 Though not an artist, per se, his sense of beauty in architecture paved the way for arts and culture to grow and thrive as beautifully as the flowers for which this state was named.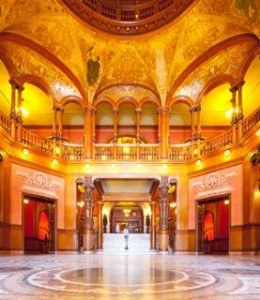 In fact, over time, much of the land he owned became sites for several cultural establishments, such as The Norton Museum of Art, the Morikami Museum and Japanese Gardens, and the Palm Beach County History Museum and 1916 Courthouse. All these were part of his Model Land Company, owning 2 million acres from Jacksonville to Key West.
In 1902, Flagler raises his Palm Beach home, called Whitehall, which brings me to the thrust of this article, because it's Around Wellington.
There's a lot more to see  than the 75 rooms, including ballrooms and dining rooms.  Whitehall, this Gilded Age specimen, also offers cultural events and tours of the Breaker's Hotel.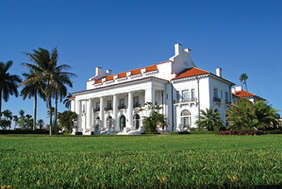 Here are some upcoming events at the museum.
Saturday, April 9, 3pm – Blue Grass Concert – Flatt Lonesome and Lonesome River Band – tickets $35
Saturday, , May 7, 11:30am – Mother's Day Tea
Sunday, May 5, 12 noon  – Mother's Day Tea
Sunday, June 5th  – Founder's Day – Free tours of the Flagler Estate
Watch a Lecture about the Architects of The Breakers.
This lecture on architects Schultze & Weaver was part of the 26th Annual Whitehall Lecture Series on "The Architects Who Designed Palm Beach's Iconic Buildings." Jonathan Mogul is the Academic Programs Coordinator at the Wolfsonian at Florida International University. He co-authored "Grand Hotels of the Jazz Age: The Architecture of Schultze & Weaver."
With all this to do in our own backyard, there's no need to travel to St Augustine just to see amazing art and culture, unless it's also to see cousins.