Metropolitan Community Church of the Palm Beaches Dedicates New, Triple-Sized Food Pantry that Serves Up to 2,000 Local People in Need Every Month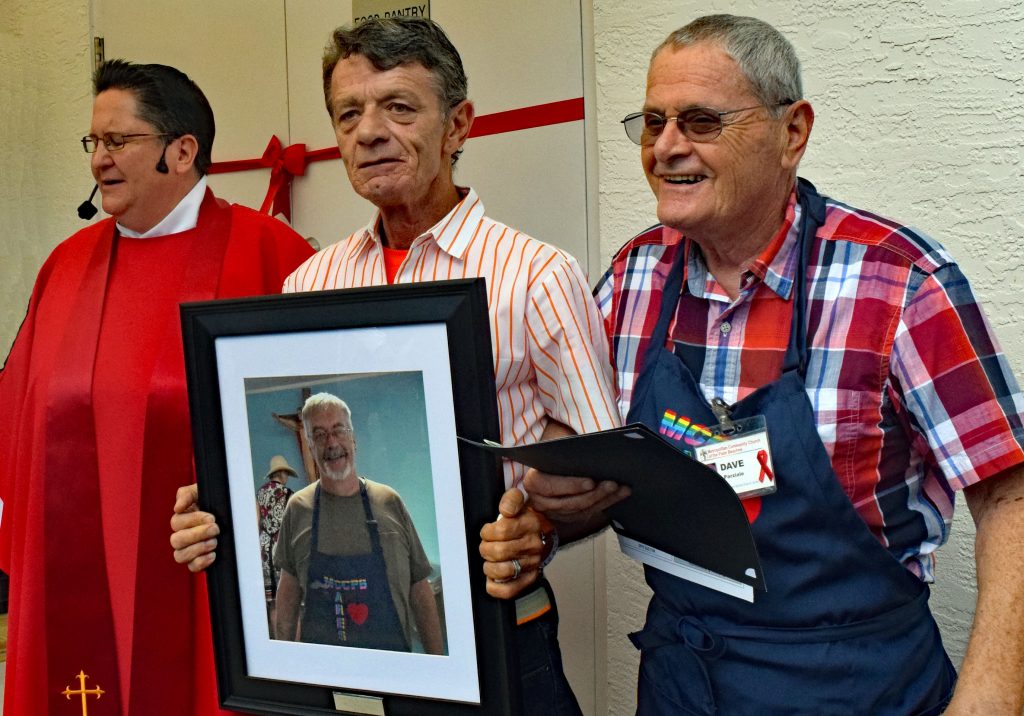 (Palm Beach Gardens, FL – May 31, 2016) The Metropolitan Community Church of the Palm Beaches (MCCPB), which has been serving and supporting the local LGBTQ community for 35 years, dedicated the new, expanded space for the MCCPB Food Pantry on Sunday, May 29. The new Food Pantry is approximately 300 square feet, or more than triple the size of the previous space, and was dedicated to the memory of Rich Eichhorn, a long-time co-coordinator of MCCPB's Food Pantry.
"All of us at the church are very grateful to the Agnes Varis Trust for the grant we received to build this beautiful new pantry facility," says Rev. Dr. Lea Brown, MCCPB's Senior Pastor. "We take very seriously our calling to give God's love away as much as we can, in all the ways that we can. To feed someone in need in the name of Jesus is to feed Jesus himself, and we are honored to be able to serve our community in this way."
"It is a travesty than anyone should go hungry, especially the most vulnerable among us, such as children, seniors and people living with chronic illness," agrees Richard Kratzer, co-coordinator of the MCCPB Food Pantry. "We are very excited about all the ways this new pantry will enable us to do even more to fight the battle against food insecurity in Palm Beach County."
The new, expanded space enables MCCPB to:
+ Receive more food from Feeding South Florida to distribute, because the amount of food a pantry can receive is sometimes restricted based on available storage space.
+ Distribute food to people in need more efficiently, with less wear and tear on MCCPB volunteers.
+ Transform the old space into a much needed Children's Ministry Room for activities and classes for families and children.
MCCPB began its Food Pantry in the 1980s to provide food for people living with HIV/AIDS. Over the decades it has expanded its service base, and now provides grocery staples to anyone in need, thanks in part to its partnership with Feeding South Florida, the Palm Beach Food Bank, the Palm Beach Food Project, and a huge online silent auction, along with generous financial support from the MCCPB congregation and friends in the community.
MCCPB's Food Pantry currently provides fresh produce, bread, pasta and whole grains, meat and staples like peanut butter, canned tuna, canned fruits and vegetables and cereal to up to 2,000 people in need every month. While the service area is primarily West Palm Beach and Riviera Beach, people from all over Palm Beach County have received food donations.
"Gay or straight, it doesn't matter. Anyone who struggles with food insecurity is welcome," says Dr. Brown. "The church's Food Pantry is completely non-sectarian, and is run entirely by a fabulous team of about 15 volunteers. It is open to distribute food every Wednesday from 1 to 4 pm, except when there is a fifth Wednesday in the month, because that's when we close to give our volunteers a break."
Anyone wishing to donate grocery items to MCCPB's Food Pantry can drop them off at the church Monday through Friday, 1 to 5 pm. All food items should be single-family size and not in industrial-size containers. Items that are needed the most include canned tuna and chicken, peanut butter, jam, rice, pasta and sauce, breakfast cereals, and canned fruit and vegetables.
For more information about donations, volunteering or about receiving groceries, please contact foodpantry@mccpalmbeach.org.
About the Metropolitan Community Church of the Palm Beaches:
Now celebrating its 35th anniversary, the Metropolitan Community Church of the Palm Beaches is the largest faith-based community in Palm Beach County dedicated to serving the local LGBT community and its family members and friends. According to the church's mission statement, "MCC of the Palm Beaches is a joy-filled, justice-centered Christian community of love, vibrant worship and spiritual discovery where all God's people are supported as we become fully alive."
To celebrate its 35th anniversary, MCCPB will present a series of special events throughout the year including the church's 15th annual Rainbow Ball fundraiser on October 29 at the Abacoa Golf Club in Jupiter. This will be followed by MCCPB's biennial three-day revival Awakening! (November 18-20), featuring special guest preacher Bishop Yvette Flunder, the Presiding Bishop of The Fellowship and founding pastor of City of Refuge United Church of Christ in Oakland, CA. Guest musicians for the whole weekend will be Jason and deMarco.
"For 35 years now, the Metropolitan Community Church of the Palm Beaches has been both a bulwark of strength and a source of solace and support for South Florida's lesbian, gay, bisexual, transgendered and questioning communities," says Dr. Brown, who recently celebrated her fifth anniversary at the church.
"We are on a bold mission to transform hearts, lives and history," she adds. "Just as Jesus did, we take very seriously our calling to do justice, show kindness and live humbly with God."
Located since 2000 at 4857 Northlake Blvd. in Palm Beach Gardens, MCCPB offers two worship services every Sunday at 9 and 11 am, with childcare provided for children 5 and under along with Children's Church for ages 6 – 10 during the second service. Because the church is made up of people from both Protestant and Catholic backgrounds, elements of the services reflect both traditions, including scripture readings, hymns and contemporary music, prayer and a communion table that is open to everyone.
For more information about the Metropolitan Community Church, which is located at 4857 Northlake Blvd. in Palm Beach Gardens, please call 561-775-5900 or visit www.mccpalmbeach.org.