Less Burger Joint, More Gourmet Restaurant: BurgerFi
12836 Forest Hill Blvd, Wellington, FL 33414
(561) 612-7853
By Saucy Sarah
Photos by Sarah Pearsall and Lois Spatz 
It all began with the legendary CEO Burger at the popular eatery, The Office, in Delray. This burger would be the inspiration for the creation of the eco-friendly, gourmet fast-food chain, BurgerFi. Having had the CEO burger at The Office, I know that it is a hard burger to live up to. One of my top favorites of all time is the CEO from The Office.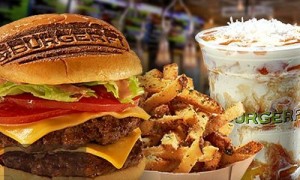 I am happy to report that BurgerFi has paid great homage to The Office by creating a delightful and delicious menu that offers limitless burger possibilities. The burgers are great. Meaty, juicy, and promising almost any topping you can imagine. The beef is all grass-fed angus.  I am in love with "The Breakfast all Day Burger." A marriage of maple syrup, fried egg, hash browns, and grilled onions. The fries are in the top two of my best fries list. They are addictive. Fresh cut, fried crisp, then sprinkled with crunchy sea salt. BurgerFi also offers a delicious array of dipping sauces and toppings for your fries. I love the garlic aioli with parmesan dusted fries. And don't forget the hot dogs! BurgerFi offers amazing all beef hot dogs with any topping you can imagine.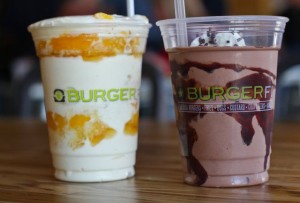 It's not just the burgers that make BurgerFi special. They also offer funky sodas. My kids love being able to use the space-age soda dispensers and try interesting flavors of Coke, Fanta, Sprite, and more. BurgerFi also has a rocking frozen custard bar. You can get a concrete or, better yet, a cow. Pair your custard with your favorite soda. A purple cow is my favorite; vanilla custard with grape soda. One sip and I'm eight years old again. Or get a simple sundae. As they say at BurgerFi, custard is better than ice cream. I tend to agree. You can also find an impressive array of craft beers and wines available.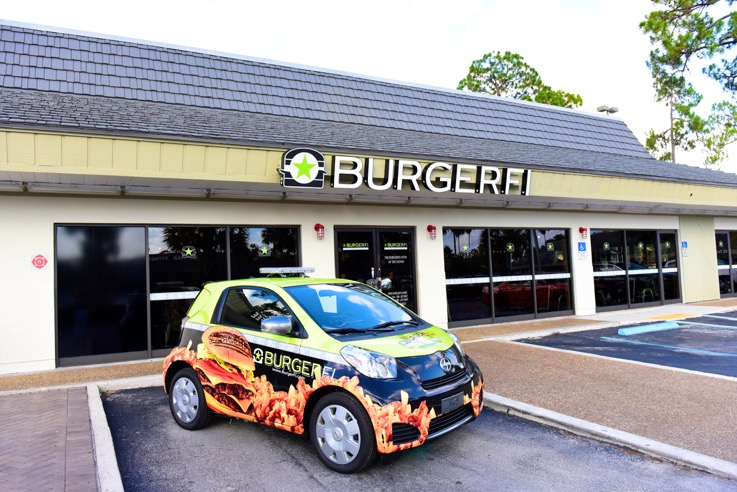 The décor is even delightful. On this trip, we visited the BurgerFi at CityPlace, but we love the Wellington BurgerFi as well. My kids love the huge fan that looks like about ten airplane wings welded together. The long, communal tables are lit with chandeliers made from meat hooks. Add in a striking green, black, white color pallet and you have a quirky and fun place to eat some really great food. The Wellington BurgerFi is always clean, well-managed and a friendly place to stop in.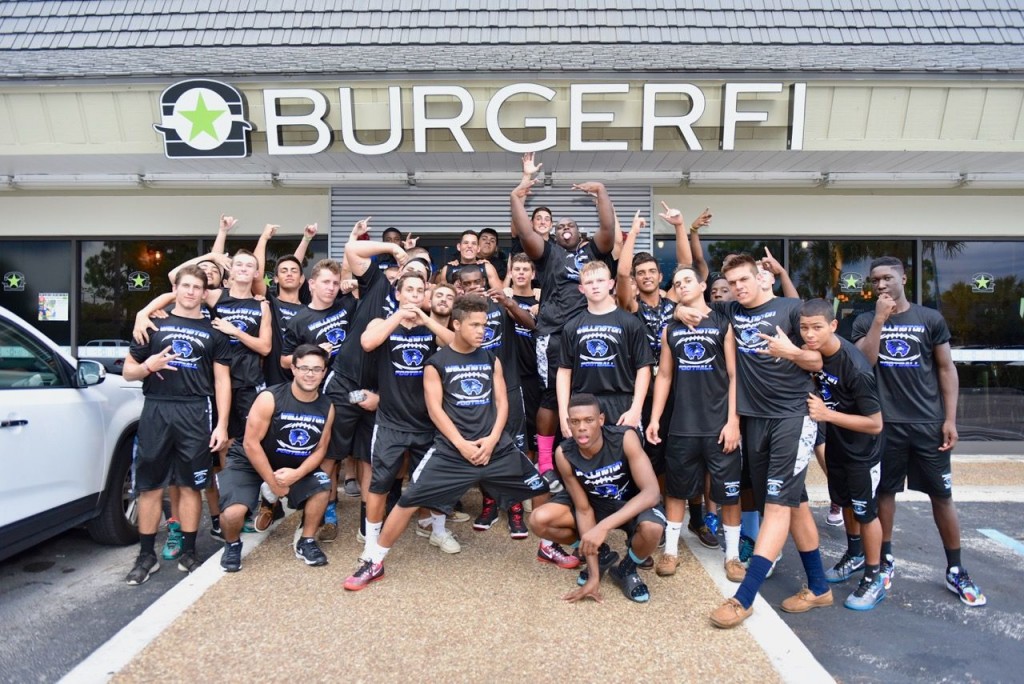 There is no chicken here. So plan to eat some type of burger or a hot dog. They do offer a Vegefi Burger, made from scratch (which is made up of crispy Quinoa, veggie burger, white cheddar, lettuce and tomato, served on a multi-grain bun).  The VegeFi burger has been rated the best veggie burger!  Read one "best veggie burger" story about it.  If you are looking for responsible fast food that is delicious, BurgerFi is the place for you!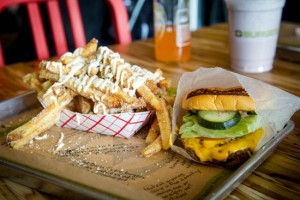 BurgerFi Wellington
Get a coupon for a free beverage!  See "AW Coupons."
(In the Ultima Fitness plaza)
12836 Forest Hill Blvd, Wellington, FL 33414
(561) 612-7853
***
In her previous life, Sarah, a Palm Beach County Native, spent ten years working in various high-end eating establishments around South Florida. She is currently a fiction thesis candidate in the MFA program at Florida International University where she also teaches creative writing and rhetoric. If that is not enough, Sarah is also the owner of Cakes by Sarah, a local custom cake shop. Sarah lives in South Florida with her husband and two beautiful boys. "Food, fiction, and family are my life."