Village Music…Where Something's Always Happening
By Krista Martinelli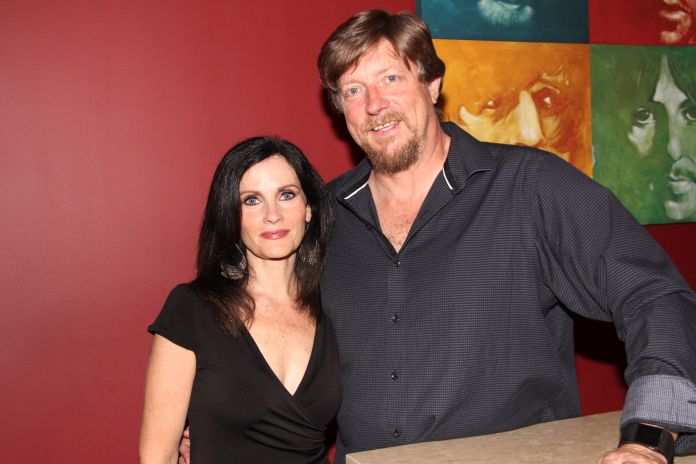 Recently I checked in with Donna and Steve Willey of Village Music in Wellington to find out more about their nightly events. Ever since moving into a bigger space (right near Barnes & Noble in Wellington), they offer a café, more practice rooms, bigger lesson rooms, a stage and an outdoor space. One of the most recent developments is that they offer an adult rock camp, bringing together adults who may or may not have played a musical instrument before. "This is a group of people who always wanted to rock out and now they're doing it and loving it," says Steve Willey.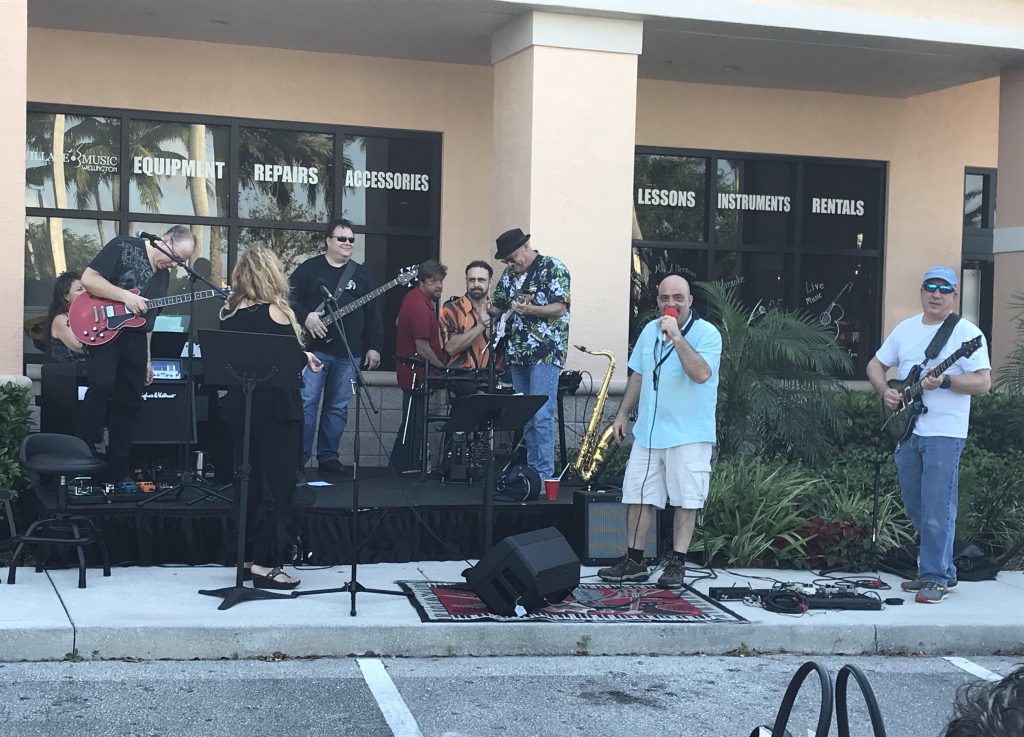 On Saturday, April 14th, the adult rock band took the stage at the outdoor block party that Village Music put on for the community. "The main point of the block party is to bring the community together to enjoy music," says Donna Willey. The event featured live music from about 4pm to 10pm, Emma J's Barbecue, food from the Village Music café, outdoor games for kids and a well-attended gathering of people. "This is our vision," Donna continues, "to have a regional music center where people can learn about music, listen to music, enjoy music. I want everyone in here!"
You can always check the website (VillageMusicWellington.com) or call Village Music to find out who's performing. They have a group of artists who perform regularly, including Steve Willey (guitar and voice), John Tutino (sax and electric guitar with a jazz rock fusion show), Rob Arenth (virtuoso guitarist with jazz blues fusion), Victoria Cardona (guitar and percussion), Rick Seguso (acoustic guitarist and folk Americana storytelling) and Doreen Daniels (guitar, uke, trumpet and piano with 60's and 70's music).
Once a month at Village Music, they present Master Chef Chris Paul, one of only seven Fusion Master chefs in the world. His events are the 4th Saturday of each month. "It's an experience of different flavors, each course is unique," says Donna. He fuses together different flavors and does unusual things like infusing a pear with a particular flavor. Or he will fuse together Asian and Italian flavors. For just $35, you can sample the four-course meal that he creates. There's also wine pairing at an additional charge. It's an interactive dining experience with the backdrop of live music. "I've lived in Europe for a long time. This is some of the best food I've ever tasted," says Donna.
Meanwhile, Chef Paul overhauled the Village Music Café menu. He kept their concept of café/bistro food and brought it up to a gourmet level. He personally trained the staff on how to make these dishes and how to present them. He makes his own mozzarella and his own pesto. In addition to a great menu, Village Music offers a nice selection of beer and wine. This is geared toward the night-time audience.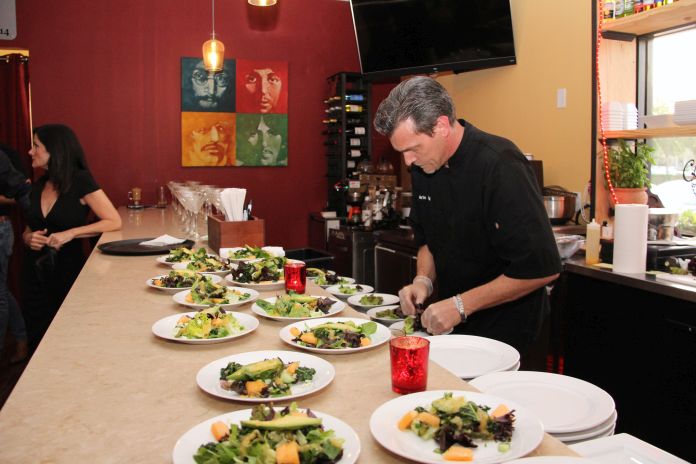 Now that Village Music has expanded, they teach approximately 350 students. They teach on all different instruments. If in doubt, just ask them at Village Music. They probably have an instructor who can teach your instrument of choice.
Coming up is Summer Camp, an interactive musical exploration experience. Children explore all different instrument groups – listening to, learning about and playing the instruments. By the end of the week, they know which instrument they connect with. There are 3 different weeks of Village Music Summer Camp. Check the website for the schedule.
The next Adult Rock Camp begins in June. Students practice once a week for two hours. The band includes seven or eight students of all different abilities. The Adult Rock Camp is led by musician John Tutino, who has a knack for bringing people together and bringing people up to speed. There's also a Kid Rock Camp which starts in June. These students are taught by a team of different teachers from Village Music. It's the same idea – students are brought together to practice and plan to perform their songs.
They also do kids' birthday parties and toddler music classes at Village Music. Their café is available for events and meetings. Live music can be provided upon request.
On Monday nights, the Literary Club of the Palm Beaches meets in the Village Music Café from 7pm to 9pm. On Wednesday nights, Village Music offers free ukulele circles for all ages, all skills levels. On Thursday nights, it's open mic night, a chance for anyone in the community to perform anything ("within reason," jokes Donna). On Friday nights, there is live music, which changes weekly.
There's always something happening at Village Music & Café. Stop by, have a glass of wine, enjoy the music! This is not something you find in every town. You'll find that Village Music is a gem, inside of our great Village of Wellington.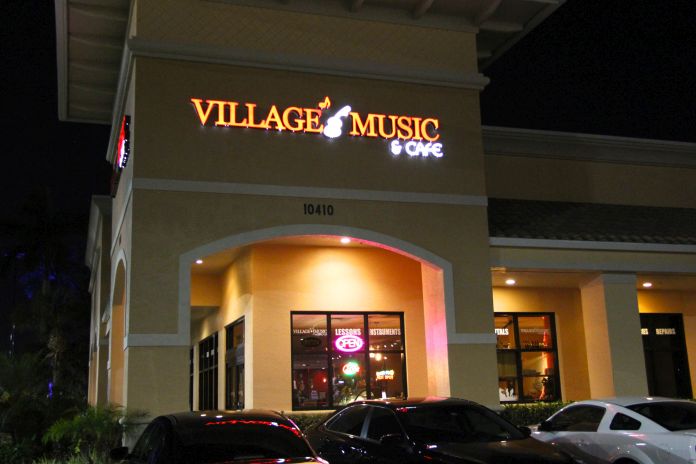 Village Music Wellington
10410 Forest Hill Blvd,
Wellington, FL 33414
(561) 798-5334