AW Spotlight
What's New at the Palm Beach Zoo?
An Interview with Ron Brooks, Events Manager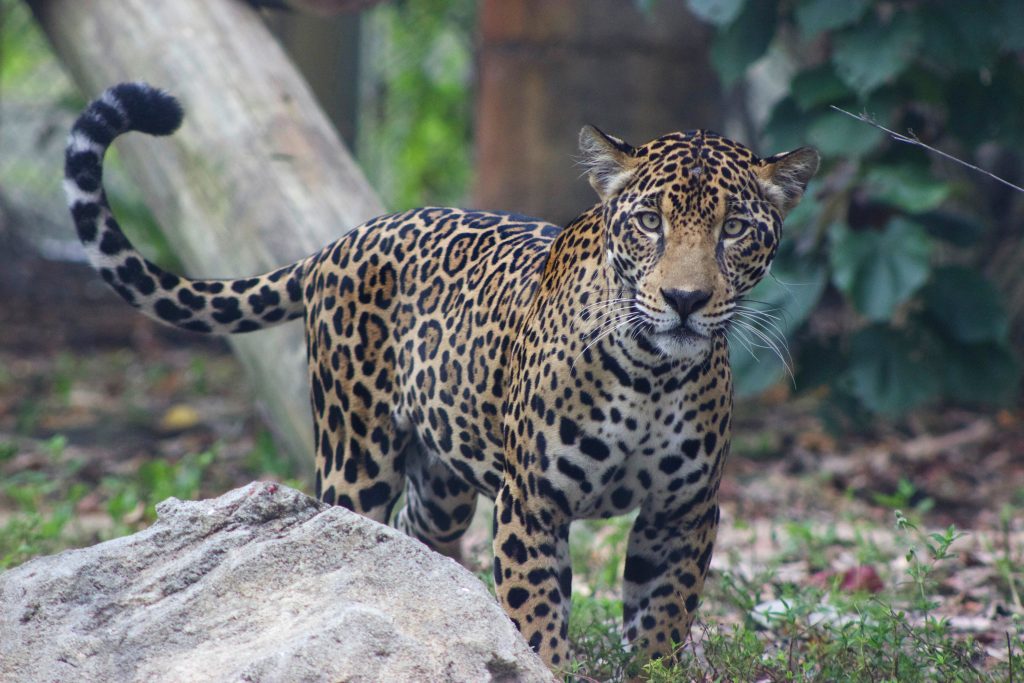 AW: What's new at the Zoo?
RB: This past Memorial Day weekend we introduced Fiona, an amazing jaguar, who was rescued in 2014 in Panama after her mother was killed by hunters. Thanks to great diplomatic work by the APPC (Pan-American Association of Conservation) and other organizations, we now have Fiona here at the Palm Beach Zoo.
This fall we will be opening a new Lorikeet Loft, where you can walk through and feed nectar to the lorikeets. Lorikeets are Australian parrots. This fall we will also be opening our Monkey Mania exhibit, featuring the squirrel monkeys.
In the winter, we will open Ocelot Overlook, which will be a nice, large habitat for the ocelot, a South and Central American cat. We will also open the Baum Entry Plaza, which will be our new grand entry way – very modern, assisting a high-capacity of visitors with more guest services available.
AW: Tell us about Safari Nights.
RB: Safari Nights happens every Friday night throughout the summer. We have a unique theme each week like pirates, superheroes, dinosaurs and other themes. We encourage everyone to dress up to match the theme. There's a DJ who plays kid-friendly music and themed crafts. Safari Nights go on from 4:30pm to 9pm. They also include up-close animal encounters, where zoo visitors get to visit with a snake, an armadillo, a tortoise, a sloth or another animal. Safari Nights are free for members of the Palm Beach Zoo.
AW: Give us a few fun facts that people might not know about the Palm Beach Zoo.
Back in the late 50's, it was Bacon Park and Paul Dreher was commissioned to create a botanical garden. That's why the Palm Beach Zoo has such lush landscaping and such a diversity of plants and trees throughout. In the late 60's, the first bear at the zoo was used in the TV show "Gentle Ben." (See an intro to "Gentle Ben.")
AW: What are some of the best things about Zoo Camp?
Zoo Camp offers different weekly themes. Kids can learn about zoo keeping and other zoo jobs that they may be interested in for the future. It's also a chance to get behind the scenes at the zoo and see some things the average visitor doesn't see. And of course, everyone loves the interactive fountain. Zoo Camp continues until the week of August 7th. Check the Palm Beach Zoo website for details.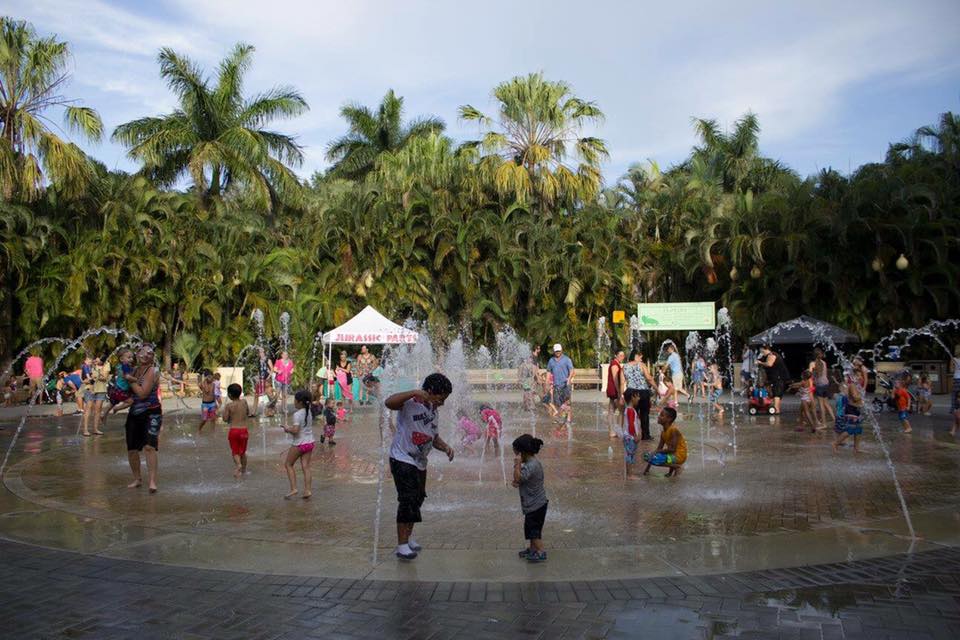 AW: Tell us about some of the Palm Beach Zoo's conservation efforts.
RB: We do a lot of internal things like our carbon fuel reduction initiative, where zoo staff carpools to work. We also have a zero waste initiative. There's recycling receptacle on one side of each trash can. We compost our food waste from the zoo café, as well as from our offices. Meanwhile, the café has a heavy focus on local products and reducing packaging.
The zoo aims to help endangered species and to give them a healthy, comfortable place to live. We educate the public about various threats to wildlife, like the use of palm oil in foods and shampoos. The harvesting of palm oil is a threat to the habitat of Malayan tigers and other species in Southeast Asia.
The Palm Beach Zoo belongs to the Association of Zoos and Aquariums (AZA), an organization that manages a number of species survival plans. It's kind of a Match.com for animals, finding the best match for breeding to sustain an endangered species. This organization has helped the Malayan tiger, the Mexican spider monkey, the jaguar and many other species.
AW: How many animals do you have? How many attractions?
RB: We have approximately 500 animals. That number changes all the time, depending on species survival plans needs and other factors. As for attractions, we have the wildlife carousel, the Tropics Café, the safari train and the interactive fountain plaza.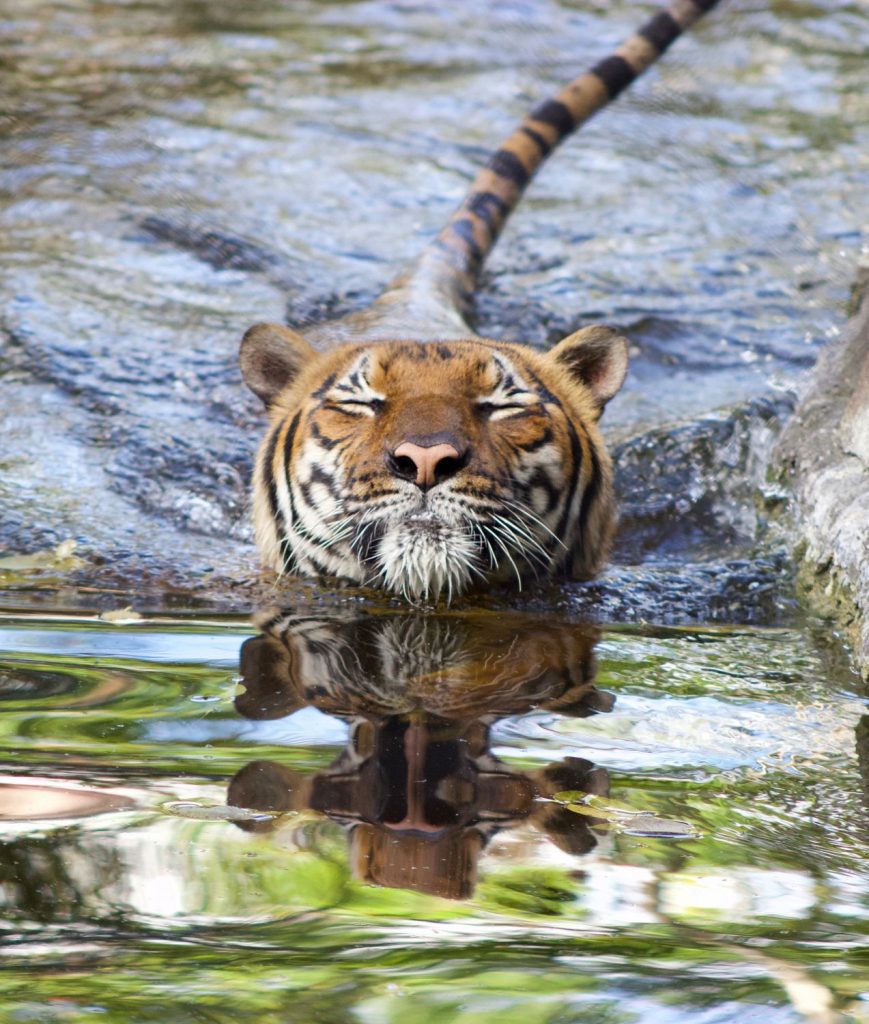 AW: What are some of the benefits of Zoo membership?
RB: You get unlimited day time visits, unlimited Safari Nights, 10% off at the café, gift shop and special events. A family membership pays for itself with approximately two visits with a family of four. It's a great deal!
AW: How is the Zoo a "cool" place to visit in the summer?
RB: Thanks to its origins as a botanical garden, there are very shady paths to walk along. Also there are a few old South Florida style chickee huts, providing further shade. There's the fountain to cool off and play in. It also helps that we offer evening hours on Fridays and select Saturdays throughout the summer.
AW: What are some of your upcoming events?
RB: There's still another month left of Safari Nights, fun for the whole family. On August 12th, we have a "Roar & Pour" event with a tribute band playing Styx and Journey favorites. On August 26th, it's a Food Truck Safari night, with many food trucks to sample from.
On September 2nd, it's the 3rd Annual Save the Jaguar 5K. A portion of proceeds go to the Wildlife Conservation Society and the work they are doing in Bolivia.
On September 16th, we present Brew 2 at the Zoo, a craft beer festival, featuring South Florida breweries.
As we approach Halloween, we offer Boo at the Zoo, a not so scary Halloween event that happens the last two weekends of October. There are opportunities to trick or treat throughout the zoo. There's a DJ and special characters to visit with, and approximately 250,000 pieces of candy.
Then as the holidays approach, we offer Breakfast with Santa in December, a popular tradition at the zoo.
AW: Anything else?
Watch our Facebook page for more events and some new animals' arrivals coming soon. https://www.facebook.com/palmbeachzoo/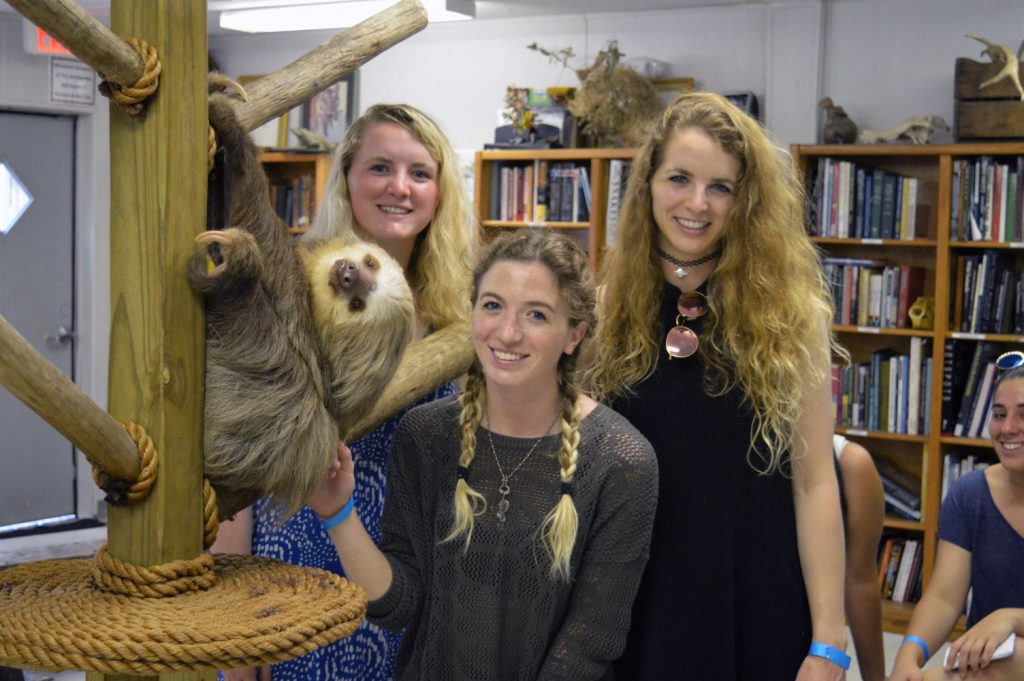 You can have up-close animal experiences for an additional charge and get close to a koala, a sloth, flamingoes and a few other animals. Just ask about this or book in advance online.
The Palm Beach Zoo
PalmBeachZoo.org
1301 Summit Boulevard
West Palm Beach, Florida 33405
(561) 547-9453 (WILD)